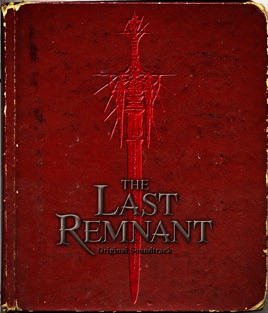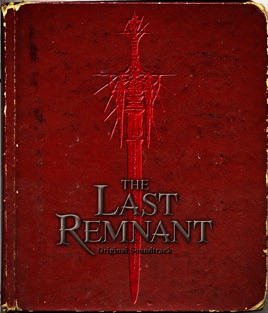 The Last Remnant (Original Soundtrack)
TITLE
TIME

Tsuyoshi Sekito

2:09

Tsuyoshi Sekito

0:48

Opening Suite: The Search

Tsuyoshi Sekito

0:17
0:30

Opening Suite: The Charge

Tsuyoshi Sekito

0:43

Opening Suite: The Assault

Tsuyoshi Sekito

1:27

Tsuyoshi Sekito

3:20

Tsuyoshi Sekito

1:02

Tsuyoshi Sekito

0:33

Tsuyoshi Sekito

1:35

Tsuyoshi Sekito

1:37

Yasuhiro Yamanaka

3:26

Tsuyoshi Sekito

4:08

Tsuyoshi Sekito

3:55

Tsuyoshi Sekito

2:24

Tsuyoshi Sekito

2:42

Yasuhiro Yamanaka

1:27

Tsuyoshi Sekito

3:09

Tsuyoshi Sekito

3:11

Tsuyoshi Sekito

2:06

Tsuyoshi Sekito

4:11

Yasuhiro Yamanaka

2:47

Yasuhiro Yamanaka

4:56

Rolling Hills, Sprawling Plains

Tsuyoshi Sekito

4:44

Tsuyoshi Sekito

3:29

Tsuyoshi Sekito

2:42

Tsuyoshi Sekito

1:28

Tsuyoshi Sekito

1:08

Tsuyoshi Sekito

4:06

Yasuhiro Yamanaka

4:28

Tsuyoshi Sekito

0:57

Slipping Through Your Fingers

Tsuyoshi Sekito

2:45

Tsuyoshi Sekito

0:54

Tsuyoshi Sekito

2:13

Tsuyoshi Sekito

4:56

Tsuyoshi Sekito

4:05

Tsuyoshi Sekito

6:42

Tsuyoshi Sekito

4:28

Tsuyoshi Sekito

4:24

Tsuyoshi Sekito

1:20

Tsuyoshi Sekito

0:44

Tsuyoshi Sekito

1:06

Tsuyoshi Sekito

5:50

Tsuyoshi Sekito

0:48

Tsuyoshi Sekito

1:40

Tsuyoshi Sekito

0:37

Tsuyoshi Sekito

0:25

Tsuyoshi Sekito

2:22

Tsuyoshi Sekito

3:42

In the Shadow of the Dragon

Tsuyoshi Sekito

3:44

Tsuyoshi Sekito

4:22

Old Traditions, New Methods

Tsuyoshi Sekito

2:48

Tsuyoshi Sekito

2:51

Tsuyoshi Sekito

0:37

Tsuyoshi Sekito

0:41

Tsuyoshi Sekito

1:52

Tsuyoshi Sekito

0:57

Yasuhiro Yamanaka

5:03

Tsuyoshi Sekito

1:49

Tsuyoshi Sekito

3:51

Tsuyoshi Sekito

0:39

Tsuyoshi Sekito

1:16

Tsuyoshi Sekito

0:27

Yasuhiro Yamanaka

4:52

Tsuyoshi Sekito

0:59

Tsuyoshi Sekito

0:41

Tsuyoshi Sekito

0:45

Tsuyoshi Sekito

0:41

Tsuyoshi Sekito

0:46

Yasuhiro Yamanaka

4:31

Tsuyoshi Sekito

4:20

Tsuyoshi Sekito

0:58

Tsuyoshi Sekito

4:41

Tsuyoshi Sekito

2:03

Tsuyoshi Sekito

0:47

Tsuyoshi Sekito

3:27

Tsuyoshi Sekito

4:00

Tsuyoshi Sekito

0:53

Tsuyoshi Sekito

3:22

Tsuyoshi Sekito

2:58

Tsuyoshi Sekito

0:13

Tsuyoshi Sekito

1:07

Tsuyoshi Sekito

2:09

Tsuyoshi Sekito

5:19

Tsuyoshi Sekito

0:30

Tsuyoshi Sekito

4:16

Tsuyoshi Sekito

3:32

Yasuhiro Yamanaka

3:20

Yasuhiro Yamanaka

5:03

The Warden and the Activator

Tsuyoshi Sekito

0:42

Tsuyoshi Sekito

2:19

Tsuyoshi Sekito

6:10

Tsuyoshi Sekito

4:15

Tsuyoshi Sekito

3:54

Donna Burke

3:08

Tsuyoshi Sekito

5:37

Tsuyoshi Sekito

1:47

The First Awakening (Arrange Version)

Tsuyoshi Sekito

1:53
98 Songs, 4 Hours, 11 Minutes

℗ 2008 SQUARE ENIX
Music = GREAT Price = HORRIBLE
I would love to buy this whole album but I refuse to pay $98 for it. $30 or $40 I could see but not $100 for 3 CDs. What gives Itunes? Any hope of reducing the price on this?
Beautiful music, WONDERFUL PRICING!!!
If anyone's played this game and loved the music, you can't pass this opportunity up! for $17.99, you can buy ALL 98 TRACKS OF THE GAME! You need to click on the 'read reviews' link to reveal the 'buy album' icon for some reason, but once that happens, the full album only costs $17.99, and that is a STEAL! Beautiful and stirring music... NO ONE should miss this soundtrack.
totally lethal
love the game+the music. keeps you in your happy place. no happy place? get the album.