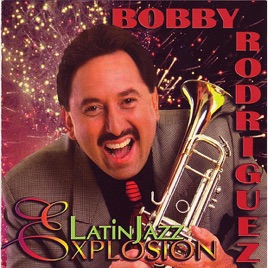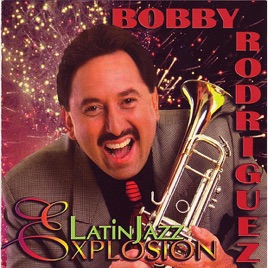 9 Songs, 51 Minutes
Released:

Dec 31, 1998

℗ 2009 LatinJazz Productions
About Bobby Rodriguez
b. El Barrio (Spanish Harlem), Manhattan, New York City, USA. Not to be confused with the veteran bass player of the same name, band leader, saxophonist, flautist, clarinettist, pianist, vocalist, percussionist, arranger, composer, producer Rodríguez was a member of his brother Ray's band in the late 60s and at the beginning of the 70s. He was the band's musical director, arranger, composer and tenor saxophone player. The second release by Ray Rodríguez and his orchestra, Delusion, contained the exceptional 'Olvidame' (Forget Me), co-written by Bobby and the band's original vocalist, albino Nestor Sánchez 'El Albino Divino' (b. New York City, New York, USA, of Puerto Rican parents). Sánchez left to join Tony Pabón's band La Protesta; he later worked with Conjunto Candela, Larry Harlow, Julio Castro and as a solo artist. In 1974, Bobby organized his own brass and flute-led band, called La Compañia (the Company). They consistently worked the New York club circuit before debuting on Lead Me To That Beautiful Band in 1975. From the beginning, La Compañia's style, although firmly rooted in the Latin tradition, was heavily influenced by jazz, soul and funk, and their repertoire included English lyric songs. Second generation 'Nuyorican' (New Yorker of Puerto Rican descent), Eddie Iglesias Hernández, sang the English vocals and doubled on trombone. The Spanish lyric songs were performed by Puerto Rico-born Junior Cordova and José Acosta. Cordova had worked previously with Nelson Feliciano and Rafael Cortijo. A track from their first album, the Rubén Blades composition 'Numero 6' about delays on the subway, was a massive hit. Blades also wrote the hit 'What Happened' from Bobby's 'live' 1976 follow-up Salsa At Woodstock.

In 1977, Rodríguez, Hernández, Acosta and La Compañia's timbales player, Charlie Salinas, participated in the 17th anniversary album by the Alegre All-Stars led by Charlie Palmieri and produced by Al Santiago. Bobby's namesake played bass on the session. In 1978, Rodríguez and La Compañia had a hit single with the title track of Latin From Manhattan. This cover version of the 30s song, originally recorded by Al Jolson, was given a salsa/dixieland jazz treatment with Rodríguez's clarinet playing very much to the fore. In 1984, Eddie Iglesias Hernández left La Compañia and took Acosta and Salinas with him to form the nine-piece, two-trombone band Los Amigos And The Bad Street Boys. Spanish lead vocals on their tremendously successful debut Cheek To Cheek, were handled by Frankie Morales, who went on to work with the Lebron Brothers, before turning solo. Meanwhile, after a gap of three years, Rodríguez renamed his band La Nueva Compañia (The New Company) and came back with the appropriately titled Mi Regreso (My Return) in 1984. The lead singer on the album was Orlando Castillo 'Watusi' (b. 23 March, San Felipe, Yaracuy State, Venezuela). Watusi worked with Los Satélites, Porfi Jiménez and Federico Y Su Combo Latino before becoming a solo artist; he made his first UK appearance in 1990 with Tito Puente. Mi Regreso contained an outstanding remake of 'Olvidame' and a fine version of the classic 'Maria Cristina', composed by Ñico Saquito. In 1987, Cordova, Iglesias and Salinas reunited with Bobby and La Nueva Compañia for Juntos Otra Vez (Back Together Again).
HOMETOWN

El Barrio (Spanish Harlem), Manha

GENRE
Millions of songs.
Zero ads.
New subscribers only. Plan automatically renews after trial.