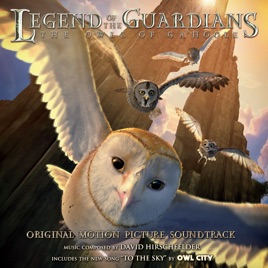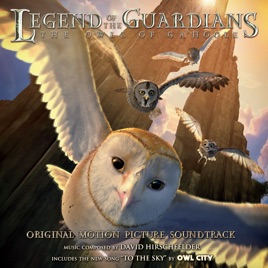 Legend of the Guardians: The Owls of Ga'Hoole (Original Motion Picture Soundtrack)
| | TITLE | TIME |
| --- | --- | --- |
| | Owl City | 3:39 |
| | Flight Home (The Guardian Theme) | 3:51 |
| | | 5:37 |
| | Welcome to the Pellatorium | 4:51 |
| | A Long Way to the Guardians | 5:57 |
| | | 2:37 |
| | | 5:18 |
| | | 4:04 |
| | | 6:22 |
| | | 5:11 |
| | | 5:07 |
| | | 2:51 |
| | | 3:27 |
| | | 3:19 |
14 Songs, 1 Hour, 2 Minutes

℗ 2010 WaterTower Music
Customer Reviews
Great soundtrack for a great movie.
This is a really great soundtrack specially the song by Owl City titled "To the Sky".
Great books
Can't wait for the movie. My favorite books into a movie with a song by one of my favorite artists. Its like its my birthday. Haha. The movie comes out on my birthday.
Awsome!! :)
I love these songs! I haven't watch the movie yet, but I'm so going to!