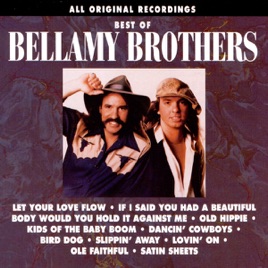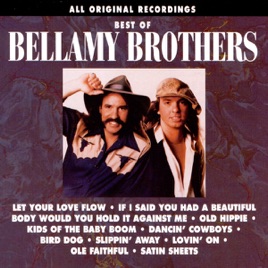 TITLE
TIME

If I Said You Had a Beautiful Body Would You Hold It Against Me

Bellamy Brothers
10 Songs, 33 Minutes
Released:

Jan 1, 1992

℗ 1992 Curb Records
Ratings and Reviews
For Mommy
My Mom loves this band but i've never heard of them before.
Let your love flow
If it wasn't for the Safeway commmercial, i would have not found this SUPER COOL oldie but goodie! Thanks Safeway.....
Suicide!! I wanna kill my self! ugh this song!
Its not even worth one star! This song is so amazingly bad. Simply... horrible. I hate it with the passion!
About The Bellamy Brothers
Best-known for the easy rolling, '70s Southern soft rock classic "Let Your Love Flow," the Bellamy Brothers are the most successful duo in country music history, consistently climbing into the upper reaches of the Billboard country charts during the '80s. More than most acts of the late '70s and '80s, the Bellamys pushed the borders of country music, adding strong elements of rock, reggae, and even rap, racking up a string of Top Ten singles that ran into the early '90s, after which they remained a popular concert attraction.

Howard and David Bellamy were born and raised in Darby, FL. Their father, Homer, played traditional country music around the house and performed with a Western swing band on the weekends. In addition to the country music they heard in their house, the brothers were drawn to the calypso music of the neighboring Caribbean islands. However, nothing provided as much attraction as the rock & roll they heard on their sister's records and the radio. From the Everly Brothers to the Beatles, the Bellamy Brothers soaked up the sounds of contemporary pop and rock. In their late teens and early twenties, they once again became infatuated with country music, thanks to the music of George Jones and Merle Haggard.

In 1968, the brothers moved to Atlanta, forming Jericho. After a while, the Bellamys relocated back to their home state. In 1973, they met a friend of singer Jim Stafford, who directed the vocalist to David's "Spiders and Snakes." Stafford was immediately taken with the tune, releasing it as his next single; the humorous retelling of David's boyhood farm experiences would eventually sell over three million copies. The success of "Spiders and Snakes" gave the Bellamy Brothers enough money to move out to Los Angeles, where they concentrated on a full-time musical career.

In 1975, the brothers signed to Curb/Warner Bros, releasing their first single, David's "Nothin' Heavy." The song flopped. Dennis St. John, who was a friend of the Bellamys and Neil Diamond's drummer, suggested that the duo record "Let Your Love Flow," a song written by Larry E. Williams, one of Diamond's roadies. As it turns out, "Let Your Love Flow" broke the doors wide open for the brothers, topping the pop charts and climbing into the country Top 30, as well as being a major hit in Britain, West Germany, and Scandinavia, going to number one in 15 countries.

The Bellamy Brothers quickly released their debut album, also called Let Your Love Flow, which became nearly as successful as the single. Their second album, 1977's Plain & Fancy, was a major success in Sweden and Norway, but it didn't make much of an impact in America. With their next album, they began to move closer to a straight country sound, beginning with "Slippin' Away," which reached the country Top 20.

The Bellamy Brothers' country breakthrough happened in 1979, with the tongue-in-cheek "If I Said You Had a Beautiful Body Would You Hold It Against Me." The song rocketed to number one on the country charts -- and was also a massive hit in the U.K. -- followed by the Top Five success of "You Ain't Just Whistlin' Dixie." The Bellamy Brothers' success continued to roll forward in 1980, as they scored two straight number one hits, "Sugar Daddy" and "Dancin' Cowboys." They earned a Grammy nomination for Best Country Performance by a Duo or Group, and the CMA named them the Most Promising Group of the Year. Throughout 1980 and 1981, the group continued to rack up the hits, including "Do You Love as Good as You Look" and "They Could Put Me in Jail."

Curb switched the Bellamy Brothers' distribution from Warner Bros to Elektra at the end of 1981. Coincidentally, the change in distribution coincided with Howard and David's desire to experiment with their music. After they released the number one "For All the Wrong Reasons," the brothers followed with "Get into Reggae Cowboy," which was a groundbreaking country record that incorporated Jamaican rhythms. In 1982, the group was given a Lifetime Membership of the Federation of International Country Air Personalities, as well as being named the Top Country Duo by Billboard.

Throughout 1983, the brothers logged a number of hits. The following year, Curb signed a distribution deal with MCA, which had no effect on the continuing success of the Bellamy Brothers. For the next three years, the brothers were at their peak, both popularly and artistically, scoring a number of hit singles that showcased their continuing musical development as well as their increasing lyrical sophistication, as indicated by the Vietnam vet anthem "Old Hippie" and "Kids of the Baby Boom." The Bellamy Brothers continued to have hits on Curb/MCA until the end of the '80s.

By the turn of the decade, the duo switched record labels to Atlantic. After one album with Atlantic, 1991's Rollin' Thunder, the Bellamys left the label, founding their own record company, Bellamy Brothers Records, one of the first artist-driven country independents of the modern era. The Latest & the Greatest (1992) was the first album released on the label. The duo still reached the charts, like the Top 25 "Cowboy Beat," but the strongest proof of the Bellamy Brothers were their reliably large crowd, not just in the U.S. but throughout the world. The Bellamys put out numerous independent records during the '90s and following the 98 collection Reggae Cowboys, the duo switched to Blue Hat Records on for 1999's Lonely Planet. The Bellamy Brothers' biggest project of the new millennium was Angels & Outlaws, Vol. 1, a 2005 record for Curb which found the duo re-recording old hits with a host of other country superstars, including Alan Jackson, Tanya Tucker, and Dolly Parton. Following 2007's gospel album Jesus Is Coming, the Brothers released The Anthology, Vol. 1, a collection of re-recordings of career highlights that also featured new recordings, including a duet with the Bacon Brothers on "Guilty of the Crime." ~ Stephen Thomas Erlewine
ORIGIN

Darby, FL

GENRE

FORMED

1958