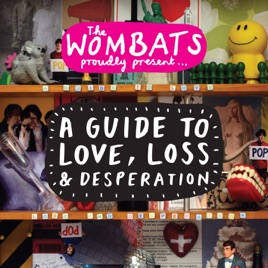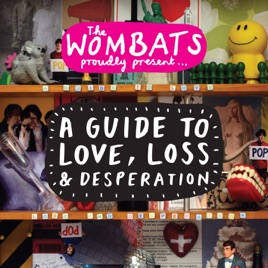 A Guide to Love, Loss & Desperation
| | TITLE | | TIME |
| --- | --- | --- | --- |
| | Tales of Girls, Boys and Marsupials | | 1:09 |
| | | | 2:41 |
| | | | 3:30 |
| | | | 3:06 |
| | Party In a Forest [Where's Laura?] | | 3:26 |
| | | | 3:14 |
| | | | 2:31 |
| | Let's Dance to Joy Division | | 3:11 |
| | | | 3:12 |
| | | | 4:12 |
| | | | 3:32 |
| | | | 4:01 |
| | | | 6:37 |
13 Songs, 44 Minutes
Released:

Jul 9, 2007

℗ 2008 14th Floor Records Issued under license to Roadrunner Records from Warner Music International Roadrunner Records is a registered trademark of The All Blacks B.V.
About The Wombats
British indie rock trio the Wombats make driving guitar post-punk and electronic-influenced pop. Formed in Liverpool in 2003 while the members were all attending the Liverpool Institute of Performing Arts, the Wombats feature vocalist/guitarist Matthew Murphy, drummer Dan Haggis, and Norwegian-born bassist Tord Øverland-Knudsen. In 2006, the Wombats released their debut single, the Japan-only "Girls, Boys and Marsupials." Several singles followed before the release of the band's 2007 debut album, A Guide to Love, Loss & Desperation. A year later, they released the Wombats EP on Bright Antenna.

The band's sophomore album, This Modern Glitch, appeared in 2011 and featured production from such modern rock stalwarts as Eric Valentine, Butch Walker, and Jacknife Lee. Included on the album was the Top 40 single "Tokyo (Vampires & Wolves)." In 2015, they returned with their third full-length album, the synth-heavy Glitterbug, which featured production from Mark Crew and included the singles "Greek Tragedy" and "Give Me a Try." Somewhat of a breakout, the album was a commercial success in the U.K. and Australia, and also marked the band's first chart entry in the U.S.

In December 2017 the Wombats released "Turn," the first single from their fourth LP, 2018's Beautiful People Will Ruin Your Life. Produced by Mark Crew (Bastille, Rationale) and Catherine Marks (the Killers, Wolf Alice), the album also included the singles "Lemon to a Knife Fight" and "Cheetah Tongue." ~ Matt Collar
ORIGIN

Liverpool, England

GENRE

FORMED

2003
45 million songs.
Three months on us.
New subscribers only. Plan automatically renews after trial.