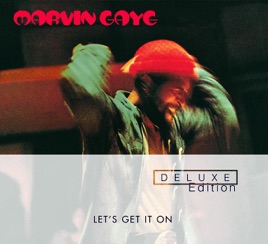 EDITORS' NOTES
Marvin Gaye's '70s concept albums spanned wounded takes on sociopolitical concerns (What's Going On), the collapse of his own first marriage (Here, My Dear), and the deep heat of sex and romance celebrated on Let's Get It On. Gaye, of course, made seduction the record's center, but hardly its only subject. Even the title track, used endlessly by media as a cue for unbridled sexiness, has its philosophical bent ("Since we got to be here, let's live") and a blurred line between love for a woman and the "sanctified" feel of the church Gaye was raised in. And all the moments of beauty (aided by co-producer Ed Townsend on the album's first half) culminate in the gorgeous but stark "Just to Keep You Satisfied," a breakup song whose themes would be fully shaken out on Here. It's another way in which Marvin refuses to make a too-standard sex jam. This remastered edition contains single versions of "Let's Get It On" and "You Sure Love to Ball."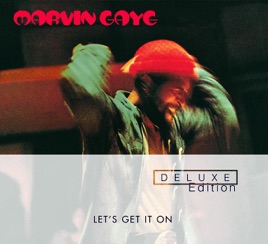 EDITORS' NOTES
Marvin Gaye's '70s concept albums spanned wounded takes on sociopolitical concerns (What's Going On), the collapse of his own first marriage (Here, My Dear), and the deep heat of sex and romance celebrated on Let's Get It On. Gaye, of course, made seduction the record's center, but hardly its only subject. Even the title track, used endlessly by media as a cue for unbridled sexiness, has its philosophical bent ("Since we got to be here, let's live") and a blurred line between love for a woman and the "sanctified" feel of the church Gaye was raised in. And all the moments of beauty (aided by co-producer Ed Townsend on the album's first half) culminate in the gorgeous but stark "Just to Keep You Satisfied," a breakup song whose themes would be fully shaken out on Here. It's another way in which Marvin refuses to make a too-standard sex jam. This remastered edition contains single versions of "Let's Get It On" and "You Sure Love to Ball."
TITLE
TIME

Please Stay (Once You Go Away)

Just to Keep You Satisfied

Symphony (Undubbed Version)

I'd Give My Life for You (Alternate Mix)

Marvin Gaye & The Miracles

You're the Man (Alternate Version 1)

You're the Man (Alternate Version 2)

Let's Get It On, Pt. 2 (A.K.A. Keep Gettin' It On)

Please Stay (Once You Go Away) [Alternate Mix]

If I Should Die Tonight (Demo)

Come Get to This (Alternate Mix)

Distant Lover (Alternate Mix)

You Sure Love to Ball (Alternate Mix & Vocal)

Just to Keep You Satisfied (A Cappella / Alternative Vocal)

Just to Keep You Satisfied (1970)

The Originals

Just to Keep You Satisfied (1968)

The Monitors

Where Are We Going? (Alternate Mix)

The World Is Rated X (Alternate Mix)

I'm Gonna Give You Respect

Running from Love (Instrumental Version 1)

Running from Love (Instrumental Version 2)

Come Get to This (Live from Oakland)
37 Songs, 2 Hours 27 Minutes
Released:

Aug 28, 1973

℗ 2001 UMG Recordings, Inc.
Ratings and Reviews
Simply Amazing
The original Let's Get It On was absolutely brilliant, but the Deluxe Edition has a bounty of beautiful and thought-provoking tracks that are an absolute necessity. Symphony, The World Is Rated X, Try It You'll Like It, We Can Make It Baby, and You Are That Special One are some of the funkiest, most beautiful songs you will ever hear. Not to mention all the original songs as well. Anyone who has seen any movie in the past 20 years is likely to have heard the first 15 seconds of Let's Get It On, but those who haven't heard the entire track are really missing out. Marvin's voice has a passion to it that proves in itself that the song is about more than just physical love. It is a tribute to a love so deep, that it would be wrong to deny the desire to express it physically. And that kind of powerful love is really what the entire album is about, not just sex, as some might think.
Gone too soon...
The song that gets to me is "If I Should Die Tonight" It's a very chilling song in that if you loved Marvin's music, now knowing that he truly wanted to die, brings tears to your eyes. So for me it's a sad song, but Marvin always did wear his feelings on his sleeve. I miss you Marvin.
Let's Get It On
An absolute classic. A favorite is 'If I Should Die' because it typifies Marvin Gayes ability to keep it simple yet profound.