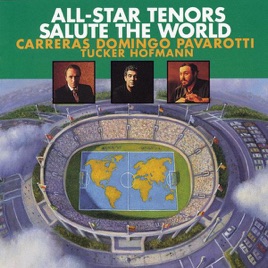 TITLE
TIME

By Marcello Di Capua - Luciano Pavarotti & Orchestra of Emilia Romagna "Arturo Toscanini"

Ô Paradis from L'Africaine

By Giacomo Meyerbeer - Plácido Domingo, John DeMain & Orchestra of the Municipal Theatre of Rio de Janeiro

José Carreras, Joan Casas & Symphony Orchestra Of The Gran Teatro Del Liceu De Barcelona

José Carreras, Ramon Noguera & Coral Polifónica de Puig-Reig

Maria from West Side Story

By Leonard Bernstein - Plácido Domingo & Ensemble

By Manuel Alejandro & Beatriz Beigbeder - Plácido Domingo & Paco de Lucía

By Manuel Alejandro & Marian Beigbeder - Plácido Domingo

Una furtiva lagrima from L'elisir d'amore

By Gaetano Donizetti - Plácido Domingo, John Pritchard & Orchestra of the Royal Opera House, Covent Garden

La donna e mobile from Rigoletto

By Giuseppe Verdi - Emerson Buckley & Luciano Pavarotti

Vienna, My City of Dreams

By Rudolf Sieczynski - Richard Tucker, Franz Allers & Columbia Symphony Orchestra

Vesti la guibba from Pagliacci

By Ruggero Leoncavallo - Emerson Buckley & Luciano Pavarotti

An American Hymn (Main Theme from East of Eden)

By M.A. LEIKEN & Lee Holdridge - Plácido Domingo, Jonathan Tunick & London Symphony Orchestra

Plácido Domingo, Lee Holdridge & Royal Philharmonic Orchestra

Winterstürme Wichen dem Wonnemond from Die Walküre

By Richard Wagner - Ivan Fischer, Peter Hofmann & Radio-Sinfonieorchester Stuttgart

Flower Song (La fleur que tu m'avais jetée) from Carmen

By Georges Bizet - Richard Tucker, Pierre Dervaux & Vienna State Opera Orchestra

Emerson Buckley & Luciano Pavarotti

Libiamo (Drinking Song) from La Traviata

By Giuseppe Verdi - José Carreras, Plácido Domingo, Agnes Baltsa & London Symphony Orchestra

By Manuel Esperón & ERENSTO CORTAZAR - Plácido Domingo

A Wand'ring Minstrel I from The Mikado

By Sir Arthur Sullivan - Bonaventura Bottone, John Pryce-Jones, Chorus of the D'Oyly Carte Opera Company & Orchestra of the D'Oyly Carte Opera Company

Nessun Dorma from Turandot

By Giacomo Puccini - Emerson Buckley & Luciano Pavarotti

Plácido Domingo, Zubin Mehta & New York Philharmonic
22 Songs, 1 Hour 11 Minutes
Released:

May 17, 1994

℗ Originally released 1963, 1966 SONY BMG MUSIC ENTERTAINMENT (P) 1977, 1981, 1982, 1984, 1985, 1987, 1989, 1991, 1993 SONY BMG MUSIC ENTERTAINMENT (P) 1992 Sony Classical, a division of Sony Entertainment Holdings, GmbH, (P) 1990 Jay Productions Ltd.
About New York Philharmonic
The world-renowned New York Philharmonic is America's oldest symphony orchestra, a prime example of high standards of performance to musicians and audiences everywhere.

Beginning in the 1820s, there were several attempts to found an orchestra in the city, the more successful of which were the Philharmonic Symphony Society (established in 1842) and the New York Symphony (established in 1878). The Philharmonic had a reputation for conservatism and high standards, hiring primarily European conductors, such as Gustav Mahler. The Symphony seemed more ambitious and interested in new music. It received patronage from Andrew Carnegie, enabling the building of Carnegie Hall (1891), with an inaugural concert led by Walter Damrosch and Pyotr Il'yich Tchaikovsky. The Philharmonic Society finally merged with the Symphony in 1928, during the tenure of Arturo Toscanini, who helped it establish its world-class reputation. Many great conductors would follow, among them: John Barbirolli, Bruno Walter, Dimitri Mitropoulos, Leonard Bernstein, Pierre Boulez, Zubin Mehta, Kurt Masur, Lorin Maazel, Alan Gilbert (the son of two of the orchestra's musicians), and as of the 2018-19 season, Jaap van Zweden.

Under Bernstein, the orchestra's reputation blossomed in new ways. Bernstein brought a youthful excitement to the music, engaging new audience members, particularly through television appearances. The advent of stereo recording allowed the NYP to re-record much of the standard canon. It also got a new performance venue: Avery Fisher Hall at Lincoln Center.

Many of the NYP's directors have had to deal with threats to its standing among the world's great orchestras: competition on stages and on records from other, strong American orchestras; internal and external economic difficulties; and balancing the traditional with new music in a way that satisfies its core audience. However, commissioning and introducing new works is a long-held tradition. Memorable premieres include Dvorák's New World Symphony; Gershwin's Concerto in F; the Pulitzer Prize-winning On the Transmigration of Souls by John Adams; Esa-Pekka Salonen's Piano Concerto; and The Jungle, which is Wynton Marsalis' fourth symphony.

The orchestra has performed in more than 430 cities in 63 countries, which includes its first tour after merging when Toscanini took it to Europe in 1930 and a trip to the USSR in 1959. In 2008, Lorin Maazel led it in a historic concert in Pyongyang, North Korea, the first significant cultural visit to the country by an American organization since the 1950s. The Philharmonic hosts several free concerts each year, operates outreach programs in the city, and partners with select music schools in the U.S. and in China.

The NYP's recording history dates back to 1917, counting over 2,000 releases, many of them award-winners, and with hundreds of them available at any given time. As many other orchestras have done, it has created its own label, releasing live concert recordings physically and was the first to do so digitally as well, also offering podcasts and other new media. It hosted its first Facebook Live concert in 2016. Its Leon Levy Digital Archives contains every program printed since 1842, plus scores marked by musicians and conductors. ~ Patsy Morita
ORIGIN

New York, NY

GENRE

FORMED

December 7, 1842
Millions of songs.
Zero ads.
New subscribers only. Plan automatically renews after trial.