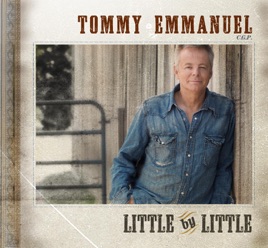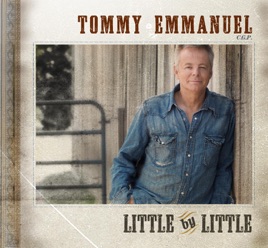 | | TITLE | TIME |
| --- | --- | --- |
| | | 3:12 |
| | | 3:04 |
| | | 3:15 |
| | Haba Na Haba (Instrumental) | 4:06 |
| | | 4:16 |
| | | 2:43 |
| | | 3:21 |
| | | 2:40 |
| | He Aint Heavy, He's My Brother | 3:50 |
| | | 1:56 |
| | | 3:29 |
| | Moon River (Instrumental) | 4:05 |
| | | 1:57 |
| | | 1:50 |
| | | 4:29 |
| | | 4:57 |
| | The Mountains of Illinois | 3:27 |
| | | 2:36 |
| | | 2:38 |
| | | 3:46 |
| | | 5:37 |
| | | 3:57 |
| | | 4:11 |
| | | 4:07 |
24 Songs, 1 Hour, 23 Minutes

℗ 2011 Favored Nations Entertainment
Customer Reviews
Tommy Emanuel
Just saw Tommy last night in concert. Do not hesitate to see this man whenever you get the chance. He is pure genius.
Always Amazes!
Tommy never ceases to amaze! Love the balance of solo guitar, other instrumentation and vocal tunes. This is a must for not only Tommy fans but for those who love great, well conceived arrangements.
Tommy Emmanuel
I've seen Tommy play 7 or 8 times and he never disappoints. A true gentleman with fantastic stage presence, charm and wit, surpassed only by his immense musical talent. The best value for your dollar in the music industry. Guaranteed you won't regret attending a performance.
About Tommy Emmanuel
Tommy Emmanuel, four-time winner of Australia's Best Guitarist Award, has helped bring the art of rock guitar down under to a higher awareness by bringing a sense of jazz improvisation into a mix that also includes blues, country, rock, classical, and Spanish music. After years as a popular sideman and ace songwriter, the two-time ARIA Award winner launched his solo career in 1988 with Up from Down Under. Several releases followed, notably 1993's critically acclaimed The Journey, which hit high on Gavin and Radio & Records NAC airplay charts. He has shown a mastery and affinity for both electric and acoustic axes, and has been singled out by the likes of notable musicians such as Chet Atkins -- with whom he recorded The Day Finger Pickers Took Over the World in 1997 -- and Todd Rundgren, who called him an innovator on the instrument. Only appeared in 2001, followed by 2002's Endless Road (it was finally released in the U.S. three years later), 2005's Live One, and 2006's Happy Hour (with Jim Nichols) and Mystery.

Although Emmanuel took a brief hiatus from the music industry at the end of 2007 for health reasons, that October he recorded all three nights of a residency at the Sierra Nevada Brewery in Chico, California. These recordings made up Center Stage, an acclaimed double-disc live set released in 2008. Equally well received was 2010's Little by Little, a comeback of sorts in the form of a double studio album featuring a tasteful rendition of Carole King's "Tapestry." Arriving in 2011, All I Want for Christmas nodded in places to John Fahey's classic festive recordings, while 2013's The Colonel & the Governor saw him team up with the equally talented English guitarist Martin Taylor. Two years later, he delivered the solo studio date It's Never Too Late on Sony, followed by 2016's holiday-themed Christmas Memories. Accomplice One, released in late 2017 on Thirty Tigers, was a landmark set. Emmanuel appeared with one of the best and widest-ranging lineups of string players and featured performers of his career, including Jason Isbell, Mark Knopfler, Rodney Crowell, Ricky Skaggs, David Grisman, Suzy Bogguss, and Jake Shimabukuro. ~ Jonathan Widran & James Wilkinson
ORIGIN

Muswellbrook, New South Wales, Au

GENRE

BORN

May 31, 1955