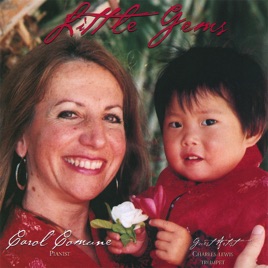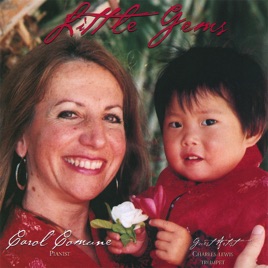 TITLE
TIME

Sonata In D Major K. 214, L. 165-Domenico Scarlatti

Prelude In G Major, Op. 32- Sergei Rachmaninoff

Cold Pieces/Crossed Dances-Eric Satie

Prelude No. 15 -Frederic Chopin

Menuet from Sonatine-Maurice Ravel

Prelude No. 6 - Alexander Scriabin

E la Solita Storia - Francesco Cilea

Carol Comune, piano and Charles Lewis, trumpet

Intermezzo- Pietro Mascagni

Si, Mi Chiamano Mimi- Giacomo Puccini

Carol Comune, piano and Charles Lewis, trumpet

Sonata In B Minor, L.33 -Domenico Scarlatti

The Girl With the Flaxen Hair- Claude Debussy

Minuet On the Name of Haydn - Maurice Ravel

Prelude No. 1, Op. 16 - Alexander Scriabin

Valse Op. 2 - Mischa Levitzki
15 Songs, 55 Minutes
Released:

Dec 31, 1998

℗ 1999 Elegant Entertainment & Co.
About Carol Comune
Pianist and composer Carol Comune draws inspiration from classical music, her Italian heritage, and other sources in a personal, distinctive style in her original compositions.

Comune began learning the piano at a very early age, studied at the French School of Music in Plainfield, New Jersey, and did both undergraduate and postgraduate work at the New England Conservatory of Music. She counts the internationally known artists Anthony di Bonaventura and Donald Waxman among her mentors, as well as being influenced by Isabelle Vengerova, as many others were. Comune has taught in Massachusetts, Florida, and New Jersey. She has performed solo and chamber music recitals in many venues in the eastern United States.

Her music -- described as colorful, charming, and exceptional -- has been heard on public radio and many of the major streaming services. Her first recording, Intracoastal , mixing her own music with some familiar classical melodies, was released in 1990. Under her own label, Elegant Entertainment & Co., she has released another six albums, all featuring her gentle yet confident technique and her reassuring, optimistic-sounding music, some of which she also publishes for students. ~ Patsy Morita
Millions of songs.
Zero ads.
New subscribers only. Plan automatically renews after trial.