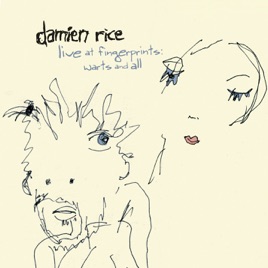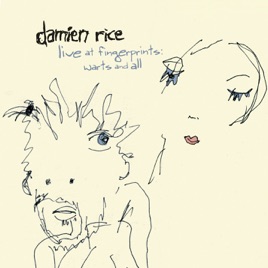 Live At Fingerprints: Warts and All
| | TITLE | TIME | PRICE |
| --- | --- | --- | --- |
| | | 4:12 | $1.29 |
| | | 3:58 | $1.29 |
| | | 1:23 | $1.29 |
| | | 5:33 | $1.29 |
| | | 6:33 | $1.29 |
| | Rootless Tree (Intro) [Live] | 0:36 | $1.29 |
| | | 4:45 | $1.29 |
| | | 6:18 | $1.29 |
8 Songs

℗ 2007 Heffa, under exclusive license to Vector Recordings/Warner Bros. Records Inc. in the U.S. and Canada.
Customer Reviews
beautiful
this is what good music sounds like. definitely worth buying
Amazing Live Performance
I got this as a CD a few months ago (as an actual CD), and It's definitely one of the best live recordings out there. The price of $1.29 per track is weird, but at 6.99, you can't go wrong.
About Damien Rice
Irish alternative singer/songwriter Damien Rice launched his music career in the late '90s with the hard-hitting indie rock outfit Juniper. The group signed to Polygram in 1997 and released two singles, "The World Is Dead" and "Weathermen," which did moderately well on Irish radio. When it came time to record a full-length album, however, contractual rules from the label prevented Juniper from doing so, and Rice split.

After a brief respite in Europe, Rice returned to Dublin to focus on music once again, scrounging up enough money to record a demo. He sent it to producer/film composer David Arnold (Björk, Nina Persson, Paul Oakenfold), and Arnold loved it so much, he set up a mobile studio for Rice to make a record. His first single, "The Blower's Daughter," was a Top 20 hit when it appeared in fall 2001, and Rice released his debut album O early the following year. The album soon spread across the United Kingdom, hitting Top Ten on the British charts and earning four-times platinum status. Rice hit the states in 2003, earning himself a dedicated group of American fans in addition to his European ones. After issuing a collection of B-sides in 2005, the Irishman released his sophomore record, 9, at the end of 2006. The album hit number one in Ireland, top five in Great Britain, and became his first record to reach the Top 40 in the U.S. After heavy touring, including an appearance at Glastonbury and a support slot for Leonard Cohen in Dublin in 2008, Rice pulled back a bit. Finally, in 2014, he announced a small show at the 25th Anniversary celebrations of Whelan's, a venue in the Irish capital. His third album, My Favourite Faded Fantasy, was produced by legendary American producer Rick Rubin, and released in November 2014. The album again reached number one on the Irish charts, and did well across Europe. ~ MacKenzie Wilson
ORIGIN

County Kildare, Ireland

BORN

Dec 7, 1973