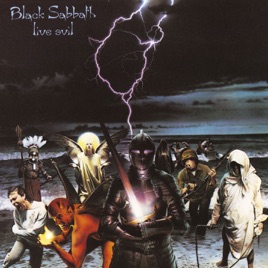 EDITORS' NOTES
Though it precipitated the ousters of Ronnie James Dio and Vinny Appice, Live Evil remains one of the great documents of the Sabbath live machine in action. Though the exact whereabouts of the performances are unknown, it's clear that the recordings are taken from the band's 1982 tour of America, in support of Mob Rules. The sonic quality is raw and in your face, and the band roars like a well-tuned engine. Along with vigorous interpretations of Dio-led classics like "Neon Knights," "Voodoo," and "The Mob Rules," it's astonishing to see this lineup apply itself to Sabbath standards from the Ozzy era. The primary difference is in the drums. Whereas original drummer Bill Ward treated the doom-metal riffs with a touch of swing, Appice was all about unmitigated battery. Therefore, these versions of "Black Sabbath," "War Pigs," and "Iron Man" are less likely to coax you into a trance and more likely to remind you of the awesome power of a martial artist. A rock god if ever there was one, Dio shows his command of the stage with an extended call-and-response medley of "Heaven and Hell" and "The Sign of the Southern Cross."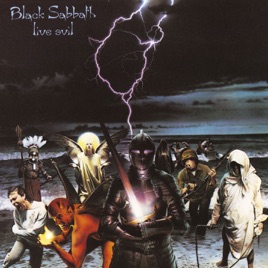 EDITORS' NOTES
Though it precipitated the ousters of Ronnie James Dio and Vinny Appice, Live Evil remains one of the great documents of the Sabbath live machine in action. Though the exact whereabouts of the performances are unknown, it's clear that the recordings are taken from the band's 1982 tour of America, in support of Mob Rules. The sonic quality is raw and in your face, and the band roars like a well-tuned engine. Along with vigorous interpretations of Dio-led classics like "Neon Knights," "Voodoo," and "The Mob Rules," it's astonishing to see this lineup apply itself to Sabbath standards from the Ozzy era. The primary difference is in the drums. Whereas original drummer Bill Ward treated the doom-metal riffs with a touch of swing, Appice was all about unmitigated battery. Therefore, these versions of "Black Sabbath," "War Pigs," and "Iron Man" are less likely to coax you into a trance and more likely to remind you of the awesome power of a martial artist. A rock god if ever there was one, Dio shows his command of the stage with an extended call-and-response medley of "Heaven and Hell" and "The Sign of the Southern Cross."
| | TITLE | | TIME |
| --- | --- | --- | --- |
| | | | |
| | | | |
| | | | |
| | Children of the Sea (Live) | | |
| | | | |
| | | | |
| | | | |
| | | | |
| | | | |
| | | | |
| | The Sign of the Southern Cross / Heaven and Hell (Live) | | |
| | | | |
| | Children of the Grave (Live) | | |
| | | | |
14 Songs, 1 Hour 22 Minutes
Released:

Dec 1, 1982

℗ 1989 Warner Bros Records, marketed by Rhino Entertainment Company, a Warner Music Group company
Ratings and Reviews
Great!
1st Review!!!!!! Black Sabbath Rocks!!!!!! "Paranoid" Rocks along with "War Pigs" and "Iron Man!"
dento557
i think that ozzy is much better
Sorry, Dio
Most of the songs on this album are Ozzy-era songs. Dio's vocals don't work on them. They're in a different style than Dio-era work... He's a good vocalist, but he just doesn't do Ozzy songs justice. That said, this is a very high quality recording, and unlike Reunion, Dio's voice isn't shot. Buy the Dio era songs here, and buy the Ozzy era songs offa Reunion, or better yet, find a compilation of Ozzy-era songs on Amazon/eBay/a store, and get them there. That way, everyone's happy.
About Black Sabbath
An English hard rock institution whose influence on heavy metal cannot be overstated, Black Sabbath not only pioneered the genre, they helped launch the career of one of its most colorful and controversial characters in Ozzy Osbourne. The band distilled the smoke and strife of its industrial hometown into a punitive blast of doom-laden heavy blues-rock via bass player Geezer Butler's dystopian lyrics, which leaned heavily on the occult, and guitarist Tony Iommi's seismic riffing. When paired with Bill Ward's economical yet formidable work behind the kit and Osbourne's primal tenor, the effect was both powerful and accessible -- a blueprint for aspiring decibel pushers of every skill level.

The band formed in 1968 under the ill-fitting name the Polka Tulk Blues Band -- Iommi and Ward, who had just left the pub blues outfit Mythology, were looking to take the genre in a more robust direction. They enlisted the services of Butler and Osbourne, both of whom had played together in a group called Rare Breed, and by the end of the year were operating under the moniker Earth.

The transition from Earth to Black Sabbath took place the following year, after Osbourne and Butler penned a song that was inspired by the 1963 Boris Karloff horror film of the same name. The resulting "Black Sabbath," a funereal slab of blast furnace-forged dread built around the augmented fourth/tritonic interval, better known as the devil's interval, would serve as the opening volley on their explosive eponymous 1970 debut. Released via Vertigo Records, the more progressive subsidiary of Philips/Phonogram, the bulk of the Rodger Bain-produced LP was recorded in a single day. Only a handful of guitar overdubs -- Iommi's signature sound was lent considerable gravitas by the fact that he tuned his guitar a half-step down to provide some slack for a pair of fingers that saw their tips removed in a factory accident -- along with the rain, thunder, and tolling bells that so effectively introduced the group to the world, would be added later. The record was released on Friday the 13th, which helped kick-start the band's reputation for populating the fertile crime scene that is history with plenty of blood spatter. Flush with eventual genre classics like "The Wizard," "N.I.B.," and the aforementioned title cut, Black Sabbath was initially dismissed by critics -- retrospective reviews were far more reverent -- but it managed to reach the U.K. Top Ten and hold court for over a year on the U.S. Top 40, eventually going certified platinum.

With the surprise success of Black Sabbath, the band wasted little time in getting back into the studio. Released just seven months after their debut, Paranoid, the very antithesis of the sophomore slump, would spawn two of their biggest singles in "Iron Man" and the nervy, hard-hitting title track, the latter of which would be the band's only Top Ten hit -- the LP went straight to the top of the U.K. charts, and sold over four million copies in the U.S. Deeper yet no less immediate cuts like the air-raid siren-led, politically charged "War Pigs" and the trippy, mellow doom anthem "Planet Caravan" showed a group that had far more creative gas in the tank than its detractors would have cared to admit. Paranoid also afforded Sabbath their first measure of controversy after an inquest was made regarding an American nurse who committed suicide while listening to the LP -- for many, the name Black Sabbath would become synonymous with Satanism throughout the '70s and '80s.

Sabbath continued to blow the unholy horn of plenty with albums three and four. Released in 1971, the brutish Master of Reality was certified double platinum on the strength of fan favorites like "Sweet Leaf," "Children of the Grave," and "Into the Void," the latter two of which saw Iommi downtune three semitones in order to release even more string tension -- Butler followed suit, and the deep earth pummeling that followed has been widely cited as the auger of sludge, doom, and stoner metal. The LP also featured the Iommi-composed/Butler-penned "After Forever," which, much to the confusion of some of the band's more zealous critics, reflected the bass player's deep Catholic faith. Vol. 4, recorded in Los Angeles, arrived the following year, and was the first Sabbath outing to not see Rodger Bain handling production duties -- Iommi and then-manager Patrick Meehan would co-produce the album. Certainly the group's most ambitious outing to date, Vol. 4 also represented Black Sabbath at their most chemically dependent -- the album's working title was Snowblind -- shipping in speaker boxes filled with cocaine, and turning their rented Bel Air house into a boozy black cauldron of rock star excess. Nevertheless, they managed to pull it together long enough to piece together a dark, introspective gem of a record that didn't spawn any hits -- the caustic riff-gasm that is "Supernaut" must have charted in some other more forgiving dimension -- but still topped the album charts. Vol. 4 dutifully reflected Sabbath's debauched collective headspace at the time, but retained enough of the blue-collar might that fueled their early works to connect.

Arriving in 1973, Sabbath Bloody Sabbath was another success, doubling down on the more progressive elements of Vol. 4, even going so far as to tap Rick Wakeman from Yes to contribute keyboards to the track "Sabbra Cadabra." Bolstered by the now iconic title cut as well as the punishing "Killing Yourself to Live," the LP not only resonated with fans, but elicited positive comments from mainstream critics as well, becoming Sabbath's fifth platinum album in the U.S. and earning their first silver certification in the U.K. Sabotage, released in 1975, saw Sabbath returning to the bottom-heavy, molten metal attack of their debut, for the most part dialing back on the orchestral flourishes and studio trickery of their last two outings. It also arrived in the midst of contentious litigation between the band and its now former manager Meehan. Between the bruising "Hole in the Sky," the angst-fueled "Symptom of the Universe," and the nearly nine-minute epic "The Writ," the band sounded both reinvigorated and wrecked -- a bloodied beast, filled with bullets, standing on the corpse of its captor. Fans and critics were kind, but the musical climate was changing both at home and abroad, and Black Sabbath were beginning to feel the chill.

By 1976 the band was undergoing an internal struggle as well, having to contend with an increasingly frustrated and chemically dependant frontman, who was looking to strike out on his own. Technical Ecstasy (1976) and Never Say Die! (1978), despite going gold, suffered beneath the weight of both the band's substance abuse issues and its increasingly diminished position in popular music. Bands like the Clash and the Sex Pistols were on the rise, and Sabbath's brand of stalwart heavy blues-rock was losing favor. During the recording of Never Say Die!, Osbourne quit, eventually making his way back into the fold during the final sessions, but in 1979, after touring in support of the album, he was fired from the group for good.

Osbourne's departure and successful solo career may have signaled the end of an era for the group, but Black Sabbath weren't about to go gently into that good night. At the suggestion of the band's new manager's daughter Sharon Arden (later to become Sharon Osbourne), Iommi, Butler, and Ward brought in ex-Rainbow frontman Ronnie James Dio to take over vocal duties. Dio's powerful voice, as idiosyncratic and iconic as Osbourne's but with far more wholesale appeal, proved the perfect fit for Black Sabbath 2.0. Released in 1980, Heaven and Hell was a critical and commercial success, becoming their third-highest-selling LP behind Paranoid and Master of Reality. That same year, while on tour, Ward had reached the apex of his alcoholism and announced that he too was leaving the group. Vinny Appice, the younger brother of legendary Vanilla Fudge drummer Carmine Appice, was brought in to replace him, and would appear on the group's tenth studio outing, 1981's Mob Rules. The album received mixed reviews, but still managed to go gold in the U.S. and crack the U.K. Top 40 on the strength of the fiery title track, which also appeared -- in a different version -- in the cult animated, adult-fantasy film Heavy Metal. The band's first ever concert album, Live Evil, was released in 1983. Recorded during the group's 1982 tour in support of Mob Rules, it presented an audio snapshot of the band at the peak of its technical powers, but failed to capture the internal tensions that were bubbling beneath all of the pick slides and pyrotechnics. Citing an irreconcilable falling out with Iommi and Butler, Dio and Appice left the group in the middle of mixing the album, and formed their own band. With the newly minted Dio issuing Holy Diver and Osbourne dropping his third chart-topping solo LP, Bark at the Moon, Black Sabbath were at a definite crossroads.

Undeterred, Iommi and Butler immediately began looking for new members with whom to start up the old machinery, eventually settling on Deep Purple's Ian Gillan on vocals and a freshly sober Bill Ward behind the kit. While it sold well initially, the resulting Born Again was a critical failure, a tone-deaf collection of subpar Sabbath tropes that would ultimately leave Iommi the last man standing. Even the tour in support of the album was a disaster, with Ward, who relapsed during recording, being replaced by Move/ELO drummer Bev Bevan, and a cringe-inducing prop malfunction providing the inspiration for the 1984 mockumentary This Is Spinal Tap's now classic Stonehenge sequence. After the tour Bevan left, Gillan rejoined Deep Purple, and Butler went solo, leaving Iommi no choice but to put the band on hiatus.

What followed was a long period of near-constant personnel changes, with Iommi remaining the sole original member. Issued in 1986, the bluesy Seventh Star was, for all intents and purposes, an Iommi solo album -- record company pressure forced him to add the Black Sabbath moniker to the front cover -- and 1987's Eternal Idol was the first to feature new semi-permanent vocalist Tony Martin. Hard rock heavyweight drummer Cozy Powell joined Iommi and Martin on 1989's Headless Cross and 1990's Viking-themed concept album Tyr, but none of the initial post-Born Again LPs had much of an impact critically or commercially. Once again the musical paradigm was shifting away from the hard rock/heavy metal genre, and Sabbath were just trying to stay afloat. The generally well-received Dehumanizer, a Heaven and Hell/Mob Rules-era reunion with Butler, Dio, and Vinny Appice, provided the Black Sabbath name with a much needed shot in the arm in 1992, and managed to sneak them back into the Top 40 both at home and overseas, but it would prove to be a one-off affair. Arriving in 1994, Cross Purposes kept Butler on board and brought back Martin on vocals, but it failed to capitalize on any momentum left over from Dehumanizer's success, and the following year's disappointing Forbidden, the band's 18th studio LP, would be the last outing for Martin, as well as the last studio album from the band for nearly 18 years.

Iommi, Butler, Ward, and Osbourne would eventually make their way back under the stage lights in 1997, culminating in the release of the Best Metal Performance Grammy Award-winning double live LP Reunion, but it would be 16 years -- and a whole lot of Ozzy, who was eventually given his own reality television show -- before the band would bring the dark arts back to the recording studio. Released in 2013, the Rick Rubin-produced 13, which also brought home a Grammy, this time for the single "God Is Dead?," would be Black Sabbath's final album, and in 2015, Osbourne, Iommi, and Butler -- Ward refused to participate -- announced that their upcoming world tour would be their last. The aptly named The End Tour, which concluded in their hometown of Birmingham, saw Black Sabbath closing the coffin lid on a nearly 50-year career and cementing their legacy as the unheralded harbingers of heavy, sludge, stoner, and doom metal. A concert LP/film of the performance, aptly titled The End, was released in 2017. ~ James Christopher Monger
ORIGIN

Birmingham, England

GENRE

FORMED

1968