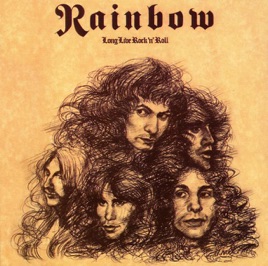 EDITORS' NOTES
Rainbow's final album with frontman Ronnie James Dio is nowhere near as grandiose as Rainbow Rising, but its ferocious attitude reflected impending changes in heavy metal. "Long Live Rock 'n Roll," "Kill the King" and "Sensitive to Light" are built on positively skull-crushing riffs. At the time, no other band — except for AC/DC — could match Rainbow's blistering attack. While Rainbow's whiplash rhythms had already inspired Judas Priest and Iron Maiden, the boneyard strut of "L.A. Connection" foretells the predominant rhythm of '80s hair metal. Long Live Rock 'n Roll is tighter and tougher than their previous albums, but the band still managed to create some of its grandest songs. "Lady of the Lake" and "Rainbow Eyes" defined the band's (and metal's) taste in occultism and medieval reverie, but "Gates of Babylon" is the perfect denouement for the band that basically created the heavy metal epic. Dio exits the song, and Rainbow, with a final immortal proclamation: "The devil is me / And I'm holding the key / To the gates of sweet hell / Babylon!"
EDITORS' NOTES
Rainbow's final album with frontman Ronnie James Dio is nowhere near as grandiose as Rainbow Rising, but its ferocious attitude reflected impending changes in heavy metal. "Long Live Rock 'n Roll," "Kill the King" and "Sensitive to Light" are built on positively skull-crushing riffs. At the time, no other band — except for AC/DC — could match Rainbow's blistering attack. While Rainbow's whiplash rhythms had already inspired Judas Priest and Iron Maiden, the boneyard strut of "L.A. Connection" foretells the predominant rhythm of '80s hair metal. Long Live Rock 'n Roll is tighter and tougher than their previous albums, but the band still managed to create some of its grandest songs. "Lady of the Lake" and "Rainbow Eyes" defined the band's (and metal's) taste in occultism and medieval reverie, but "Gates of Babylon" is the perfect denouement for the band that basically created the heavy metal epic. Dio exits the song, and Rainbow, with a final immortal proclamation: "The devil is me / And I'm holding the key / To the gates of sweet hell / Babylon!"
8 Songs, 39 Minutes
Released:

Apr 9, 1978

℗ 1978 Polydor Ltd. (UK)
Ratings and Reviews
"Long live rock in roll " ...is timeless !!
Blackmore truly shines here ! Cozy Powell one of the premier heavy drummers of all time ! Dio...what can I say ... rich full vocals with unsurpassed strength and tone. Rainbow Eyes will touch you deeply, Gates of Babylon is as heavy as it gets....Kill the King is absolutley amazing...I listened to it over and over as a young guitar player in a band, now I'm 50 and running on a treadmill getting supercharged by the this incredible piece of music by rock royalty. Simply awesome pounding rock and ballads by the finest musicians and VOCALIST !!! of our times. This album LONG LIVES !!!!
Rainbow at their best
OK, perhaps some of the songs do not quite reach the elevated heights of the "Rising" album, but this album still contains some of Rainbow's best songs, not to mentions some of Blackmore's best solos. "Gates of Babylon" is a great example of the neo-classical influence on metal, which Blackmore pioneered, and his solo still stands as one of the best in that style. I also recommend the somewhat underrated "Lady of the Lake" with its simple but powerful riff and its rather eccentric solo. The iTunes Music Store has already mentioned some of the other highlights.

No fan of Rainbow - or 70's hard rock/metal in general - will be disappointed with this album. The only disappointment is that this would be the last album featuring both Blackmore and Dio.
A Classic...extremely underrated
When I think of Ronnie Dio or Rainbow...I think of this album. It has a special place in my heart and still rocks as much today as it did when it was released in the '70s. I believe it is highly underrated and one of Dio's best albums. Not to be missed!