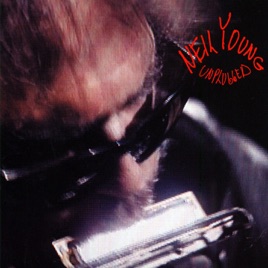 EDITORS' NOTES
Back in 1993, Neil Young appeared on MTV utilizing only a six-string acoustic Martin, his trusty harmonica, a piano, and a musty old pump organ. Of course playing in this stripped-down setting was old hat for Neil Young — but the timing couldn't have been better. Besides making for a memorable performance with a quiver of excellent material, Unplugged proved that through the timely trappings of the early '90s, the song still remained paramount. Spanning selections from as far back as his late 1960s tenure with Buffalo Springfield, some unpredictable selections like "Stringman" and more notably "Transformer Man" proved successful. And where the original recording from 1981's Trans had his voice cloaked in vocoder, this stripped down take with spare drums and female backing vocals presents the tune in its organic and skeletal beauty. Fans of 1992's Harvest Moon should delight in the album's prominent songs played here with a fresh zeal, especially the romantic "Unknown Legend" and the wistful serenade "From Hank To Hendrix."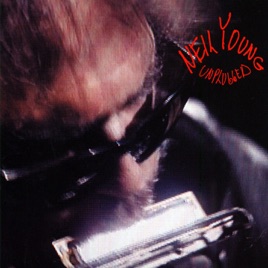 EDITORS' NOTES
Back in 1993, Neil Young appeared on MTV utilizing only a six-string acoustic Martin, his trusty harmonica, a piano, and a musty old pump organ. Of course playing in this stripped-down setting was old hat for Neil Young — but the timing couldn't have been better. Besides making for a memorable performance with a quiver of excellent material, Unplugged proved that through the timely trappings of the early '90s, the song still remained paramount. Spanning selections from as far back as his late 1960s tenure with Buffalo Springfield, some unpredictable selections like "Stringman" and more notably "Transformer Man" proved successful. And where the original recording from 1981's Trans had his voice cloaked in vocoder, this stripped down take with spare drums and female backing vocals presents the tune in its organic and skeletal beauty. Fans of 1992's Harvest Moon should delight in the album's prominent songs played here with a fresh zeal, especially the romantic "Unknown Legend" and the wistful serenade "From Hank To Hendrix."
| | TITLE | | TIME |
| --- | --- | --- | --- |
| | | | |
| | | | |
| | | | |
| | | | |
| | | | |
| | | | |
| | The Needle and Damage Done | | |
| | | | |
| | | | |
| | | | |
| | | | |
| | | | |
| | | | |
| | | | |
14 Songs, 1 Hour 5 Minutes
Released:

Jun 15, 1993

℗ 1993 MTV Networks
Ratings and Reviews
Hidden Gems
Almost any Neil Young album is a great album if you give it time to soak in. This one is filled with pleasant live versions of some well-known and some unfamiliar songs from Neil's canon. Two songs in particular on this record surpass the original versions in my opinion. Look Out For My Love has a better flow than the studio version from Comes A Time. The true gem for me is Transformer Man. Stripped of all the electronic chirping and such that is on the Trans version, the beauty of this song shines through.
A definite Legend.
I really enjoy listening to Neil Young, no I take that back, I love listening to Neil Young. What a great song singer song writer. His lryics in the song Unknow Legend " she used to work in a diner, never seen a woman look finer, I used to order just to wacth her float accross the floor". So much visual in such a short sentence. All his music is like that. This is such a great album, all great songs. Worth the ten bucks.
My eye's rolled back in my Head .. $ 5.00 BUCKS !
INCREDIBLE, Super Colossal + 100 ... Buy this album ...... Every song is 10 big stars.. Neil Young made a classic record by just showing up and playing on a TV show. Every single song is masterpiece unto itself.... This is the sweetest deal to come down Lake Austin Blvd ... in the history of I-Tunes...
The Neil Young performance on this M-TV television program was the absolute high water mark of 1993 and the TV show "Un-plugged".
Rarely do the words GREAT DEAL and I-Tunes get muttered together.. in the same breath. ... RARELY ! But today they do ! Charging $ 5.02 for this masterpiece is INCREDIBLE ! So act fast and send CA$H before midnight tonight... Or better yet order it rit here .....