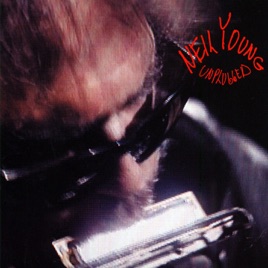 EDITORS' NOTES
Back in 1993, Neil Young appeared on MTV utilizing only a six-string acoustic Martin, his trusty harmonica, a piano, and a musty old pump organ. Of course playing in this stripped-down setting was old hat for Neil Young — but the timing couldn't have been better. Besides making for a memorable performance with a quiver of excellent material, Unplugged proved that through the timely trappings of the early '90s, the song still remained paramount. Spanning selections from as far back as his late 1960s tenure with Buffalo Springfield, some unpredictable selections like "Stringman" and more notably "Transformer Man" proved successful. And where the original recording from 1981's Trans had his voice cloaked in vocoder, this stripped down take with spare drums and female backing vocals presents the tune in its organic and skeletal beauty. Fans of 1992's Harvest Moon should delight in the album's prominent songs played here with a fresh zeal, especially the romantic "Unknown Legend" and the wistful serenade "From Hank To Hendrix."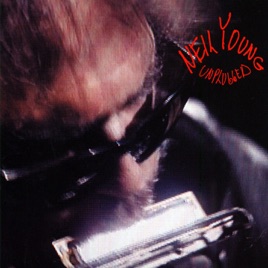 EDITORS' NOTES
Back in 1993, Neil Young appeared on MTV utilizing only a six-string acoustic Martin, his trusty harmonica, a piano, and a musty old pump organ. Of course playing in this stripped-down setting was old hat for Neil Young — but the timing couldn't have been better. Besides making for a memorable performance with a quiver of excellent material, Unplugged proved that through the timely trappings of the early '90s, the song still remained paramount. Spanning selections from as far back as his late 1960s tenure with Buffalo Springfield, some unpredictable selections like "Stringman" and more notably "Transformer Man" proved successful. And where the original recording from 1981's Trans had his voice cloaked in vocoder, this stripped down take with spare drums and female backing vocals presents the tune in its organic and skeletal beauty. Fans of 1992's Harvest Moon should delight in the album's prominent songs played here with a fresh zeal, especially the romantic "Unknown Legend" and the wistful serenade "From Hank To Hendrix."
| | TITLE | | TIME |
| --- | --- | --- | --- |
| | | | |
| | | | |
| | | | |
| | | | |
| | | | |
| | | | |
| | The Needle and Damage Done | | |
| | | | |
| | | | |
| | | | |
| | | | |
| | | | |
| | | | |
| | | | |
14 Songs, 1 Hour 5 Minutes
Released:

Jun 15, 1993

℗ 1993 MTV Networks
Ratings and Reviews
Hidden Gems
Almost any Neil Young album is a great album if you give it time to soak in. This one is filled with pleasant live versions of some well-known and some unfamiliar songs from Neil's canon. Two songs in particular on this record surpass the original versions in my opinion. Look Out For My Love has a better flow than the studio version from Comes A Time. The true gem for me is Transformer Man. Stripped of all the electronic chirping and such that is on the Trans version, the beauty of this song shines through.
Unplugged
Damn. What else is there to say?
My eye's rolled back in my Head .. $ 5.00 BUCKS !
INCREDIBLE, Super Colossal + 100 ... Buy this album ...... Every song is 10 big stars.. Neil Young made a classic record by just showing up and playing on a TV show. Every single song is masterpiece unto itself.... This is the sweetest deal to come down Lake Austin Blvd ... in the history of I-Tunes...
The Neil Young performance on this M-TV television program was the absolute high water mark of 1993 and the TV show "Un-plugged".
Rarely do the words GREAT DEAL and I-Tunes get muttered together.. in the same breath. ... RARELY ! But today they do ! Charging $ 5.02 for this masterpiece is INCREDIBLE ! So act fast and send CA$H before midnight tonight... Or better yet order it rit here .....
About Neil Young
After Neil Young left the California folk-rock band Buffalo Springfield in 1968, he slowly established himself as one of the most influential and idiosyncratic singer/songwriters of his generation. Young's body of work ranks second only to Bob Dylan in terms of depth, and he was able to sustain his critical reputation, as well as record sales, for a longer period of time than Dylan, partially because of his willfully perverse work ethic. From the beginning of his solo career in the late '60s through to the 21st century, he never stopped writing, recording, and performing; his official catalog only represented a portion of his work, since he kept countless tapes of unreleased songs in his vaults.

Just as importantly, Young continually explored new musical territory, from rockabilly and the blues to electronic music. But these stylistic exercises only gained depth when compared to his two primary styles: gentle folk and country-rock, and crushingly loud electric guitar rock, which he frequently recorded with the California garage band Crazy Horse. Throughout his career, Young alternated between these two extremes, and both proved equally influential; there were just as many singer/songwriters as there were grunge and country-rock bands claiming to be influenced by Neil Young. Despite his enormous catalog and influence, Young continued to move forward, writing new songs and exploring new music. That restless spirit ensured that he was one of the few rock veterans as vital in his old age as he was in his youth.

Born in Toronto, Canada, Neil Young moved to Winnipeg with his mother following her divorce from his sports journalist father. Young began playing music in high school. Not only did he play in garage rock outfits like the Squires, but he also played in local folk clubs and coffee houses, where he eventually met Joni Mitchell and Stephen Stills. During the mid-'60s, he returned to Toronto, where he played as a solo folk act. By 1966, he joined the Mynah Birds, which also featured bassist Bruce Palmer and Rick James. The group recorded an album's worth of material for Motown, none of which was released at the time. Frustrated by his lack of success, Young moved to Los Angeles in his Pontiac hearse, taking Palmer along as support. Shortly after they arrived in L.A., they happened to meet Stills, and they formed Buffalo Springfield, who quickly became one of the leaders of the California folk-rock scene.

Despite the success of Buffalo Springfield, the group was plagued with tension, and Young quit the band several times before finally leaving to become a solo artist in May of 1968. Hiring Elliot Roberts as his manager, Young signed with Reprise Records and released his eponymous debut album in early 1969. By the time the album was released, he had begun playing with a local band called the Rockets, which featured guitarist Danny Whitten, bassist Billy Talbot, and drummer Ralph Molina. Young renamed the group Crazy Horse and had them support him on his second album, Everybody Knows This Is Nowhere, which was recorded in just two weeks. Featuring such Young staples as "Cinnamon Girl" and "Down by the River," the album went gold. Following the completion of the record, he began jamming with Crosby, Stills & Nash, eventually joining the group for their spring 1970 album, Déjà Vu. Although he was now part of Crosby, Stills, Nash & Young, he continued to record as a solo artist, releasing After the Gold Rush in August 1970. The album, along with its accompanying single "Only Love Can Break Your Heart," established Young as a solo star, and fame only increased through his association with CSN&Y.

Although Crosby, Stills, Nash & Young were a very successful act, they were also volatile, and they had split by the spring 1971 release of the live Four Way Street. The following year, Young had his first number one album with the mellow country-rock of Harvest, which also featured his first (and only) number one single, "Heart of Gold." Instead of embracing his success, he spurned it, following it with the noisy, bleak live film Journey Through the Past. Both the movie and its soundtrack received terrible reviews, as did the live Time Fades Away, an album recorded with the Stray Gators that was released in 1973.

Both Journey Through the Past and Time Fades Away signaled that Young was entering a dark period in his life, but they only scratched the surface of his anguish. Inspired by the overdose deaths of Danny Whitten in 1972 and his roadie Bruce Berry the following year, Young wrote and recorded the bleak, druggy Tonight's the Night late in 1973, but declined to release it at the time. Instead, he released On the Beach, which was nearly as harrowing, in 1974; Tonight's the Night finally appeared in the spring of 1975. By the time of its release, Young had recovered, as indicated by the record's hard-rocking follow-up, Zuma, an album recorded with Crazy Horse and released later that year.

Young's focus began to wander in 1976, as he recorded the duet album Long May You Run with Stephen Stills and then abandoned his partner midway through the supporting tour. The following year he recorded the country-rock-oriented American Stars 'n Bars, which featured vocals by Nicolette Larson, who was also prominent on 1978's Comes a Time. Prior to the release of Comes a Time, Young scrapped the country-rock album Homegrown and assembled the triple-album retrospective Decade. At the end of 1978, he embarked on an arena tour called Rust Never Sleeps, which was designed as a showcase for new songs. Half of the concert featured Young solo, the other half featured him with Crazy Horse. That was the pattern that Rust Never Sleeps, released in the summer of 1979, followed. The record was hailed as a comeback, proving that Young was one of the few rock veterans who attacked punk rock head-on. That fall he released the double album Live Rust and the live movie Rust Never Sleeps.

Rust Never Sleeps restored Young to his past glory, but he perversely decided to trash his goodwill in 1980 with Hawks & Doves, a collection of acoustic songs that bore the influence of conservative, right-wing politics. In 1981, Young released the heavy rock album Re*ac*tor, which received poor reviews. Following its release, he left Reprise for the fledgling Geffen Records, where he was promised lots of money and artistic freedom. Young decided to push his Geffen contract to the limit, releasing the electronic Trans in December 1982, where his voice was recorded through a computerized vocoder. The album and its accompanying technology-dependent tour were received with bewildered, negative reviews. The rockabilly of Everybody's Rockin' (1983) was equally scorned, and Young soon settled into a cult audience for the mid-'80s.

Over the course of the decade, Young released three albums that were all stylistic exercises. In 1985, he released the straight country Old Ways, which was followed by the new wave-tinged Landing on Water the following year. He returned to Crazy Horse for 1987's Life, but by that time, he and Geffen had grown sick of each other, and he returned to Reprise in 1988. His first album for Reprise was the bluesy, horn-driven This Note's for You, which was supported by an acclaimed video that satirized rock stars endorsing commercial products. At the end of the year, he recorded a reunion album with Crosby, Stills & Nash called American Dream, which was greeted with savagely negative reviews.

American Dream didn't prepare any observer for the critical and commercial success of 1989's Freedom, which found Young following the half-acoustic/half-electric blueprint of Rust Never Sleeps to fine results. Around the time of its release, Young became a hip name to drop in indie rock circles, and he was the subject of a tribute record titled The Bridge in 1989. The following year, Young reunited with Crazy Horse for Ragged Glory, a loud, feedback-drenched album that received his strongest reviews since the '70s. For the supporting tour, Young hired the avant rock band Sonic Youth as his opening group, providing them with needed exposure while earning him hip credibility within alternative rock scenes. On the advice of Sonic Youth, Young added the noise collage EP Arc as a bonus to his 1991 live album, Weld.

Weld and the Sonic Youth tour helped position Neil Young as an alternative and grunge rock forefather, but he decided to abandon loud music for its 1992 follow-up, Harvest Moon. An explicit sequel to his 1972 breakthrough, Harvest Moon became Young's biggest hit in years, and he supported the record with an appearance on MTV Unplugged, which was released the following year as an album. Also in 1993, Geffen released the rarities collection Lucky Thirteen. The following year, he released Sleeps with Angels, which was hailed as a masterpiece in some quarters. Following its release, Young began jamming with Pearl Jam, eventually recording an album with the Seattle band in early 1995. The resulting record, Mirror Ball, was released to positive reviews in the summer of 1995, but it wasn't the commercial blockbuster it was expected to be; due to legal reasons, Pearl Jam's name was not allowed to be featured on the cover.

In the summer of 1996, he reunited with Crazy Horse for Broken Arrow and supported it with a brief tour. That tour was documented in Jim Jarmusch's 1997 film The Year of the Horse, which was accompanied by a double-disc live album. In 1999, Young reunited with Crosby, Stills & Nash for the first time in a decade, supporting their Looking Forward LP with the supergroup's first tour in a quarter century. A new solo effort, Silver & Gold, followed in the spring of 2000. In recognition of his 2000 summer tour, Young released the live album Road Rock, Vol. 1 the following fall, showcasing a two-night account of Young's performance at the Red Rocks Amphitheater in Morrison, Colorado, in September 2000. A DVD version titled Red Rocks Live was issued that December, and included 12 tracks initially unavailable on Road Rock, Vol. 1. His next studio project was his most ambitious yet, a concept album about small-town life titled Greendale that he also mounted as a live dramatic tour and indie film.

In early 2005, Young was diagnosed with a potentially deadly brain aneurysm. Undergoing treatment didn't slow him down, however, as he continued to write and record his next project. The acoustically based Prairie Wind appeared in the fall, with the concert film Heart of Gold, based around the album and directed by Jonathan Demme, released in 2006. That year also saw the release of the controversial Living with War, a collection of protest songs against the war in Iraq that featured titles such as "Let's Impeach the President," "Shock and Awe," and "Lookin' for a Leader." Restless, prolific, and increasingly self-referential, Young issued Chrome Dreams II late in 2007 and the car-themed Fork in the Road in 2009. Later in 2009, Young finally released the first installment in his long-rumored Archives series, Archives, Vol. 1, a massive first volume that combined over ten CD and DVD discs in a single box. As he was prepping Archives, Vol. 2, Young entered the studio with producer Daniel Lanois and recorded Le Noise, which appeared in the fall of 2010.

Archives, Vol. 2 was not forthcoming, however, as Young stayed very active during the early 2010s. He finally reunited with Richie Furay and Stephen Stills as Buffalo Springfield for a pair of shows at his annual Bridge School Benefit in the fall of 2010. It wasn't a complete reunion, since bassist Bruce Palmer had died in 2004 and drummer Dewey Martin passed in 2009, but the three singers used drummer Joe Vitale and bassist Rick Rosas to fill in. The same configuration played six concerts in the spring of 2011 but reportedly did no studio work. Young continued going through his archives with the release of A Treasure in 2011, a single-disc set of live tracks recorded during his 1984-1985 tour with the International Harvesters that featured five previously unreleased Young songs mixed in with older songs like "Flying on the Ground Is Wrong" and "Are You Ready for the Country?," all done in the classic Harvest style. In 2012, Young reunited with Crazy Horse for Americana, a set of classic folk tunes like "This Land Is Your Land" and "Wayfarin' Stranger," followed several months later by the double-disc album of originals Psychedelic Pill, which again saw Young turning to the guitar garage stomp of Crazy Horse.

In September of 2012, Young published his memoir, Waging Heavy Peace: A Hippie Dream. In the book, he wrote at length about his family and career, and also expressed his frustration with the low sound quality of digital music. Timed with the release of the book, Young announced the founding of Pono Music, originally a new audio format but later simplified to a music player and downloading service designed for audiophiles and listeners who had similar issues with sound quality. A Kickstarter campaign in 2014 raised $6 million, one of the largest digitally crowd-funded efforts in history, and the company planned to start shipping the devices in the fall of 2014. On the recording front, he entered Jack White's Third Man studios in Nashville to cut A Letter Home, a covers album featuring songs from Young's favorite songwriters. Within a few months, he announced another full-length for 2014, Storytone. The album was heralded with the release of an environmentally conscious song, "Who's Going to Stand Up?," that Young had been performing in concert. Young's passion for environmental causes also informed his next album, 2015's The Monsanto Years, in which he took on the issues of genetically modified crops and agri-business; the album found him backed by Promise of the Real, a band led by Lukas Nelson, son of outlaw country icon and Young's close friend Willie Nelson. Young and the Promise of the Real supported The Monsanto Years with a tour, which became the basis for the 2016 live double-album Earth. Just after the June release of Earth, Young wrote and recorded the protest album Peace Trail, which appeared in December 2016. Young continued his burst of activity in 2017 with the release of the single "Children of Destiny." ~ Stephen Thomas Erlewine
HOMETOWN

Toronto, Ontario, Canada

GENRE

BORN

November 12, 1945