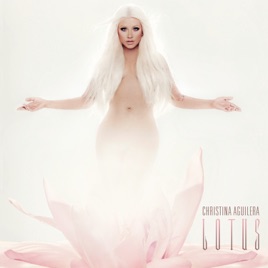 EDITORS' NOTES
Though many credit her joining The Voice for reigniting her career, Christiana Aguilera attributes her divorce as a "rebirth." With her underwhelming film debut in Burlesque and 2010's Bionic receiving mediocre reviews, it seemed like Aguilera's seventh studio album would determine her future. Lotus is a dazzling comeback. Where Bionic came off as too conceptually tried, these songs sound organic in contrast, starting on the earthy "Lotus Intro" with Aguilera's soliloquy likening her inner strength to that of the resilient flower. The following "Army Of Me" is a modern disco laced anthem of empowerment. As she sings, "Now I've found my second wind/ Now I've found my second skin," she sounds honestly comfortable in that skin. And why shouldn't she? Lotus was recorded in the comfort of her home studio where her friend Cee Lo Green dropped by to pipe-in on the grandiose "Make The World Move" before she and Blake Shelton duet with vocal pyrotechnics in "Just A Fool."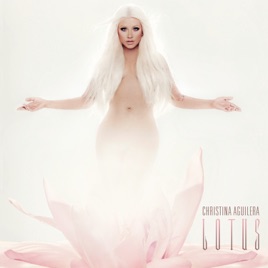 EDITORS' NOTES
Though many credit her joining The Voice for reigniting her career, Christiana Aguilera attributes her divorce as a "rebirth." With her underwhelming film debut in Burlesque and 2010's Bionic receiving mediocre reviews, it seemed like Aguilera's seventh studio album would determine her future. Lotus is a dazzling comeback. Where Bionic came off as too conceptually tried, these songs sound organic in contrast, starting on the earthy "Lotus Intro" with Aguilera's soliloquy likening her inner strength to that of the resilient flower. The following "Army Of Me" is a modern disco laced anthem of empowerment. As she sings, "Now I've found my second wind/ Now I've found my second skin," she sounds honestly comfortable in that skin. And why shouldn't she? Lotus was recorded in the comfort of her home studio where her friend Cee Lo Green dropped by to pipe-in on the grandiose "Make The World Move" before she and Blake Shelton duet with vocal pyrotechnics in "Just A Fool."
| | TITLE | TIME | PRICE |
| --- | --- | --- | --- |
| | | 3:17 | $1.29 |
| | | 3:26 | $1.29 |
| | | 3:06 | $1.29 |
| | Make the World Move (feat. CeeLo Green) | 2:59 | $1.29 |
| | | 4:00 | $1.29 |
| | | 3:21 | $1.29 |
| | | 4:00 | $1.29 |
| | | 4:04 | $1.29 |
| | | 4:07 | $1.29 |
| | | 3:24 | $1.29 |
| | | 3:25 | $1.29 |
| | | 4:08 | $1.29 |
| | Just a Fool (with Blake Shelton) | 4:13 | $1.29 |
| | | 3:30 | $1.29 |
| | | 3:47 | $1.29 |
| | | 2:52 | $1.29 |
| | Your Body (Martin Garrix Remix) | 5:12 | $1.29 |
17 Songs

℗ 2012 RCA Records, a division of Sony Music Entertainment
Customer Reviews
Great Album Xtina!!!
I've been really excited for this cd to come out! Super pumped that its finally out!!!

Lotus Intro- 7/10- Love the beat! Not a lot to it but still a good intro song!

Army of Me- 8/10- This is one of my favorites! Kind of a fighter 2.0

Red Hot Kinda Love- 4/10- not my favorite... just kinda all over the place.

Make the World Move- 9/10- Love this song! CeeLo in the chorus is amazing! The chorus in general is awesome!

Your Body- 6/10- When the song first came out I loved it but the more I listened to it the more repetitive it became..still like the song but its not my favorite on the album.

Let There Be Love- 7/10- very catchy! You can't help but bob your head to it.

Sing for me- 9.5/10- Such a relatable song! The first line in the chorus gives me chills everytime!

Blank Page- 10/10- She does such an amazing job on this song! Reminds me of "Hurt" or "Beautiful", simple and lets her voice really just shine!

Cease Fire- 6/10- This song is growing on me... The back music just keeps me from really getting into it but the chorus is catchy and the more I listen to it the more I like it.

Around the World- 4/10- Kinda reminds me of that Hilary Duff song... can't think of what its called tho,... But just not one of my favorites...

Circles- 8/10- This song cracks me up! Great F-you song!

Best of Me- 9/10- This song crept up on me! I really love it! I think the more I listen to it the more I'll like it. "You'll never get the best of me no more..." :)

Just a Fool- 10/10- LOVE THIS SONG!!!! Both of them are amazing!!! Great Breakup song!! Just cant get enough of it!

Light Up the Sky- 7/10- Its a little rocky until the Pre-Chorus then it just explodes into this great song! Not a huge fan of the quicker tempoed section tho...

Empty Words- 9/10- Such a good song! "The funny thing about listening is I don't have to hear you.." such a good lyric! Songs about being strong and knowing that no one can take you down with empty, pointless words meant to hurt you.

Shut Up- 3/10- easily my least favorite! I get where she's coming from but I sounds like one of those songs you here on Disney channel meets SNL... lol

Love you X-tina! The album is amazing Totally worth buying!!!!!
XTINA IS BACK!!! :)
Without knowing the rest of the songs, I know will be a GREAT ALBUM, I love it!!! :D
About Christina Aguilera
A leader in the parade of Mickey Mouse Club veterans who stormed pop music at the turn of the millennium, Christina Aguilera was the sexy, brassy diva of the bunch -- the Rolling Stones to Britney Spears' Beatles, as it were. Initially, it was difficult to see Christina outside of the prism of Britney, whose 1999 success launched the new millennium's teen pop boom, but Christina's big hits of 1999 -- "Genie in a Bottle," "What a Girl Wants," "Come on Over" -- more than held their own with "...Baby One More Time," while revealing a vocalist with considerably more power and range than her erstwhile rival. Soon, Aguilera distanced herself from the rest of the pack, beginning with her carnal sophomore set, Stripped, a heavy R&B album from 2002 that found its greatest success with the ballad "Beautiful." Christina may have emphasized her sexual side with Stripped singles like "Dirrtty," but by the time of 2006's Back to Basics, it was clear that Aguilera was the most musically ambitious, and reliable, pop diva of the boom.

Born on Staten Island on December 18, 1980, Aguilera spent her early childhood in Pittsburgh, Pennsylvania. At age six, she began performing regularly in local talent shows, working her way up to an appearance on the nationally televised competition Star Search. This was the true beginning of Aguilera's professional career, leading her to joining Disney Channel's reboot of The Mickey Mouse Club in 1992. Aguilera joined a cast that also featured future stars Britney Spears, Ryan Gosling, Justin Timberlake, JC Chasez, and Keri Russell. The New Mickey Mouse Club lasted for two years and after its cancellation, Aguilera began working behind the scenes of the pop industry, cutting a duet with Japanese pop singer Keizo Nakanishi called "All I Wanna Do," then representing the U.S. three years later in the Golden Stag International Festival. Her first big break arrived in 1998, when she recorded "Reflection" for the soundtrack of Disney's Mulan, a performance that led to a contract with RCA Records.

RCA released the album Christina Aguilera late in the summer of 1999, several months after Spears' "...Baby One More Time" began the teen pop boom. Aguilera's debut reached the top of the U.S. charts on the momentum of the number one single "Genie in a Bottle," which was followed in short order by another chart-topper in "What a Girl Wants" (the latter happened to be the first number one of 2000). Aguilera racked up recognition in a number of ways, playing the Super Bowl half-time show and winning the Grammy for Best New Artist, as "Come on Over Baby (All I Want Is You)" gave her a third number one single. Aguilera kept new music flowing, too, releasing the Spanish-language Mi Reflejo -- she didn't speak the language, so she learned the lyrics phonetically -- and My Kind of Christmas by the end of the year, while other labels attempted to cash in on her success via an unauthorized collection of old demos called Just Be Free. She stayed in the spotlight in 2001 via her participation of a remake of Labelle's "Lady Marmalade" for the soundtrack of Baz Luhrmann's Moulin Rouge.

When Aguilera resurfaced with new material in 2002, she began using the appellation Xtina, which was not the only "X" on her sophomore effort, Stripped. A carnal collection of risqué R&B largely produced by Scott Storch, Stripped was a defiant break from her teenybopper past, and Aguilera promoted it by flashing lots of skin on the covers of her album, Rolling Stone, and Maxim. Such striking sexuality was evident on Stripped's lead single "Dirrty" but the album's biggest hit was "Beautiful," a ballad that turned into an anthem and peaked at number two on the Top 100.

Aguilera took another left turn for her next album, 2006's Back to Basics. The title suggested something simple but the album was anything but, spilling out over two discs and running the gamut from brassy swing to modern dance. Its lead single, "Ain't No Other Man," was another blockbuster and Grammy winner for Aguilera, and the tour was her most ambitious to date. In 2008, she released her first hits collection, Keeps Gettin' Better. After a four-year break, Aguilera returned with her fourth album, Bionic, in the spring of 2010. Bionic debuted at three in the U.S. and number one in the U.K., with its first single, "Not Myself Tonight," peaking at 22 on the Billboard charts. Next up was Burlesque, Aguilera's first starring role on the big screen, which was accompanied by a soundtrack featuring original music by Christina and her co-star Cher.

In the spring of 2011, Aguilera signed onto NBC's televised singing competition The Voice. As one of the four celebrity judges -- the others being Cee Lo Green, Blake Shelton, and Maroon 5's Adam Levine -- Christina found herself on a hit show that elevated her profile and gave her another hit single as Levine's duet partner on Maroon 5's 2011 chart-topper "Moves Like Jagger." The Voice retained its popularity in its second season in early 2012, and Aguilera spent much of the year prepping her fifth album, Lotus, which was released in November 2012. Lotus peaked at seven on the Billboard charts; its lead single, "Your Body," peaked at 34 in the Top 40. Aguilera took a leave from The Voice in 2014 and 2015, concentrating on working on her eighth studio album; she also began a recurring role on ABC's prime-time soap Nashville. In 2016, she released "Change" -- a charity single for the families of the victims of a tragic shooting in an Orlando nightclub -- and sang "Telepathy" for Baz Luhrmann's Netflix series The Get Down. ~ Stephen Thomas Erlewine
ORIGIN

Staten Island, NY

BORN

Dec 18, 1980
Top Songs by Christina Aguilera
See All
Top Albums by Christina Aguilera
See All
Top Music Videos by Christina Aguilera
See All