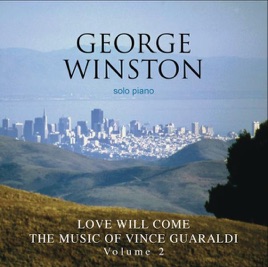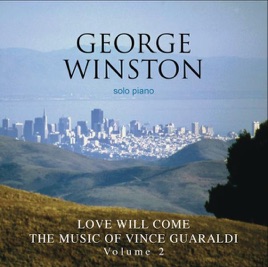 Love Will Come - The Music of Vince Guaraldi, Vol. 2 (Deluxe Version)
George Winston
| | TITLE | | TIME |
| --- | --- | --- | --- |
| | | | |
| | It Was a Short Summer, Charlie Brown | | |
| | | | |
| | | | |
| | Fenwyck's Farfel / Calling Dr. Funk | | |
| | | | |
| | | | |
| | Be My Valentine, Charlie Brown | | |
| | You're Elected, Charlie Brown / Little Birdie | | |
| | | | |
| | | | |
| | Pebble Beach / Dolores Park | | |
| | Love Will Come / Slow Dance | | |
| | | | |
| | | | |
| | | | |
| | | | |
| | Seeds for Thought / Ballad for Oscar | | |
| | | | |
19 Songs, 1 Hour 11 Minutes
Released:

Feb 2, 2010

℗ 2009 Dancing Cat Records
Ratings and Reviews
You Have Two Compelling ReasonsTo Enjoy Love Will Come
Guaraldi's unique style of composition is readily recognizable: strong bass lines, frequent cyclical modulations, chords featuring major 9ths (often in place of the 7th typically used in jazz harmonies) and pentatonic scales.

"Fenwyck's Farfel/Calling Dr. Funk," track five, is as standout as a somber blues in almost a New Orleans jazz funeral style. "Pebble Beach/Dolores Park" is another atypical selection. It is modern jazz with harmonic progressions reminiscent of Gary Burton's early work. The title track, "Love Will Come," is again from "Charlie Brown" and paints an image of the character's thoughtful reflective nature. It is reprised in variation for the final track, "Love Will Come 2."

Winston faces two challenges on this CD. First, the compositions are all by a single composer and are extremely familiar from their original context. Second, the entire recording is of solo piano. Given these tight constraints this is a good piece of work. Many of us have an immediate strong and pleasurable nostalgic response to Vince Guaraldi's "Charlie Brown" sounds. Combine that with Winston's fine interpretations of some of Guaraldi's other interesting jazz compositions and you have two compelling reasons to enjoy Love Will Come.

Mike Reynolds
Two Great Artists
I am a big fan of Vince Guaraldi and I am very happy to have a remake of his excellent and almost forgotten work. I have all of George Winston's Solo Piano music so I know his style pretty well. And, I can say with confidence that this album is right in line stylistically with everything he has been doing all along. Many people forget that this artist stared out as a Rhythm and Blues artist. I think some listeners get caught up in the "Seasons" stuff that is really fantastic work but only one part of what he does. This CD is a must have for every fan. I must say it's not his best work since his tempo does not sound right at times. "Your Elected, Charlie Brown" sounds strange rhythmically and "Dilemma" seems a bit off too but yet somehow it still seems to portray George's interpretation of the music.
Learn to Appreciate Something Different!
Seriously, if you only want to listen to studio musicians who play the same thing on every album, there are plenty of them to choose from (especially within the solo piano genre).

I was a little puzzled at first when George started doing all this "different" stuff (i.e. the first Vince Guaraldi album), but over time I've come to really appreciate and even enjoy most of it. He has spent the better part of his career studying these other artists, and has said himself that the style on his seasonal albums only accounts for about one third of his focus.

He has been playing many of these new (to him) Vince Guaraldi pieces in concert for a few years, so I've been waiting for this new album for a while. It was definitely worth the wait. The album kicks off with one of my favorites, Time for Love, and keeps me engaged to the end. As others have mentioned, he occasionally plays fast-and-loose with the left-hand rhythm, but I think that's just part of the New Orleans stylistic influence coming through.

All things considered, it's not his best, but then again it would be a challenge for any musician to top masterpieces like December and Forest. I recommend enjoying it for what it is, and maybe you will learn to like something new.