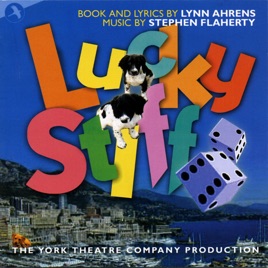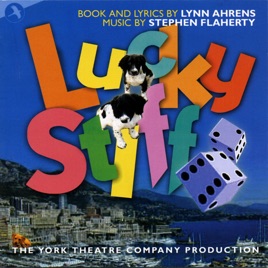 Lucky Stiff (The York Theatre Production)
TITLE
TIME

Something Funny's Going On

Company

1:46

Mr. Witherspoon's Friday Night

Malcolm Gets

4:30

Mary Testa & Stuart Zagnit

3:41

Malcolm Gets & Paul Kandel

4:31

Malcolm Gets & Paul Kandel

2:49

Janet Metz & Malcolm Gets

2:20

Stuart Zagnit

2:39

Erick Devine

1:06

Malcolm Gets & Rosena M. Hill

4:19

Janet Metz

3:35

Mary Testa

3:07

Janet Metz & Malcolm Gets

1:19

Something Funny's Going On (Reprise)

Company

0:30

Janet Metz, Malcolm Gets & Mary Testa

2:20

Janet Metz & Malcolm Gets

3:41

Welcome Back, Mr. Witherspoon

Barbara Rosenblat & Malcolm Gets

3:07

Malcolm Gets

2:11

Janet Metz, Malcolm Gets, Mary Testa & Paul Kandel

1:01

Janet Metz, Malcolm Gets, Mary Testa & Paul Kandel

2:20

Janet Metz & Malcolm Gets

1:58

Malcolm Gets

4:04
21 Songs, 56 Minutes

℗ 2004 JAY Productions Ltd.
Customer Reviews
Eh.... Nothing special
The music and lyrics are very weak in this show. The lyrics are almost as bad as A New Brain.... like: "We always take the train. We never take the plane, why would anybody want to take the plane." I am currently in it and to tell you the truth, it isn't anything special. The best part about the show is that Malcolm Gets is in it along with the great Mary Testa and Janet Metz (Who can REALLY get anoying!!!!) I would waste my money on this CD unless you are in the show yourself and need it for that or you are a fan of someone in the show.
It's Good to Be Alive!
I have the privelege to be in this musical, and I must say that the score is excellent. The lyrics for some of these wacky songs will have you laughing out loud. However, mixed up among the mayhem are two broadway gems, "Nice," and "Times Like This," that are very sweet and melodic. I highly reccomend this play to any theater that is interested. It's a great show and will have the audiences rolling in the aisles. The premise is outrageous, the music/lyrics are zany, and the outcome is pure fun.
Really Good!
I really like Rita's Confession, Something Funny's going on, and good to be alive. this is a really good play! i wish the recording was a little better. i would like it live better then hearing the recording.
About Stephen Flaherty
Best known for his long-running partnership with lyricist Lynn Ahrens, Stephen Flaherty is a Tony Award-winning composer of musicals. Among their most popular work together are the Broadway musical Ragtime and the Fox animated film Anastasia.

Born in Pittsburgh, Pennsylvania in 1960, Flaherty began studying piano at the age of seven and composed his first score for a musical at 14. He went on to graduate from the University of Cincinnati's College-Conservatory of Music in 1982. He also did graduate work in musical theater at New York University and remained based in New York City.

His first collaboration with singer, songwriter, and lyricist Lynn Ahrens was in 1985 for Theatreworks USA, a group specializing in youth-oriented theater. The off-Broadway musical Lucky Stiff followed in 1989 with music by Flaherty and book and lyrics by Ahrens. It also ran briefly on London's West End in 1997. Flaherty and Ahrens contributed separately and together to Schoolhouse Rock! shorts, and the team's first Broadway musical was the one-act Once on This Island. Opening in 1990, it was accompanied by a cast recording on Masterworks Broadway and received eight Tony nominations, including the categories of best musical, book, and score.

Their most high-profile success to that point came in 1997 with the release of the hit Twentieth Century Fox animated film Anastasia. Based on the legend of the daughter of Russia's Tsar Nicholas II, the film earned Flaherty two Academy Award nominations, for Best Original Musical or Comedy Score (with Ahrens and David Newman) and Best Original Song "Journey to the Past" (with Ahrens). He and Ahrens also collaborated on its straight-to-video sequel, 1999's Bartok the Magnificent.

In the meantime, the Ahrens-Flaherty musical Ragtime premiered in Toronto in 1996, then ran in Los Angeles in 1997 before opening on Broadway in January 1998. An epic based on the 1975 novel by E.L. Doctorow about class issues in early 20th century New York, its score was steeped in the period's ragtime music, as well as incorporating other thematic material, such as Eastern European folk music. The production was nominated for 12 Tony Awards, winning four including Flaherty and Ahrens' score and Terrence McNally's book. The songwriting team's subsequent musicals included 2000's Seussical, 2002's A Man of No Importance, 2005's Dessa Rose and musical revue Chita Rivera: The Dancer's Life, and 2007's The Glorious Ones. Among other work -- not all with Ahrens, including the American River Suite with lyricist Bill Schermerhorn -- Flaherty also teamed with Ahrens for Little Dancer, a Degas-inspired musical that played at Kennedy Center in 2014. Their Rocky the Musical opened on Broadway that same year.

In April 2017, 20 years after the film, a stage version of Anastasia with a book by Terrence McNally opened on Broadway. The cast recording, Anastasia: The New Broadway Musical, arrived on the Broadway label two months later and debuted at the top of the Billboard Cast Albums chart. ~ Marcy Donelson