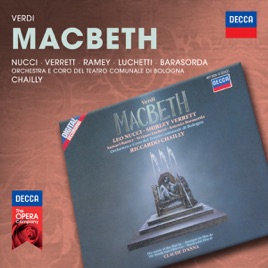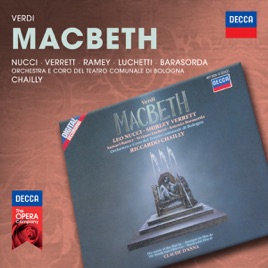 TITLE
TIME

Macbeth: Overture (Preludio)

By Giuseppe Verdi, Francesco Maria Piave & Andrea Maffei - Orchestra del Teatro Comunale di Bologna & Riccardo Chailly

Macbeth, Act 1: Coro di streghe. "Che faceste? dite su!"

By Giuseppe Verdi, Francesco Maria Piave & Andrea Maffei - Coro del Teatro Comunale di Bologna, Orchestra del Teatro Comunale di Bologna & Riccardo Chailly

Macbeth, Act 1: Scena e duetto. "Giorno non vidi mai"

By Giuseppe Verdi, Francesco Maria Piave & Andrea Maffei - Leo Nucci, Samuel Ramey, Coro del Teatro Comunale di Bologna, Orchestra del Teatro Comunale di Bologna & Riccardo Chailly

Macbeth, Act 1: Coro di streghe. "S'allontanarono!"

By Giuseppe Verdi, Francesco Maria Piave & Andrea Maffei - Coro del Teatro Comunale di Bologna, Orchestra del Teatro Comunale di Bologna & Riccardo Chailly

Macbeth, Act 1: Scena e cavatina. "Nel dì della vittoria io le incontrai"

By Giuseppe Verdi, Francesco Maria Piave & Andrea Maffei - Shirley Verrett, Gianfranco Casarini, Orchestra del Teatro Comunale di Bologna & Riccardo Chailly

Macbeth, Act 1: Scena e marcia. "Oh donna mia"

By Giuseppe Verdi, Francesco Maria Piave & Andrea Maffei - Leo Nucci, Shirley Verrett, Orchestra del Teatro Comunale di Bologna & Riccardo Chailly

Macbeth, Act 1: Gran scena e duetto. "Sappia la sposa mia"

By Giuseppe Verdi, Francesco Maria Piave & Andrea Maffei - Leo Nucci, Shirley Verrett, Orchestra del Teatro Comunale di Bologna & Riccardo Chailly

Macbeth, Act 1: Scena e sestetto - Finale I. "Di destarlo per tempo il re m'impose"

By Giuseppe Verdi, Francesco Maria Piave & Andrea Maffei - Veriano Luchetti, Samuel Ramey, Leo Nucci, Shirley Verrett, Anna Caterina Antonacci, Antonio Barasorda, Orchestra del Teatro Comunale di Bologna & Riccardo Chailly

Macbeth, Act 2: Perché mi sfuggi...La luce langue

By Giuseppe Verdi, Francesco Maria Piave & Andrea Maffei - Shirley Verrett, Leo Nucci, Orchestra del Teatro Comunale di Bologna & Riccardo Chailly

Macbeth, Act 2: Coro di sicari. "Chi v'impose unirvi a noi?"

By Giuseppe Verdi, Francesco Maria Piave & Andrea Maffei - Coro del Teatro Comunale di Bologna, Orchestra del Teatro Comunale di Bologna & Riccardo Chailly

Macbeth, Act 2: Gran scena. "Studia il passo, o mio figlio!"

By Giuseppe Verdi, Francesco Maria Piave & Andrea Maffei - Samuel Ramey, Orchestra del Teatro Comunale di Bologna & Riccardo Chailly

Macbeth, Act 2: Finale II. "Salve o re"

By Giuseppe Verdi, Francesco Maria Piave & Andrea Maffei - Leo Nucci, Shirley Verrett, Gastone Sarti, Veriano Luchetti, Coro del Teatro Comunale di Bologna, Orchestra del Teatro Comunale di Bologna & Riccardo Chailly

Macbeth, Act 3: Coro d'introduzione - Incantesimo. "Tre volte miagola la gatta in fregola"

By Giuseppe Verdi, Francesco Maria Piave & Andrea Maffei - Coro del Teatro Comunale di Bologna, Orchestra del Teatro Comunale di Bologna & Riccardo Chailly

Macbeth, Act 3: Gran scena della apparizioni. "Finché appelli, silenti m'attendete!"

By Giuseppe Verdi, Francesco Maria Piave & Andrea Maffei - Leo Nucci, Coro del Teatro Comunale di Bologna, Natale de Carolis, Barbara Briscik, Marco Fanti, Orchestra del Teatro Comunale di Bologna & Riccardo Chailly

Macbeth, Act 3: Coro e ballabile. "Ondine e Silfidi"

By Giuseppe Verdi, Francesco Maria Piave & Andrea Maffei - Coro del Teatro Comunale di Bologna, Orchestra del Teatro Comunale di Bologna & Riccardo Chailly

Macbeth, Act 3: Scena e duetto - Finale III. "Ove son io?"

By Giuseppe Verdi, Francesco Maria Piave & Andrea Maffei - Leo Nucci, Giuseppe Morresi, Shirley Verrett, Orchestra del Teatro Comunale di Bologna & Riccardo Chailly

Macbeth, Act 4: Coro di profughi scozzesi. "Patria oppressa"

By Giuseppe Verdi, Francesco Maria Piave & Andrea Maffei - Coro del Teatro Comunale di Bologna, Orchestra del Teatro Comunale di Bologna & Riccardo Chailly

Macbeth, Act 4: O figli, o figli mei...Dove siam

By Giuseppe Verdi, Francesco Maria Piave & Andrea Maffei - Veriano Luchetti, Antonio Barasorda, Coro del Teatro Comunale di Bologna, Orchestra del Teatro Comunale di Bologna & Riccardo Chailly

Macbeth, Act 4: Gran scena del sonnambulismo. "Vegliammo invan due notti"

By Giuseppe Verdi, Francesco Maria Piave & Andrea Maffei - Sergio Fontana, Anna Caterina Antonacci, Shirley Verrett, Orchestra del Teatro Comunale di Bologna & Riccardo Chailly

Macbeth, Act 4: Scena ed aria. "Perfidi!" - "Pietà, rispetto, amore"

By Giuseppe Verdi, Francesco Maria Piave & Andrea Maffei - Leo Nucci, Orchestra del Teatro Comunale di Bologna & Riccardo Chailly

Macbeth, Act 4: Ella è morta!

By Giuseppe Verdi, Francesco Maria Piave & Andrea Maffei - Leo Nucci, Anna Caterina Antonacci, Veriano Luchetti, Coro del Teatro Comunale di Bologna, Orchestra del Teatro Comunale di Bologna & Riccardo Chailly

Macbeth, Act 4: Inno di vittoria - Finale. "Vittoria!"

By Giuseppe Verdi, Francesco Maria Piave & Andrea Maffei - Coro del Teatro Comunale di Bologna, Antonio Barasorda, Veriano Luchetti, Orchestra del Teatro Comunale di Bologna & Riccardo Chailly
22 Songs, 2 Hours 16 Minutes
Released:

Jan 1, 1987

℗ 1987 Decca Music Group Limited
About Leo Nucci
In an age more generously endowed with dramatic Italian baritones, Leo Nucci might have achieved a reputation as an elegant lyric baritone with an uncommonly attractive voice. The dearth of large-voiced singers for the major Verdi baritone characters, however, created the demand that led Nucci (and his compatriot Renato Bruson) into a heavier repertory than has been congenial. Thus, he has sung with great frequency, sought out by major conductors who value his reliability and capacity for hard work, filling the big roles with sturdy competence and moderately attractive (though seldom truly beautiful) sound. After beginning his studies in 1957 with Mario Bigazzi and later working with Giuseppe Marchesi, Nucci won several singing competitions in 1965 and 1966. In 1967, he won the A Belli competition at Spoleto after having made his debut as Rossini's Figaro. In Milan, while singing in the La Scala chorus, Nucci studied the title role in Rigoletto with maestro Ottaviano Bizzarri and, in 1973, won the Concorso Internazionale Viotti di Vercelli. Nucci appeared at La Scala as Rossini's Figaro in 1976, the first entry on a long list of leading roles he would sing there. At Covent Garden in 1978, he was called upon to substitute for an ailing colleague as Miller in Verdi's Luisa Miller, a performance that resulted in re-engagement at Renato (Anckarström) in Un Ballo in Maschera. In 1979, Nucci made his debut at the Wiener Staatsoper as Figaro. Renato served as the agent of his debut at the Metropolitan Opera on February 23, 1980, and again for Paris in 1981 and Salzburg in 1989. Since his debut at the Metropolitan, Nucci has sung many of the Verdi roles there. In addition, he has appeared in both San Francisco and Chicago. Nucci has frequently appeared at La Scala, participating in several productions surrounding the centenary of Verdi's death. For a production of La Forza del Destino, he sang after a short recuperation from a serious ailment. His activities in the recording studio have resulted in a half-dozen Grammys for Best Opera Recording. Nucci has recorded all the major Verdi baritone roles, some of them more than once, all with leading conductors; the list includes Abbado, Bartoletti, Chailly, Giulini, Karajan, Levine, Maazel, Mehta, Muti, and Solti.
HOMETOWN

Castiglione dei Pepoli, Bologna

GENRE

BORN

April 16, 1942
Millions of songs.
Zero ads.
New subscribers only. Plan automatically renews after trial.