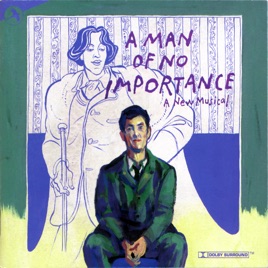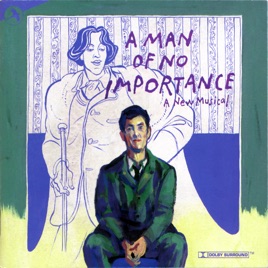 A Man of No Importance (A New Musical) [Original Cast Recording Lincoln Center Theater]
TITLE
TIME

Roger Rees

8:17

Faith Prince

2:49

Charles Keating

4:57

Sally Murphy

3:23

Steven Pasquale

3:25

Faith Prince

2:32

Roger Rees

3:24

Roger Rees

2:47

Jessica Molaskey

2:42

Roger Rees

3:00

Ronn Carroll

2:54

Roger Rees

5:11

A Man of No Importance (Reprise) / Confusing Times

Jessica Molaskey

3:18

Love Who You Love (Robbie's Reprise)

Steven Pasquale

0:51

Man In the Mirror (Reprise)

Roger Rees

2:30

Faith Prince

2:15

Love Who You Love (Adele's Reprise)

Sally Murphy

2:04

Roger Rees

2:06

Roger Rees

1:32

Sean McCourt

2:50
20 Songs, 1 Hour, 2 Minutes

℗ 2003 JAY Productions Ltd
GREAT show
This is an amazing show... you can't go wrong with any of the songs. "Love Who You Love (Adele's Reprise)" is probably one of the prettiest songs on the album. "Our Father", "The Streets of Dublin", and "The Cuddles Mary Gave" are also some good ones. "Love's Never Lost" is a GORGEOUS song, but it never made it into the show. If you bought the whole album, it would be a very good buy; you wouldn't waste a cent.
Interesting
Streets of Dublin is amazing! Others are average.
Good score!
I loved the original film, but never saw this musical adaptation. Now I wish I had. I LOVE the score! Nice blend of Broadway, Irish traditional, Irish folk, and pop thrown in for good measure. Standout songs are Man In The Mirror, Love Who You Love, The Streets of Dublin, and Love's Never Lost. By all means, add this to your library. A very entertaining score.
About Lynn Ahrens
Best known for her long-running partnership with composer Stephen Flaherty, Lynn Ahrens is a Tony Award-winning lyricist. Among their most popular work together are the Broadway musical Ragtime and the Fox animated film Anastasia.

A New York native, Ahrens graduated from Syracuse University with a degree in journalism and spent several years in advertising before she had the opportunity to write words and music for the Schoolhouse Rock! educational TV shorts (some of her contributions included "Interplanet Janet," "A Noun Is a Person, Place or Thing," and "Do the Circulation").

Her first collaboration with Flaherty was in 1985 for Theatreworks USA, a group specializing in youth-oriented theater. The off-Broadway musical Lucky Stiff followed in 1989 with music by Flaherty and book and lyrics by Ahrens. It also ran briefly on London's West End in 1997. The team's first Broadway musical was the one-act Once on This Island. Opening in 1990, it was accompanied by a cast recording on Masterworks Broadway and received eight Tony nominations, including the categories of best musical, book, and score. Ahrens also collaborated with composer Alan Menken on a musical version of Charles Dickens' A Christmas Carol that premiered at Madison Square Garden in 1994.

Ahrens and Flaherty's most high-profile success to that point came in 1997 with the release of the Twentieth Century Fox animated film Anastasia. Based on the legend of the daughter of Russia's Tsar Nicholas II, the film earned Ahrens two Academy Award nominations, for Best Original Musical or Comedy Score (with Flaherty and David Newman) and Best Original Song "Journey to the Past" (with Flaherty). She and Flaherty also collaborated on its straight-to-video sequel, 1999's Bartok the Magnificent.

In the meantime, the Ahrens-Flaherty musical Ragtime premiered in Toronto in 1996, then ran in Los Angeles in 1997 before opening on Broadway in January 1998. An epic based on the 1975 novel by E.L. Doctorow about class issues in early 20th century New York, the production was nominated for 12 Tony Awards, winning four including Ahrens and Flaherty's score and Terrence McNally's book. The songwriting team's subsequent musicals included 2000's Seussical, 2002's A Man of No Importance, 2005's Dessa Rose and musical revue Chita Rivera: The Dancer's Life, and 2007's The Glorious Ones. Among other work, including a teleplay for a 2004 TV version of her and Menken's A Christmas Carol, Ahrens also teamed with Flaherty for Little Dancer, a Degas-inspired musical that played at Kennedy Center in 2014. Their Rocky the Musical opened on Broadway that same year.

In April 2017, 20 years after the film, a stage version of Anastasia with a book by Terrence McNally opened on Broadway. The cast recording, Anastasia: The New Broadway Musical, arrived on the Broadway label two months later and debuted at the top of the Billboard Cast Albums chart. ~ Marcy Donelson