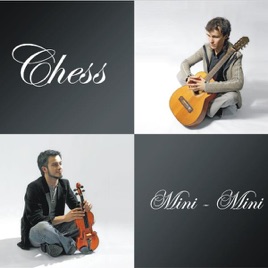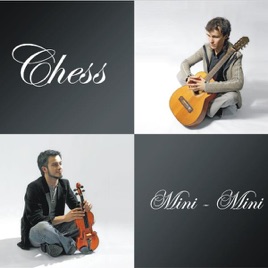 | | TITLE | TIME |
| --- | --- | --- |
| | | 3:28 |
| | | 2:45 |
| | | 2:14 |
| | | 6:23 |
| | | 3:38 |
| | | 4:26 |
| | | 2:57 |
| | | 4:43 |
| | | 2:53 |
| | | 5:44 |
| | | 2:20 |
11 Songs, 41 Minutes

℗ 2010 iUA Music
Classical Charm in Contemporary Style
Chess is a duet comprised of Andriy Sacheva (Violin) and Oleksandr Pokotylyuk (Guitar) from Rivne, Ukraine. What a wonderful discovery! All of these tracks are original compositions by Sacheva/Pokotylyuk.

While interviewing the artists, I learned Andriy was inspired by Pablo Picasso's Harlequin at an exhibition in St. Petersburg to write the Arlekin works (Russian/Ukrainian variation of the Harlequin).

If you are not acquainted with avant garde art, the "Mark Shagal" track is dedicated to the great Russian-French avant garde artist.

My personal favorite is Argentinos. A splendid mixture of Latin style!
Real arts forever
Very interesting instrumental duo's Chess, in their debut album "Mini Mini" has demonstrated that real arts forever. Nylon guitar sound has amazingly perfect balance with an exciting and personified violin. The duo did not played well-known hits, but their own, so that in some moments I have goose bumps. In this kind of music lurking an expectation of wonder and harmonic affinity with nature.Each track leads the listener far beyond the earth and brings relief to the soul, inspiring of its clear color.
Chess attracts by free scales and by the unpredictability of the violin.