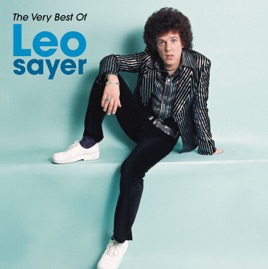 | | TITLE | | TIME |
| --- | --- | --- | --- |
| | | | |
| | | | |
| | | | |
| | | | |
| | | | |
| | You Make Me Feel Like Dancing | | |
| | | | |
| | | | |
| | | | |
| | | | |
| | | | |
| | | | |
| | I Can't Stop Loving You (Though I Try) | | |
| | | | |
| | | | |
| | Have You Ever Been in Love | | |
16 Songs, 59 Minutes
Released:

Feb 15, 2000

℗ 2000 Warner Bros. Records. Manufactured & Marketed by Rhino Entertainment Group
Ratings and Reviews
Raider Frenzy
Leo Sayer has been one of the greatest writers in in the classic rock stage, and I love it!!!!!!
Great Singer/Songwriter
Leo has always been great. I wish he would team up with Elton John and do a couple songs and maybe a duet in the future.
!!!
love the song.. more than i can say..
About Leo Sayer
Leo Sayer (born Gerard Sayer) had a string of highly polished mainstream pop hits in the late '70s. Sayer began his musical career as the leader of the London-based Terraplane Blues Band in the late '60s. He formed Patches with drummer Dave Courtney in 1971; Courtney used to play with British pop star Adam Faith. Faith was beginning a management career in the early '70s, so Courtney brought Patches to his former employer in hopes of securing a contract. Patches failed to impress Faith, yet he liked Sayer and chose to promote him as a solo artist. Sayer began recording some solo material written with David Courtney at Roger Daltrey's studio; the Who's lead singer liked the Sayer/Courtney originals enough to record a handful himself, including the hit "Giving It All Away." Sayer's debut single, "Why Is Everybody Going Home," failed to make any impact, yet 1973's "The Show Must Go On" hit number one in the U.K.; a cover by Three Dog Night stopped Sayer's version from charting in the U.S. The following year he released his first album, Silver Bird.

Silver Bird was followed quickly by Just a Boy, which included two more British hit singles, "One Man Band" and "Long Tall Glasses (I Can Dance)"; "Long Tall Glasses" managed to break Sayer into the American Top Ten in early 1975. Sayer's working relationship with Courtney was severed during the recording of his third album, Another Year (1975). The following year, he released Endless Flight, which was co-written with former Supertramp member Frank Furrell; featuring the number one singles "You Make Me Feel like Dancing" and "When I Need You," the record became his biggest hit in both the U.S. and the U.K., selling over a million copies in America. Following Endless Flight, Sayer became a fixture in the American Top 40, yet his hits began to dry up in England.

Sayer began the '80s with the American number two hit, "More Than I Can Say," yet it was his last big single in the U.S. His last chart entry in America was the early 1981 hit "Living in a Fantasy"; the U.K. hits didn't stop until 1983, after "Till You Come Back to Me" scraped the charts. After laying low for the rest of the decade, he attempted a comeback in 1990 with Cool Touch, yet it fell on deaf ears. ~ Stephen Thomas Erlewine
HOMETOWN

Shoreham-by-Sea, Sussex, England

GENRE

BORN

May 21, 1948