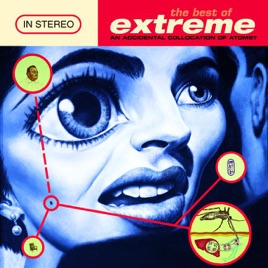 13 Songs, 1 Hour 7 Minutes
Released:

Jan 1, 2000

℗ 2000 Interscope Geffen (A&M) Records A Division of UMG Recordings Inc.
Ratings and Reviews
Nuno.
Very simple: Musicianship. Nuno. Tone, prowess, monster chops - all present. Nuno's actually a better singer than Gary, although Gary does well - for the most part. Pat Badger keeps up w/Nuno and the band's drummer/manager, Paul Geary, rounds out one of the best 80s bands. Shat-up. it's true. "Hip Today" rules (Mike Mangini on drums).
The Rhythms are tight and the vocals sharp...
What I like most of all about bands like Extreme, is their rhythm and bass is tight, and punctuated with razor sharp vocals and harmonies. It truly saddens me that Extreme is routinely dismissed simply because their evolving styles on even one album is deemed a little too "dynamic." These guys have a remarkable range that is almost unheard of in music produced today. I think the only thing these guys did wrong was try too much on one album...But then that worked pretty well for Pink Floyd, Queensryche, etc. My favorites are the pseduo-acoustic/electrical sound of "Tragic Comic" and "Hole Hearted."
Fabulous
lemme start off by giving congrads to nuno, this album is one of those with every song being amazing every second i loved, if u r a fan of classic rock buy this album