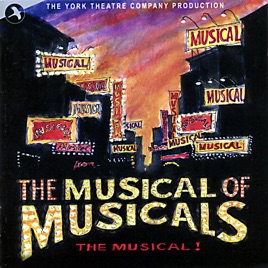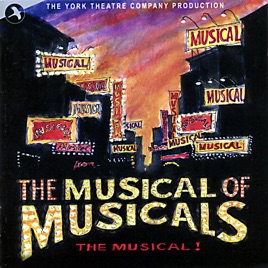 The Musical of Musicals (2003 Original Off-Broadway Cast)
TITLE
TIME

Eric Rockwell

1:02

Oh, What Beautiful Corn (Corn)

Craig Fols

2:21

Scene: Good Morning Big Willy... (Corn)

Craig Fols, Joanne Bogart & Lovette George

1:05

I Couldn't Keer Less About You (Corn)

Lovette George

0:54

Craig Fols

0:44

Scene: Oh You Gave Me Such a Freight... (Corn)

Craig Fols, Eric Rockwell & Lovette George

1:45

Craig Fols & Lovette George

2:10

Company & Eric Rockwell

2:39

Craig Fols

3:01

Company

1:06

Scene: Oh Big Willy... (Corn)

0:56

Daylight Savings Time (Corn)

Company

0:46

Company

1:03

Welcome to the Woods (A Little Complex)

Company

2:45

The Ballad of Jitter (A Little Complex)

Company

0:45

Jitter's Oath (A Little Complex)

Eric Rockwell

0:46

Scene: Hi I'm June...(A Little Complex)

Eric Rockwell & Lovette George

0:43

Lovette George

1:21

Eric Rockwell & Lovette George

1:37

Billy-Baby / A Melody? (A Little Complex)

Craig Fols, Eric Rockwell & Lovette George

0:59

Stay With Me (A Little Complex)

Craig Fols, Eric Rockwell & Lovette George

1:46

Jeune's Patter (A Little Complex)

Lovette George

0:16

We're All Gonna Die (A Little Complex)

Craig Fols & Lovette George

1:13

Complex Finale (A Little Complex)

Company

1:21

Company

2:03

Take My Advice and Live (Dear Abby!)

Company & Joanne Bogart

1:17

Scene: Thank You Abby...(Dear Abby!)

Craig Fols, Joanne Bogart & Lovette George

0:38

Craig Fols & Lovette George

0:53

Scene: Don't Worry I'm Back...(Dear Abby!)

0:42

Did I Put Out Enough (Dear Abby!)

Craig Fols & Lovette George

1:27

Dear Abby Finale (Dear Abby!)

Company

1:41

Aspects of Junita / Prologue (Aspects of Junita)

Craig Fols

0:52

I've Heard That Song Before (Aspects of Junita)

Lovette George

0:59

Opera Scena (Aspects of Junita)

Craig Fols, Eric Rockwell & Lovette George

1:00

Sing a Song (Aspects of Junita)

Eric Rockwell & Lovette George

0:56

Junita's Recitative (Aspects of Junita)

Craig Fols & Lovette George

0:39

Go Go Go Go Junita (Aspects of Junita)

Company & Joanne Bogart

0:35

We Never Talk Anymore (Aspects of Junita)

Craig Fols & Lovette George

2:19

A Sense of Entitlement / Second Opera Scena (Aspects of Junita)

2:12

Over the Top (Aspects of Junita)

Craig Fols & Lovette George

1:27

Chandelier Scena (Aspects of Junita)

Craig Fols, Eric George & Lovette George

1:24

Aspects Finale (Aspects of Junita)

2:06

Hola, Aloha, Hello (Speakeasy)

Craig Fols & Eric Rockwell

2:32

Juny With a "J" (Speakeasy)

0:37

Craig Fols & Lovette George

0:56

Just Don't Pay (Speakeasy)

Company

2:23

Craig Fols & Lovette George

1:56

Round and Round (Speakeasy)

Company & Lovette George

2:44

Company

2:20
49 Songs, 1 Hour, 9 Minutes

℗ 2004 JAY Productions Ltd.
Hilarious!
If you love musicals along the same line as Forbidden Broadway then this CD is a must-have. The show is not a revue like Forbidden is, it is a musical about 5 musicals and in each musical they mix-up a few plot lines from recent shows and they also steal songs from them and give them new words that go along with their musical about 5 musicals. I would consider this CD a must-have.
So much better/funnier than Forbidden Broadway
As a performer who has performed in both this show and Forbidden Broadway, I can say first-hand that this show is: a) Head and shoulders above any incarnation of Forbidden Broadway in laughs and creativity b) 10 times more fun to listen to and perform than Forbidden Broadway If you like SNL and you love musicals, this is the album to download!