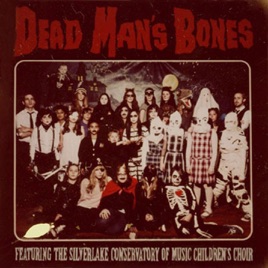 EDITORS' NOTES
Ryan Gosling and Zach Shields originally wanted to film a horror musical using these spooky folky tunes, but instead decided to only pursue the songs. The duo met via their girlfriends and bonded over horror movies, sci-fi books and music. Before recording, they laid down some rules — no electric guitars, no click-tracks, and ditch any part that went over three takes. They also took on some instruments unfamiliar to them prior to rolling tape. And with ample help from the children of the Silverlake Conservatory of Music, the end result is a wonderfully eerie album of psychedelic haunted house music with obvious nods to the Langley Schools Music Project. "Dead Hearts" sets the tone mildly with hushed crooning before the song gets orchestral and glass can be heard shattering in the background. The creepy "In The Room Where You Sleep" is as disturbing as it is cool, sounding at times like the Arcade Fire playing through a bad trip. Celebrity aside, the kids are the brightest stars here, especially on the contagiously fun '50s-inspired monster mash, "My Body's a Zombie For You."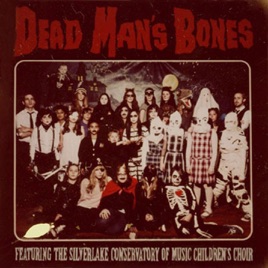 Dead Man's Bones (feat. The Silverlake Conservatory of Music Children's Choir)
EDITORS' NOTES
Ryan Gosling and Zach Shields originally wanted to film a horror musical using these spooky folky tunes, but instead decided to only pursue the songs. The duo met via their girlfriends and bonded over horror movies, sci-fi books and music. Before recording, they laid down some rules — no electric guitars, no click-tracks, and ditch any part that went over three takes. They also took on some instruments unfamiliar to them prior to rolling tape. And with ample help from the children of the Silverlake Conservatory of Music, the end result is a wonderfully eerie album of psychedelic haunted house music with obvious nods to the Langley Schools Music Project. "Dead Hearts" sets the tone mildly with hushed crooning before the song gets orchestral and glass can be heard shattering in the background. The creepy "In The Room Where You Sleep" is as disturbing as it is cool, sounding at times like the Arcade Fire playing through a bad trip. Celebrity aside, the kids are the brightest stars here, especially on the contagiously fun '50s-inspired monster mash, "My Body's a Zombie For You."
| | TITLE | | TIME |
| --- | --- | --- | --- |
| | Intro (feat. The Silverlake Conservatory of Music Children's Choir) | | |
| | Dead Hearts (feat. The Silverlake Conservatory of Music Children's Choir) | | |
| | In the Room Where You Sleep | | |
| | Buried in Water (feat. The Silverlake Conservatory of Music Children's Choir) | | |
| | My Body's a Zombie For You (feat. The Silverlake Conservatory of Music Children's Choir) | | |
| | Pa Pa Power (feat. The Silverlake Conservatory of Music Children's Choir) | | |
| | Young & Tragic (feat. The Silverlake Conservatory of Music Children's Choir) | | |
| | Paper Ships (feat. The Silverlake Conservatory of Music Children's Choir) | | |
| | Lose Your Soul (feat. The Silverlake Conservatory of Music Children's Choir) | | |
| | Werewolf Heart (feat. The Silverlake Conservatory of Music Children's Choir) | | |
| | Dead Man's Bones (feat. The Silverlake Conservatory of Music Children's Choir) | | |
| | Flowers Grow Out of My Grave (feat. The Silverlake Conservatory of Music Children's Choir) | | |
12 Songs, 44 Minutes
Released:

Oct 2, 2009

℗ 2009 Anti, Inc.
About Dead Man's Bones
Los Angeles' dark folk-rock duo Dead Man's Bones consists of vocalists and multi-instrumentalists Ryan Gosling and Zach Shields. Gosling is better known as an Academy Award-nominated actor who has appeared in films including Half Nelson, Lars and the Real Girl, and The Notebook, but he dabbled in music while pursuing acting. He met Shields in 2005, when Gosling was dating his Notebook co-star Rachel McAdams, and Shields was dating her sister Kayleen. The pair bonded over their love of music, horror movies, and all things scary, and decided to create an eerie musical. Eventually, Shields and Gosling scrapped the stage production part of the project and focused on the supernaturally themed music they wrote. They included the Silverlake Conservatory of Music's children's choir in their recordings to evoke the spirit of the Langley Schools Music Project in their sessions, and adhered to certain rules while they were recording: click tracks or electric guitars were forbidden, and Gosling and Shields (and producer Tim Anderson) had to play the instruments themselves; and they allowed themselves only three takes for any performance. Dead Man's Bones' music first surfaced in 2009 with homemade videos for "Name in Stone" and "In the Room Where You Sleep"; that fall, Shields and Gosling released Dead Man's Bones via Anti Records and their own Werewolf Heart imprint. The pair also planned to make videos for all of the album's songs, collaborating with artists like sculptor Arthur Ganson. ~ Heather Phares
ORIGIN

Los Angeles, CA

GENRE
45 million songs.
Three months on us.
New subscribers only. Plan automatically renews after trial.