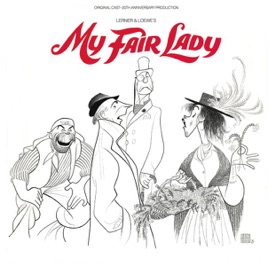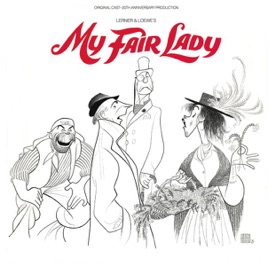 TITLE
TIME

My Fair Lady: Act I: Overture / Why Can't the English

My Fair Lady Orchestra (1976), Theodore Saidenberg, Ian Richardson, Christine Andreas & Robert Coote

My Fair Lady: Wouldn't It Be Loverly

Christine Andreas, Kevin Marcum, Jack Starkey, William James & Stan Page

My Fair Lady: With a Little Bit of Luck

George Rose & My Fair Lady Ensemble (1976)

My Fair Lady: I'm an Ordinary Man

Ian Richardson

My Fair Lady: Just You Wait

Christine Andreas

My Fair Lady: The Rain In Spain

Ian Richardson, Christine Andreas, Robert Coote, Sonja Anderson, Lynn Fitzpatrick, Karen Gibson, Vickie Patik & Kevin Lane Dearinger

My Fair Lady: I Could Have Danced All Night

Christine Andreas, Sylvia O'Brien, Karen Gibson, Sonja Anderson, Lynn Fitzpatrick & Vickie Patik

My Fair Lady: Ascot Gavotte

My Fair Lady Ensemble (1976)

My Fair Lady: On the Street Where You Live

Jerry Lanning

My Fair Lady: Embassy Waltz

My Fair Lady Orchestra (1976) & Theodore Saidenberg

My Fair Lady: Act II: You Did It

Robert Coote, Ian Richardson, Christine Andreas, Sylvia O'Brien, Sonja Anderson, Lynn Fitzpatrick, Karen Gibson, Vickie Patik & Kevin Lane Dearinger

Christine Andreas & Jerry Lanning

My Fair Lady: Get Me To the Church On Time

George Rose & My Fair Lady Ensemble (1976)

My Fair Lady: A Hymn To Him

Ian Richardson & Robert Coote

My Fair Lady: Without You

Christine Andreas

My Fair Lady: I've Grown Accustomed To Her Face

Ian Richardson & Christine Andreas
16 Songs, 56 Minutes
Released:

Dec 31, 1975

℗ Originally released 1976 SONY BMG MUSIC ENTERTAINMENT
Ratings and Reviews
Revived "Lady" really Sings!
First: the obvious! No, it's not the original and it doesn't have Rex Harrison and Julie Andrews. Get over it! Now, one of the most versatile character actors of the last generation, Ian Richardson (you've seen him in countless BBC and Public TV films, mini-series, etc.) put his own mark on the super role of Henry Higgins and makes a vividly sung and acted character on this album. Christine Andreas is very good as Eliza - and was in her prime as a leading lady during the time of this revival in the mid-70s. Her "transformed" Eliza is very well-sung. George Rose is a downright wonder as Alfie Doolittle and his versions of "Wif' A Little Bit of Luck" and "Get Me to the Church on Time" are priceless. If you can keep an open mind and open ears, this version of "My Fair Lady" is second in line to the Original Broadway Cast.
quite disappointed
I am going to be trying out for a production of this show in February and I've been buying every recording I can get my hands on in order to get ideas for my own characterization (heaven knows that Julie Andrews is the best Eliza ever, but we can't all just imitate her, can we?). I was disappointed, to say the least. Everyone is pretty decent (though I would question the casting of the father...) except for Christine Andreas as Eliza. Her voice sounds strange, it's placed too far back in her throat. She lacks sincere energy, as well, and they've changed keys for just about every song she sings, so the music is no help for anyone trying to learn the role. Basically everything is fine, but I can't bring myself to listen to any of the songs where the character I'm hoping to play sings.
My Fair Lady
Christine Andreas captured my heart with her performance in The Scarlet Pimpernel. So when I discovered that she had sung MFL, I hurried to get it. Christine presents a slightly earthier Eliza than we are used to and does a credible job here. Jerry Lanning as the fawning Freddy is superb in capturing the joy and romance of Loewe's music. Regretably Ian Richardson's high, thin, reedy voice and thoughtless phrasing presents Henry as an effete snob who delights in trilling every R that he can find in his songs. Not very endearing for Eliza or us. Equally dissappointing was George Rose as Eliza's father. His craggy drunken character does not lead us to sing along or even go along to get him to the church on time. I first saw George's great talent in a stupendous performance of The Pirates of Penzance in Central Park with Linda Ronstadt. I didn't recognize him here. The non-vocal villain here is music director,Theodore Seidenberg, who has lost some of the lyrical beauty and movement underlying some of the pieces like Ascot Gavotte. Also fault perhaps the recording mixer who has allowed the tuba to be the Dominant brass.