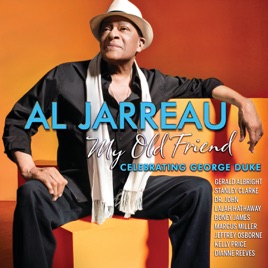 EDITORS' NOTES
Singer Al Jarreau and keyboardist George Duke go all the way back to 1965, when Duke had just gotten a foothold in San Francisco and Jarreau lit up an open mic, leading to a club owner to pair the two together. They played the gig for three years and went on individually to great success. Sadly, Duke passed in 2013. Now Jarreau has assembled an all-star tribute album featuring a broad range of material from the Duke songbook. (Most guest artists are listed next to the song titles.) The singer also gets the help of such notable producers as John Burk, Stanley Clarke, Marcus Miller, and Boney James (who also appears with Duke on "Bring Me Joy"). This galaxy of musical friends not only heightens the legacy George Duke leaves behind but illustrates his versatility, as tunes run from the straight R&B of "Sweet Baby" to the bossa nova of "SomeBossa (Summer Breezin')" to the gutbucket grooves of "You Touch My Brain" to the smooth "My Old Friend."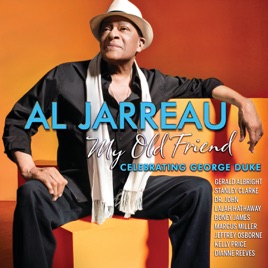 My Old Friend: Celebrating George Duke
EDITORS' NOTES
Singer Al Jarreau and keyboardist George Duke go all the way back to 1965, when Duke had just gotten a foothold in San Francisco and Jarreau lit up an open mic, leading to a club owner to pair the two together. They played the gig for three years and went on individually to great success. Sadly, Duke passed in 2013. Now Jarreau has assembled an all-star tribute album featuring a broad range of material from the Duke songbook. (Most guest artists are listed next to the song titles.) The singer also gets the help of such notable producers as John Burk, Stanley Clarke, Marcus Miller, and Boney James (who also appears with Duke on "Bring Me Joy"). This galaxy of musical friends not only heightens the legacy George Duke leaves behind but illustrates his versatility, as tunes run from the straight R&B of "Sweet Baby" to the bossa nova of "SomeBossa (Summer Breezin')" to the gutbucket grooves of "You Touch My Brain" to the smooth "My Old Friend."
| | TITLE | TIME | PRICE |
| --- | --- | --- | --- |
| | My Old Friend (feat. Gerald Albright) | 4:57 | $1.29 |
| | Someday (feat. Dianne Reeves) | 4:09 | $1.29 |
| | Churchyheart (Backyard Ritual) [feat. Marcus Miller] | 4:56 | $1.29 |
| | SomeBossa (Summer Breezin') [feat. Gerald Albright] | 4:41 | $1.29 |
| | Sweet Baby (feat. Lalah Hathaway) | 4:31 | $1.29 |
| | Every Reason To Smile / Wings of Love (feat. Jeffrey Osborne) | 3:51 | $1.29 |
| | No Rhyme, No Reason (feat. Kelly Price) | 4:05 | $1.29 |
| | Bring Me Joy (feat. George Duke & Boney James) | 4:36 | $1.29 |
| | Brazilian Love Affair / Up From the Sea It Arose and Ate Rio In One Swift Bite (feat. Dianne Reeves) | 4:46 | $1.29 |
| | You Touch My Brain (feat. Dr. John) | 4:44 | $1.29 |
10 Songs

℗ 2014 Concord Music Group, Inc.
Customer Reviews
Wonderful
Great tribute to George Duke.
Soulful Dedication!!!
Wow!!....I was not expecting my of my musical idols, the great Al Jarreau & other music favorites to put a highly listenable and melodic CD celebrating Brother George Duke!!...I will listen to this collection of songs for many years to come!!
About Al Jarreau
The only vocalist in history to net Grammy Awards in three different categories (jazz, pop, and R&B, respectively), Al Jarreau was born in Milwaukee, Wisconsin, on March 12, 1940. The son of a vicar, he earned his first performing experience singing in the church choir. After receiving his master's degree in psychology, Jarreau pursued a career as a social worker, but eventually he decided to relocate to Los Angeles and try his hand in show business, playing small clubs throughout the West Coast.

He recorded an LP in the mid-'60s, but largely remained an unknown, not reentering the studio for another decade. Upon signing to Reprise, Jarreau resurfaced in 1975 with We Got By, earning acclaim for his sophisticated brand of vocalese and winning positive comparison to the likes of Billy Eckstine and Johnny Mathis. After 1976's Glow, Jarreau issued the following year's Look to the Rainbow, a two-disc live set that reached the Top 50 on the U.S. album charts. With 1981's Breakin' Away, he entered the Top Ten, scoring a pair of hits with "We're in This Love Together" and the title track. After recording 1986's L Is for Lover with producer Nile Rodgers, Jarreau scored a hit with the theme to the popular television program Moonlighting, but his mainstream pop success was on the wane, and subsequent efforts like 1992's Heaven and Earth and 1994's Tenderness found greater success with adult contemporary audiences.

A string of budget compilations and original albums hit the shelves at the end of the decade, but into the turn of the century his original output slowed down. That was until he signed with the Verve/GRP label in 1998 and reunited with producer Tommy LiPuma. LiPuma had produced Jarreau's ostensible 1975 debut, We Got By, and the pairing seemed to reinvigorate Jarreau, who went on to release three stellar albums under LiPuma's guidance, including 2000's Tomorrow Today, 2002's All I Got, and 2004's Accentuate the Positive. Givin' It Up, recorded with George Benson and released in 2006, was nominated for three Grammy Awards -- each one for a different song. Jarreau returned with his first ever full-length holiday-themed album, Christmas, in 2008. Four years later he offered a live recording, Al Jarreau and the Metropole Orkest: Live, performing alongside the Dutch ensemble.

A frequent live performer into his seventies, Jarreau was hospitalized in 2010 and forced to cancel concert dates, but he resumed touring after leaving the hospital, and indicated that reports about possible health problems had been exaggerated. In February 2017 an announcement was posted on Jarreau's website stating that the singer had been hospitalized for exhaustion in Los Angeles; that he was canceling upcoming scheduled tour dates; and, in fact, that he would be retiring entirely from touring in the future. He died in the morning of February 12 at age 76, mere hours before the 59th Annual Grammy Awards ceremony was to begin. ~ Jason Ankeny
ORIGIN

Milwaukee, WI

BORN

Mar 12, 1940