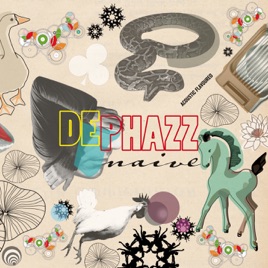 | | TITLE | TIME |
| --- | --- | --- |
| | | 1:47 |
| | | 3:29 |
| | | 3:23 |
| | | 4:51 |
| | | 3:50 |
| | | 3:20 |
| | | 2:30 |
| | | 3:36 |
| | | 3:00 |
| | | 3:30 |
| | | 1:56 |
| | | 5:03 |
| | | 3:48 |
| | | 3:45 |
| | | 2:58 |
| | | 3:26 |
16 Songs, 54 Minutes

℗ 2013 Pit Baumgartner under exclusive licences of Edel Germany GmbH
MAKES ME CRAZY!!
People WAKE UP!!!!! Why am I the only person who is all over this FABULOUS BAND!!!!??? De-phazz(PIT) thank you for this outstanding piece. Everyone do yourselves a favor and buy this CD, then tell everyone you know...it's the right thing to do-it's just that good!!
And I thought I was the only one...
Great music, unique & distinctive. Can music be beautiful yet ironic? Sort of mid-century modern. Anyway, it's impossible to classify, but I love it.
Not A greatest hits comp
At first when I saw the song titles I thought this was just another greatest hits comp and since I have every De-Phazz album already I wasn't interested. But these are reworked versions a little mellower and more jazzy . Great for that late night cocktail party your always having
About De-Phazz
The prolific and long-running De-Phazz (also known as DePhazz) is a contemporary lounge project led by Peter "Pit" Baumgartner, a German-Austrian producer who has surrounded himself with a shifting cast of collaborators that includes vocalists Barbara Lahr, Karl Frierson, and Pat Appleton. Beginning with Detunized Gravity (1997), Baumgartner and company have explored various forms of lounge music, much of it balancing samples with live instrumentation, with innumerable cross-sections of vintage jazz and soul, easy listening, and Latin music. De-Phazz tracks like "No Jive" and "The Mambo Craze" have appeared on dozens of compilations with "lounge," "chill," and "café" in the title. Though much of the De-Phazz catalog could be termed studio creations, it also contains collaborative, acoustic, and live projects such as Big (recorded with the Radio Bigband Frankfurt, 2009), Naive (2013), and Private (2016). No stranger to outside work, Baumgartner remixed Ella Fitzgerald's "Wait 'til You See Him" for the first Verve Remixed compilation, as well as tracks by the likes of Kool & the Gang, a-ha, and Blank & Jones. ~ Andy Kellman