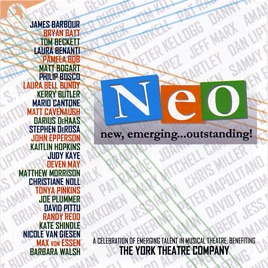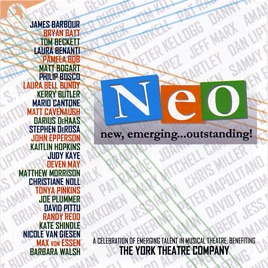 Neo (Original Cast) [Live Recording from The York Theatre, New York]
Various Artists
TITLE
TIME

Bryan Batt

1:38

God Bless These Boys (from Mother B)

Judy Kaye

4:19

Bryan Batt

0:35

Nicole van Giesen

3:11

Bryan Batt

0:26

Randy Radd

4:01

Bryan Batt

0:39

Love Is Not a Science (from Eintein's Dream)

David Pittu & Tom Beckett

3:33

Bryan Batt

0:38

I'm Not Upset (from Chasing Nicolette)

Joe Plummer & Phillip Basco

3:49

Bryan Batt

1:16

A Normal Life (from the Opposite of Sex)

Matthew Morrison

2:59

Bryan Batt

0:35

Richard (from Rules Optional)

Barbara Walsh

2:50

Bryan Batt

0:47

The Ocean (from People Like Us)

Matt Bogart & Pamela Bob

4:09

Bryan Batt

0:52

He's Got Designs On Me (from Dial M for Model)

John Epperson

4:34

Bryan Batt

0:50

Inside Your Heart (from Bat Boy)

Deven May & Kerry Butler

3:28

Bryan Batt

0:28

For No Apparent Reason (from Room to Grow)

Kate Shindle

4:37

Bryan Batt

0:20

Any Day (from the Three Muskateers)

Kerry Butler & Laura Bell Bundy

2:59

Bryan Batt

0:31

Bryan Batt

0:35

Way Ahead of My Time (from the Taxi Cabaret)

Bryan Batt

3:34

Bryan Batt

0:34

Slinky Dress / Grumpy Mood (from Adrift In Macau)

James Barbour & Kaitlin Hopkins

4:06

Bryan Batt

0:27

Say Hello (from the Lady In Penthouse B)

Christiane Noll

3:12

Bryan Batt

0:29

Be With Me (from Like You Like It)

Matt Cavenaugh

2:51

Bryan Batt

0:42

My Desert Island All Time Top 5 Breakups (from High Fidelity)

Mario Cantone

4:46

Bryan Batt

0:34

Know My Heart (from Belief)

Max von Essen

3:25

Bryan Batt

0:18

Stephen De Rosa

3:14

Bryan Batt

0:37

Field Flowers (based On Text By Thomas Campbell)

Darius deHaas

4:22

Bryan Batt

0:45

The Sensitive Song (from Cops)

Deven May

2:45

Bryan Batt

1:04

Laura Benanti

2:34

Bryan Batt

0:50

Full Steam Ahead (from Dance With Me)

Tonya Pinkins

3:45

Bryan Batt

0:51
48 Songs, 1 Hour, 40 Minutes

℗ 2005 JAY Productions Ltd
Wondering where musical theatre is going?? Buy this CD
Musical Theatre is changing; there is no question about that. While some of it may be fun fluffy material, original shows and compositions are lacking on the great white way. This CD is full of completely new original songs sung by some of today's most talented Broadway singers such as Matt Morrison, Kerry Butler, Kaitlin Hopkins, Christiane Noll and Laura Benanti among many others. So if you are sick of shows that are based on movies or jukebox musicals this is the CD for you. This is where Broadway is going, the York Theatre was just smart enough to record the evening and let the rest of the world know that there is reason to hope for original material on Broadway.
Great Compilation
This is a really great mix of NEW musical theater songs sung by some really talented actors and actresses. If you're looking for something out of the ordinary, this is it!
So enjoyable
This album is really a delight to listen to. Take special note of The Sensitive Song - it will make you laugh out loud. The talent here is so fierce!