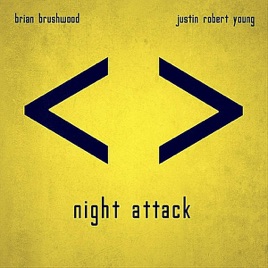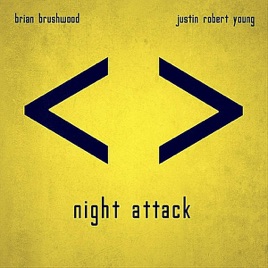 | | TITLE | | TIME |
| --- | --- | --- | --- |
| | | | |
| | | | |
| | | | |
| | Mexican Hitler Strikes Back! / Sweatin' to the Fuhrer | | |
| | | | |
| | | | |
| | | | |
| | Justin Stand Up / Skull Crusher | | |
| | | | |
| | | | |
| | | | |
| | | | |
| | | | |
| | | | |
| | | | |
| | | | |
| | Read the Book Last (B-Side) | | |
| | | | |
18 Songs, 1 Hour 57 Minutes
Released:

Sep 28, 2011

℗ 2011 Brian Brushwood and Justin Robert Young
Ratings and Reviews
Funny
Excellent work guys keep up the good work
Everything You Want and Expect from the NSFW Guys
Night Attack provides just under two hours of the comedy you have come to love and expect from NSFW show hosts Brian Brushwood and Justin Robert Young. For the low price, it's worth every penny for the T.I.B. track alone! <>
Opiate of the masses
In this age of global struggle for peace and sustainable modes of living for all, the unwary may well greet "Night Attack" with a smile or at least a brief nod of affirmation. One cannot help but come to this album primed with hope: Have progressives committed to achieving a just and equitable society by any means necessary finally found a popular artist willing to challenge the oppressive cultural systems that perpetuate the hegemonic discourse of violence and ownership that brutalizes all of humanity? The title coyly suggests that Mr. Brushwood and Mr. Young have indeed joined arms in our struggle by challenging the overbearing constructs of "artist", "listener" and even the fictive, pernicious notion of "album". Clearly Mr. Brushwood and Mr. Young are asking us to embark on a de-centered, collaborative relationship exploring the pressing question "What Does T.I.B. mean?"

As for Mr. Brushwood, Mr. Young, and their ilk, take heed. When the revolution comes, all that is solid will indeed melt in the air everywhere but Cuba!

In closing, I must stress that this review pertains only to the iTunes edition.
About Brian Brushwood & Justin Robert Young
Podcaster, magician, tech geek commentator, and sometimes even comedian, California native Brian Brushwood added recording artist to his diverse résumé in 2011. A popular magician on college campuses and a regular commentator on both the TWiT and Revision3 web networks, Brushwood partnered with Justin Robert Young in 2009 for the NSFW Show podcast. In 2011, a best-of collection of clips from the show was released on album as Night Attack. Two years later, Night Attack 2: Enjoy the Garden appeared along with Night Attack: Live.