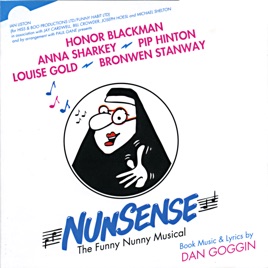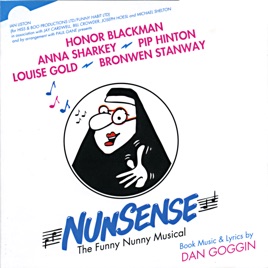 Nunsense (Original London Cast)
TITLE
TIME

Nunsense Is Habit Forming

Anna Sharkey, Bronwen Stanway, Honor Blackman, Louise Gold & Pip Hinton

2:57

Company

4:17

Bronwen Stanway

2:27

The Biggest Ain't the Best

Bronwen Stanway & Pip Hinton

2:29

Anna Sharkey & Honor Blackman

2:49

Louise Gold

4:13

Honor Blackman

1:27

Lilacs Bring Back Memories

Bronwen Stanway, Honor Blackman, Louise Gold & Pip Hinton

1:42

Tackle That Temptation With a Time Step

Anna Sharkey, Bronwen Stanway, Honor Blackman, Louise Gold & Pip Hinton

3:42

Anna Sharkey, Bronwen Stanway, Louise Gold & Pip Hinton

2:19

We've Got to Clean Out the Freezer

Anna Sharkey, Bronwen Stanway, Honor Blackman, Louise Gold & Pip Hinton

1:39

Honor Blackman & Pip Hinton

2:52

Soup's On (The Dying Nun Ballet)

Bronwen Stanway

1:31

Anna Sharkey

3:22

Anna Sharkey, Bronwen Stanway & Louise Gold

2:20

I Could Have Gone to Nashville

Louise Gold

4:09

Company

0:12

Company & Pip Hinton

5:03

Nunsense Is Habit Forming (Reprise)

Company

0:57
19 Songs, 50 Minutes

℗ 1997 JAY Productions Ltd.
Nunsense is Habit Forming!
If you've never seen the show it's hysterical! Five nuns trying to drum up some money so they can bury the poor sisters who died of food poisoning. Having played the Reverand Mother I can tell you it's none stop fun as you'll be able to tell from the fun music. I love the show, I love the music, you'll love it too.
Not bad but get the original cast recording
This is the London cast, and while it has its charms, the original cast recording can't be beat - especially Semina's Mary Amnesia. She's hysterically funny. The major problem with the London recording is the faux Brooklyn accent of the actress playing Robert Anne. It's so bizarre, it takes away from the material. Again, not bad but the original is the better recording.
OK!
I may not have seen this play, but I know the woman who produced it and the music sounds worth those couple dollars!