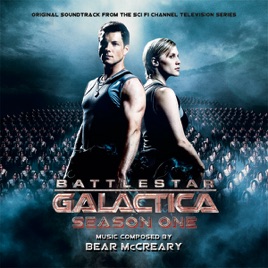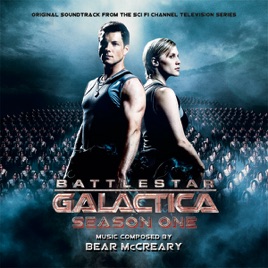 Original Soundtrack - Battlestar Galactica: Season One
| | TITLE | TIME |
| --- | --- | --- |
| | | 0:40 |
| | | 1:05 |
| | | 1:31 |
| | | 5:48 |
| | | 1:01 |
| | | 1:55 |
| | | 3:08 |
| | | 3:25 |
| | Starbuck Takes On All Eight | 3:46 |
| | | 1:30 |
| | | 3:04 |
| | | 2:00 |
| | | 2:01 |
| | | 1:54 |
| | | 1:47 |
| | | 2:35 |
| | | 3:14 |
| | | 1:43 |
| | | 1:46 |
| | | 1:16 |
| | | 4:06 |
| | | 6:52 |
| | | 2:57 |
| | | 5:15 |
| | | 2:49 |
| | | 4:44 |
| | The Shape of Things to Come | 2:55 |
| | | 1:50 |
| | | 0:36 |
| | | 1:04 |
30 Songs, 1 Hour, 18 Minutes

℗ 2005 USA Cable Entertainment LLC. All Rights Reserved.
The Shape of Things to Come
Bear McCreary's amazing musical artistry shines in the soundtrack for the first season of Battlestar Galactica. The first season of the show was, well, AMAZING, and the music just added to the drama and suspense that the show was all about. First of all, Battlestar Galactica is about the characters. It's about the survival of the human race. When McCreary started working on the first soundtrack, he wanted to avoid the common sound of other TV show's music. This he accomplished wonderfully. He also wanted to avoid creating a theme for each character. As the project continued, he found out that this would be impossible. And so the character themes emerged. This album is home to the first renditions of Lee Adama's theme (The Olympic Carrier), the Boomer/Sharon theme (Two Boomers), and the Adama family theme (A Good Lighter). It also contains some amazing action cues with plenty of those taiko drums we all love. But I think the two most fantastic songs on the album are Passacaglia, and my personal favorite, The Shape of Things to Come. After watching the series finale, and going back to listen to it, I was brought almost to tears, realizing that something in the first season could have such enormous implications in the final season, all illustrated by the music. This astounding album is the foundation of musical success over four seasons. All of the themes throughout the soundtracks are a beautiful, musical journey. And it all starts here. If you're a fan of BSG, or music in general, buy this album. You'll fall in love, and come back craving for more. It is truly The Shape of Things to Come.
Finally...Season 1
Bear McCreary needs a new agent! This guy should be scoring movies as often as Desplat, Elfman, Newman, Horner, etc. He is the real deal and all the soundtracks for Battlestar were exquisite. Nice to have the one that started it all - here on iTunes.
About Bear McCreary
Score composer Bear McCreary was born in Fort Lauderdale, Florida, on February 17, 1979, the son of the writer Laura Kalpakian. He obtained degrees in composition and recording arts from the Thornton School of Music at the University of Southern California and became a protégé of the film composer Elmer Bernstein, for whom he reconstructed and re-orchestrated the score for the 1963 film Kings of the Sun, resulting in a new recording of the music.

After scoring a number of short films in the late '90s and early 2000s, McCreary was hired to compose the music for a new version of the television series Battlestar Galactica, which premiered on the Sci Fi Channel in 2004. Soundtrack albums of his music were released in 2005, 2006, 2007, and 2009 by La-La Land Records, corresponding to the four seasons of the series. During that time, he also scored the straight-to-video film Rest Stop (released by PlanR) and its sequel, Rest Stop: Don't Look Back (released by La-La Land.), as well as another straight-to-video feature, Wrong Turn 2: Dead End (La-La Land). The label also issued his music for the Fox TV series Eureka and Sci Fi Channel's Terminator: The Sarah Connor Chronicles, both in 2008. His score for the pilot episode of the Battlestar Galactica prequel Caprica was released in 2009, and he stayed on to write for the series' full one-season run.

That same year, he was tapped to score AMC's popular zombie drama series The Walking Dead, which premiered in October 2010. Over the next few years McCreary's talents becoming increasingly in demand as he took jobs scoring NBC's superhero drama The Cape (2011), the historical fantasy series Da Vinci's Demons (2013), and Marvel's Agents of S.H.I.E.L.D. (2013), just to name a few. In 2015, the first of his Billboard-charting soundtracks to the STARZ time-travel series Outlander was released by Relativity Records. The following year brought a string of film scores in the horror realm that included The Forest, The Boy, and 10 Cloverfield Lane. More genre-related scores followed in 2017, including soundtracks for the sci-fi black comedy Colossal and the slasher thriller Happy Death Day, as well as the J.D. Salinger biopic Rebel in the Rye. ~ William Ruhlmann
ORIGIN

Fort Lauderdale, FL

BORN

February 17, 1979