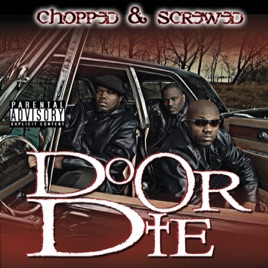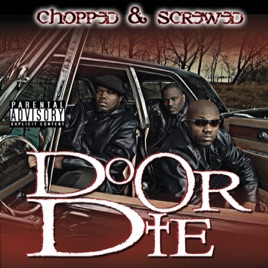 D.O.D. (Chopped & Screwed)
TITLE
TIME
PRICE

Against All Odds (D.J. 007 Intro) (Explicit Chopped & Screwed Version)

1:19
$0.99

Right Here (Explicit Chopped & Screwed Version)

3:45
$0.99

Chain Of Command (Explicit Chopped & Screwed Version)

6:20
$0.99

Magic Chick (Featuring R. Kelly) (Explicit Chopped & Screwed Version)

Do or Die & R. Kelly

4:23
$0.99

U Already Know (Featuring Remy Ma) (Explicit Chopped & Screwed Version)

Do or Die & Remy Ma

5:39
$0.99

Higher (Featuring Kanye West) (Explicit Chopped & Screwed Version)

Do or Die & Kanye West

4:09
$0.99

If Only You Knew (Featuring Syleena Johnson and Twista) (Explicit Chopped & Screwed Version)

Do or Die, Syleena Johnson & Twista

3:59
$0.99

Holla At Your Boy (Featuring Johnny P.) (Explicit Chopped & Screwed Version)

Do or Die & Johnny P

4:17
$0.99

Paid The Price (Featuring Kanye West) (Explicit Chopped & Screwed Version)

Do or Die & Kanye West

4:59
$0.99

Be Alright (Featuring Ric Jilla and Johnny P.) (Explicit Chopped & Screwed Version)

Do or Die, Johnny P & Ric Jilla

5:06
$0.99

Wa Da Da Dang (Featuring Grind) (Explicit Chopped & Screwed Version)

Do or Die & Grind

4:15
$0.99

Nawty (Featuring Bounty Killer and Sasha) (Explicit Chopped & Screwed Version)

Bounty Killer, Do or Die & Sasha

3:58
$0.99

Church (Featuring DJ Quik and Johnny P.) (Explicit Chopped & Screwed Version)

DJ Quik, Do or Die & Johnny P

5:24
$0.99

Around Here (Featuring Malik Yusef) (Explicit Chopped & Screwed Version)

Do or Die & Malik Yusef

6:03
$0.99

Getcha Weight Up (Explicit Chopped & Screwed Version)

4:33
$0.99

D.J. 007 Outro (Explicit Chopped & Screwed Version)

0:54
$0.99
16 Songs

℗ 2005 The Legion Records. Distributed by WEA Inc. All Rights Reserved.
Customer Reviews
Did And Died
Dude, dis album suc. Dey tryn ta be all gangsta. Dey cun suc my dick befor the dey gangsta.
chopped and screwed
obviously the guy that said that do or die was trying to be "gangsta" must think that anything chopped and screwed is gangsta, but this is one of the better do or die c'd's...especially because kanye still sounds cocky when his voice is lower, and i love that. the rest of the cd is okay though!
About Do or Die
Chicago's Do or Die gained a hit with their first single, Po Pimp. Released on a tiny Chicago label, the track became a local hit and sparked the group's signing by Houston's Rap-A-Lot Records. Given a wide release in the summer of 1996, the single hit number 22, increasing the buzz for a full-length from the group. In September of that year, Picture This was released on Rap-A-Lot. Do or Die returned to action in the spring of 1998, releasing their second album, Headz or Tailz. Victory followed two years later. Back 2 the Game (2002) and Pimpin' Ain't Dead (2003) did well in Chicago and on the West Coast, but nationwide the group was being ignored by radio. With R. Kelly, Kanye West, and Twista all making guest appearances, 2005's D.O.D. was an attempt to change this. A year later, Do or Die went in a totally different direction by releasing the hard, street-minded Get That Paper with Bun B the lone guest star. ~ John Bush
ORIGIN

Chicago, IL

FORMED

1995