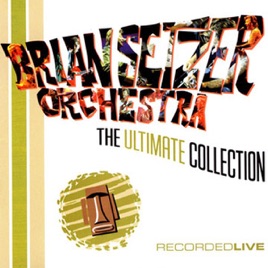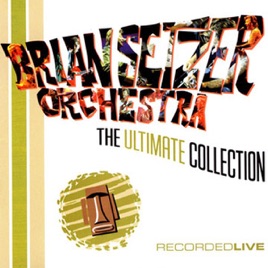 The Brian Setzer Orchestra: The Ultimate Collection (Live)
| | TITLE | TIME |
| --- | --- | --- |
| | | 0:09 |
| | James Bond Theme (Spies In the Night) [Live] | 1:58 |
| | Hoodoo Voodoo Doll (Live) | 4:28 |
| | Good Rockin' Daddy (Live) | 3:55 |
| | | 4:02 |
| | My Baby Only Cares for Me (Live) | 3:54 |
| | Brand New Cadillac (Live) | 3:44 |
| | | 4:53 |
| | | 3:55 |
| | (Everytime I Hear) That Mellow Saxophone [Live] | 3:45 |
| | Rumble In Brighton (Live) | 3:52 |
| | | 7:12 |
| | | 7:35 |
| | As Long As I'm Singin' (Live) | 4:21 |
| | | 5:42 |
| | | 2:09 |
| | This Cat' On a Hot Tin Roof (Live) | 2:40 |
| | | 3:25 |
| | Jumpin' East of Java (Live) | 3:32 |
| | Drive Like Lightning (Crash Like Thunder) [Live] | 4:17 |
| | | 3:06 |
| | I Won't Stand In Your Way (Live) | 4:09 |
| | | 6:31 |
| | | 3:45 |
| | | 5:41 |
| | | 4:59 |
| | Jump, Jive, an' Wail (Live) | 4:40 |
| | Pennsylvania 6-5000 (Live) | 2:40 |
| | Getting' In the Mood (Live) | 3:21 |
| | Get Me to the Church On Time (Live) | 2:20 |
| | | 7:16 |
31 Songs, 2 Hours, 7 Minutes

℗ 2004 Surfdog, Inc.
Great
This album is great the songs are amazing! :) I love the song Gettin in the Mood! Definatlely buy this!
makes you want to join the party
I don't often stray from the top40, but I'm glad I took this little detour and discovered this album. We forget about where rock came from and what true talent sounds like. This truly rocks and if you aren't feeling the urge to move, well maybe you're just paralyzed.
About The Brian Setzer Orchestra
Every decade has its own retro craze spearheaded by a true believer who brings classic sounds and style back into vogue. Brian Setzer performed this trick not just once but twice, first as the leader of the Stray Cats, the trio that brought rockabilly back into the charts during the '80s, then he helped popularize the swing revival of the '90s with the Brian Setzer Orchestra. Both of these sounds were grounded in the '50s -- that's when rockabilly was born but also the heyday of the kind of jump blues Setzer loved, music by Louis Prima and Big Joe Turner -- and while the Stray Cats were purists of sorts, indebted to the big beat of Eddie Cochran and Gene Vincent, as a solo act Setzer wound up fusing these aesthetics together, playing rockabilly guitar to a swinging beat. With this jumping sound, he cultivated a loyal following -- consisting of not a few latter-day disciples -- that stretched well into the new millennium, developing the long-running, successful career that many of his idols never had.

Those idols -- Cochran, Vincent, Elvis, Carl Perkins -- loom large in Setzer's oeuvre, but as a kid growing up in Long Island he initially fell for big-band jazz. His first instrument was the euphonium and he played brass in a variety of jazz bands while in school. He'd sneak into classic clubs like the Village Vanguard but he also developed a taste for blues-rock and punk, which led him down the road to rockabilly. Picking up a guitar, he formed the Tomcats with drummer Gary Setzer and Bob Beecher in 1979, the latter also being a running mate of Brian's in the Bloodless Pharaohs. As his infatuation with rockabilly intensified, Setzer devoted himself to the Tomcats, which evolved into the Stray Cats when bassist Lee Rocker and drummer Slim Jim Phantom entered the lineup in late 1979.

Sensing the U.S. wasn't quite ready for their rock & roll, the Stray Cats departed for London in June of 1980, hawking their instruments to get across the Atlantic. Within a few months, they earned the attention of roots rocker Dave Edmunds -- who just happened to appear in the 1973 film That'll Be the Day, playing in a band called the Stray Cats -- and he took them under his wing, producing their 1981 eponymous debut for Arista. Thanks to the singles "Rock This Town" and "Stray Cat Strut," it was a hit, but its 1982 sequel, Gonna Ball, didn't do as well, but highlights from the two LPs were culled for the American album Built for Speed. Thanks to those aforementioned singles, which both received heavy MTV airplay, Built for Speed turned the Stray Cats into stars in the U.S., paving the way for 1983's Rant n Rave with the Stray Cats, which had another major hit in the form of "(She's) Sexy + 17" and a minor one in the form of "I Won't Stand in Your Way."

Success came to the Stray Cats but the group fractured in 1984 and Setzer responded by acting as a sideman for a variety of rockers, most prominently playing in Robert Plant's oldies band the Honeydrippers on a tour. Setzer launched a solo career in 1986 with The Knife Feels Like Justice, a record that found him right in line with the heartland rock of the mid-'80s but didn't generate any hits and, perhaps coincidentally, Setzer returned to the Stray Cats fold that year for Rock Therapy, a reunion that also failed to stir sales. Next up was 1988's Live Nude Guitars, a record that moved him closer to Stray Cats territory but also failed to gain an audience. Next up was another reunion with the Stray Cats, one that lasted for three albums over four years. First was 1989's Blast Off!, which they supported with a tour opening for Stevie Ray Vaughan, but the record reached no higher than 111 on Billboard and EMI dropped them in America. Undaunted, they teamed with Nile Rodgers in 1990 for Let's Go Faster!, a record that appeared on Liberation to little attention; then they returned to their roots for 1992's Choo Choo Hot Fish, a final record recorded with their original producer, Dave Edmunds.

This was the last go-round for the Stray Cats and it was time for a reset for Setzer. He found one with the Brian Setzer Orchestra, where he refashioned his rockabilly boogie for the neo-swing era. Their eponymous debut appeared on Hollywood in 1994 and it did OK on the charts, reaching 158; then corporate restructuring pushed him over to Interscope Records, which put out Guitar Slinger in 1996. That record failed to chart but it laid the groundwork for 1998's The Dirty Boogie, which was a smash hit thanks to a hit cover of Louis Prima's "Jump Jive & Wail." The single peaked at 23 and the record went all the way to nine on the Billboard 200 and if Setzer never scaled those heights again -- the 2000 follow-up, Vavoom!, reached 62 -- he nevertheless found his niche and he ran with it, releasing all manner of swinging big-band records in the new millennium, ranging from a series of Christmas albums (there are at least five seasonal albums in his discography) to swinging covers of classical compositions, most released on SurfDog Records. At times, Setzer would step outside of the Orchestra to return to his rockabilly roots, beginning with 2003's Nitro Burnin' Funny Daddy, running through Rockabilly Riot, Vol. 1: A Tribute to Sun Records in 2005, and extending to 2014's Rockabilly Riot! All Original. ~ Stephen Thomas Erlewine