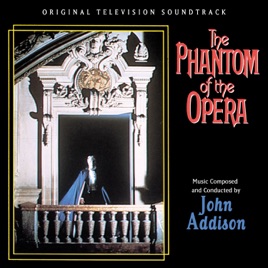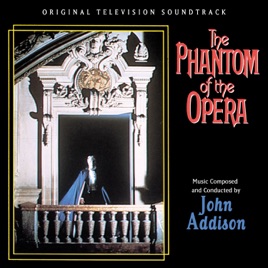 The Phantom of the Opera (Original Television Soundtrack)
John Addison
| | TITLE | | TIME |
| --- | --- | --- | --- |
| | | | |
| | | | |
| | | | |
| | | | |
| | | | |
| | | | |
| | | | |
| | | | |
| | | | |
| | | | |
| | | | |
| | | | |
| | | | |
| | | | |
| | | | |
| | | | |
| | | | |
| | | | |
| | | | |
| | Christine and the Phantom: Faust Vocal Excerpt | | |
20 Songs, 44 Minutes
Released:

Mar 18, 1990

℗ 1990 Varèse Sarabande
Ratings and Reviews
Lovely, a true work of art.
I accidentally clicked the Buy button, when I should have clicked the View. And now having no more money in my allowance account, I am a bit twerked, though I am rather grateful. The music is stunning. I have never seen the television series, but I have heard good things of it, and intend to view it. Thank you for the mishap!
Not for rapsters- for people who enjoy REAL music
There's 'music'- a mélange of computerized beats and such- in this world. And there is music- the indiscribible. This is in the latter of the two. This was composed. Thought out. Made for a labor of love, not for money. This is real music. And real good music, for that matter. It's amazeingly poingnant- emotionaly moveing for those of you who don't know- so much so in fact that the first time I listent to The Phantom Dies, I could only make it through 41 seconds before I had to change the music. If you are into Bethoven or just good music, this is worth the 9.99.
Romance With Life
I am very much into classical music. It is soothing and very real! I to this day still enjoy watching the television version of The Phantom of the Opera with Burt Lancaster and Charles Dance. I appreciate the music that comes along with it as well. I recommend this album to anyone that enjoys classical music of any sort. I savor every little moment in life, and in a way......I guess you could say this is my soundtrack to life hehe. Cheers!