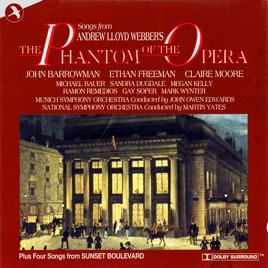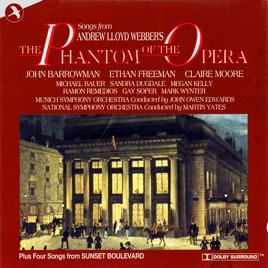 The Phantom of the Opera (Soundtrack from the Musical) [Highlights] {Original Studio Cast}
Various Artists
TITLE
TIME

Martin Yates & National Symphony Orchestra

2:11

Claire Moore & John Barrowman

3:22

Claire Moore & Megan Kelly

2:16

Claire Moore & Ethan Freeman

1:38

Claire Moore & Ethan Freeman

4:50

Ethan Freeman

5:14

Gay Soper, Mark Wynter, Michael Bauer, Ramon Remedios & Sandra Dugdale

3:31

Claire Moore & John Barrowman

4:24

Martin Yates & National Symphony Orchestra

2:44

Company

2:55

Wishing You Were Somehow Here Again

Claire Moore

3:54

Claire Moore & Ethan Freeman

5:35

With One Look (from Sunset Boulevard)

Kim Criswell

3:09

Sunset Boulevard (from Sunset Boulevard)

Graham Bickley

2:57

As If We Never Said Goodbye (from Sunset Boulevard)

Kim Criswell

5:35

Too Much In Love to Care (from Sunset Boulevard)

Catherine Porter & Graham Bickley

4:19
16 Songs, 58 Minutes

℗ 1996 JAY Productions Ltd.
Why no reviews?
I don't see why no one has commented on this album. I thought the songs were quite good (take into consideration that I bought only a few songs from the Phantom of the Opera, and didn't touch the Sunset Boulevard songs). Christine has a very good range, and she's enjoyable to listen to. Raoul seems a little plain to me, but he is a decent singer. The Phantom is a good singer and puts a lot of emotion into what he's saying, but if you don't like some vibratto, then this is probably not the Phantom for you. Overall, I vote the album a solid 7/10 (remember, I didn't buy all the songs), and I recommend Think of Me, Phantom of the Opera, Music of the Night, and Wishing You Were Somehow Here Again - just the basics.
I heart phantom
I agree, Aires. I love this. If i have not said it enough in my other reviews, the PHANTOM is MINE MINE MINE!!!
love it
i love the movie and my favorite song is phantum of the opera by claire moore... masterpeice