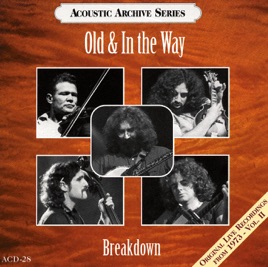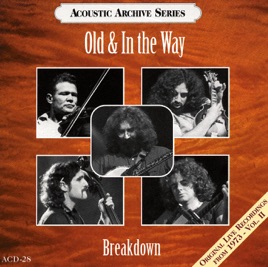 | | TITLE | | TIME |
| --- | --- | --- | --- |
| | Introduction - Peter Rowan (Live) | | |
| | Home Is Where the Heart Is (Live) | | |
| | Down Where the River Bends (Live) | | |
| | | | |
| | | | |
| | Old & In the Way Breakdown (Live) | | |
| | 'Til the End of the World Rolls 'Round (Live) | | |
| | | | |
| | You'll Find Her Name Written There (Live) | | |
| | | | |
| | Goin' to the Races (Live) | | |
| | Midnight Moonlight (Live) | | |
| | Working On a Building (Live) | | |
| | | | |
| | | | |
| | Drifting Too Far from the Shore (Live) | | |
| | | | |
| | | | |
| | | | |
19 Songs, 1 Hour 9 Minutes
Released:

Nov 18, 1997

℗ 1997 Acoustic Disc
Ratings and Reviews
Its incredible
An amazing display of talent and soul.

jerryLives

A true classic
Every song on this album is amazing. These are true American musicians at their best and loving it and you can hear it in every song. I highly recommend this album to anyone who loved Jerry and Bluegrass music...I'm sure he was real proud to be a part of it.
Not just about Jerry
This group was about more than Jerry Garcia... Its about John Kahn, Peter Rowan, David Grisman, Vasser Clemmens AND Jerry Garcia. If you like truly original American music than this album is worth the listen. They do some Bill Monroe tunes and a couple of originals... One of my personal favorite is 'The Hobo Song.' This is definitely a rare treat that these superstars of American music got together to do something that they truly loved... You can feel it flow through these songs, its a once (well twice) of a lifetime deal, don't let it go.
About Old & In the Way
Old & in the Way was a one-shot bluegrass band whose legacy lasted far longer than the band. Led by Grateful Dead member Jerry Garcia (banjo, vocals), the band also featured David Grisman (mandolin, vocals), Vassar Clements (fiddle), Peter Rowan (guitar, vocals), and John Kahn (bass). Garcia formed the band in 1973 as a way to revisit his bluegrass roots and demonstrate his affection for the music. To round out the lineup, he recruited Clements and Kahn as well as Grisman and Rowan, who were both West Coast session musicians who had previously played together in the band Muleskinner. Taking their name from a Grisman composition, Old & in the Way played a handful of gigs, most of them at the Boarding House in San Francisco in October. An album, also called Old & in the Way, was culled from these shows but not released until 1975 on the Grateful Dead's own record label, Round. The record combined standards and Rowan originals, which later became standards. Although the album was the only one the lineup released during the 1970s, the members continued to play together in various permutations over the next two decades, and the record continued to sell steadily. The group reunited after Garcia's death in 1995, releasing a second album (actually composed of 1973 recordings), That High Lonesome Sound, in early 1996. A third album of 1973 vintage appeared at the end of 1997. ~ Stephen Thomas Erlewine
ORIGIN

California

GENRE

FORMED

1973