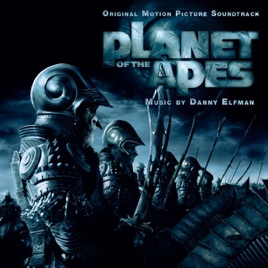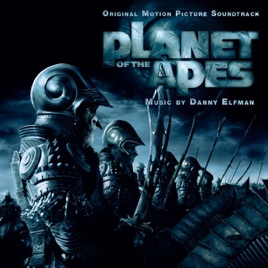 Planet of the Apes (Original Motion Picture Soundtrack)
Danny Elfman
TITLE
TIME

Danny Elfman & Pete Anthony

Danny Elfman & Pete Anthony

Danny Elfman & Pete Anthony

Danny Elfman & Pete Anthony

Danny Elfman & Pete Anthony

Danny Elfman & Pete Anthony

Escape from Ape City / The Legend

Danny Elfman & Pete Anthony

Danny Elfman & Pete Anthony

Danny Elfman & Pete Anthony

Danny Elfman & Pete Anthony

Danny Elfman & Pete Anthony

Danny Elfman & Pete Anthony

Danny Elfman & Pete Anthony

Main Title Deconstruction

Danny Elfman & Pete Anthony

Danny Elfman, Pete Anthony & Emerson Swinford
15 Songs, 58 Minutes
Released:

Oct 12, 1993

℗ 2001 SONY BMG MUSIC ENTERTAINMENT
Ratings and Reviews
Truly Amazing!
This is so cool. Elfman rocks and here is a good example
Danny Does it Again!!!!
Danny Elfman composes a heart-thumping, pulsing, fast-paced score that I greatly enjoyed. Full of percussion and great strings this score is perfect for any action movie. This movie was a disappointment, but the score sure wasn't!!!
Furioso
BIG BRASS SECOTION itty bitty little strings,

This score is a phenominon and sounds like Furioso (don't ask) It's heart pounding and just listening to it pumps you up with adrenaline.
About Danny Elfman
Best known for his work in collaboration with director Tim Burton, composer Danny Elfman created one of the most distinctive bodies of work in contemporary film music, bringing his talents to a dark fantasy world populated by superheroes, monsters, and freaks. The son of novelist Blossom Elfman, he was born May 29, 1953 in Amarillo, Texas. Raised in Los Angeles, he and brother Richard relocated to France in 1971, where he joined a theatrical group. Elfman subsequently moved on to Africa, returning to the U.S. only after battling a bout with malaria; he then reunited with Richard, who had directed the 1980 film The Forbidden Zone and asked Danny to compose the score. Assembling a band dubbed the Mystic Knights of Oingo Boingo, Elfman recorded the movie's soundtrack. Abbreviated to simply Oingo Boingo, the group remained a going concern following the project's completion, later earning a significant cult following during the new wave era.

In 1985 Elfman met fledgling filmmaker Burton; after collaborating on the score to the hit Pee-Wee's Big Adventure, they reunited frequently in the years to come, with Elfman composing the music to later Burton projects including Beetlejuice, Edward Scissorhands, Mars Attacks! and the Grammy-winning Batman. In 1993, he also scored the Burton-produced Nightmare Before Christmas, dubbing the vocals of the animated musical's lead character Jack Skellington. Outside of Tim Burton's sphere of influence, Elfman also scored a number of other features in the '80s and '90s, most of them strange fables such as Darkman, Dick Tracy, Army of Darkness, and The Frighteners. His 1997 scores for the drama Good Will Hunting and that summer's biggest box office hit, Men in Black, garnered his first Academy Award nominations. Among his television work was his Emmy-nominated theme for The Simpsons and Emmy-winning theme for Desperate Housewives.

In addition to his marriage to actress Bridget Fonda in 2003, the new century brought continued professional accolades, among them new Burton collaborations. Another Academy Award nomination resulted from his work on Burton's 2003 film Big Fish, and the two partnered for other projects including but not limited to 2005's The Corpse Bride and 2010's Alice in Wonderland. In the meantime, he released a symphony on Sony Classical in 2006 titled Serenada Schizophrana, and earned his fourth Academy Award nomination for Gus Van Sant's Milk in 2009.

His steady workload also included 2012's Silver Linings Playbook, 2013's American Hustle, and 2015's genre-diverse Fifty Shades of Grey, Avengers: Age of Ultron, and Goosebumps. The 2016 sequel Alice Through the Looking Glass marked Elfman's 17th Tim Burton feature. That year also saw Sony Classical release his original music for the ballet Rabbit & Rogue, which had premiered at the Metropolitan Opera House in 2008, as well as his score for the film thriller The Girl on the Train. The following year, he stayed busy delivering the scores for such high-profile films as Fifty Shades Darker and Justice League, the latter of which cracked the Billboard 200. ~ Jason Ankeny & Marcy Donelson
HOMETOWN

Amarillo, TX

GENRE

BORN

May 29, 1953