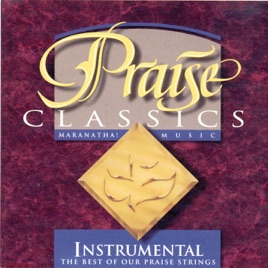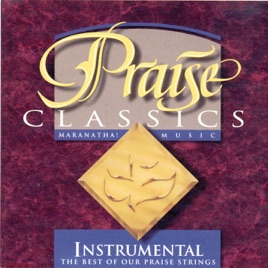 Praise Classics (Instrumental)
| | TITLE | TIME |
| --- | --- | --- |
| | | 4:08 |
| | Great Are You Lord / Great Is Thy Name | 4:41 |
| | | 3:48 |
| | | 3:19 |
| | | 4:24 |
| | As We Gather / the Steadfast Love of the Lord | 4:59 |
| | | 3:14 |
| | | 3:30 |
| | | 3:19 |
| | Jesus, Name Above All Names | 3:27 |
| | | 3:31 |
| | | 4:04 |
| | | 5:18 |
| | | 4:46 |
| | | 4:26 |
| | | 3:35 |
| | Behold What Manner of Love | 3:51 |
| | Blessed Be the Lord God Almighty | 2:33 |
18 Songs, 1 Hour, 10 Minutes

℗ 1993 Maranatha! Music
Customer Reviews
Instrumentals Of The Old Worship Choruses...
From 1970's and 1980's Calvary Chapel of Costa Mesa. "Open Our Eyes" was written by Bob Cull. "Seek Ye First" was written by Karen Lafferty. "Father, I Adore You" was written by Terry Coelho. "Psalm 5" was written by Bill Sprouse, Jr.

Many of these choruses were directly taken from scripture, which is why I always enjoyed singing them at Calvary Chapel of Costa Mesa. In my mind, I hear the original vocal versions when these instrumental ones are played. I prefer the vocal versions.
About Maranatha! Music
Maranatha Music is a Christian music label that emerged as part of the ministry of Chuck Smith's Calvary Chapel in Costa Mesa, California. It releases Christian-themed music ranging from rock and country to traditional hymns. Chuck Smith founded Maranatha Music in 1971 as on outlet for the music being written by younger members of Calvary Chapel. The label released albums by a variety of artists in the decades that followed and received a Lifetime Achievement Award from the Gospel Music Association in 1991. Maranatha Music's Top 25 Acoustic Worship Songs 2017 album was released in April 2017. ~ Benjamin Schulz