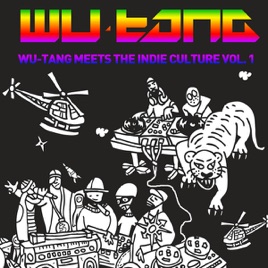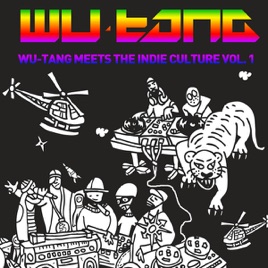 Wu-Tang Meets The Indie Culture, Vol. 1
TITLE
TIME
1:12

Lyrical Swords

Wu-Tang, GZA & Ras Kass

3:25

Slow Blues

Wu-Tang, Vast Aire, Byata, Timbo King & Prodigal Sunn

4:49

Still Grimey

Wu-Tang, Prodigal Sunn, U-God, Sean Price & C-Rayz Walz

4:15
0:32

Think Differently

Wu-Tang, Casual, Tragedy Khadafi, Vordul Mega & Roc Marciano

4:33

Infomercial # 1

Jim Jarmusch

0:38

Biochemical Equation

Wu-Tang, RZA & MF Doom

3:56

O.D.B. Tribute

Wu-Tang & DJ Noize

1:51

Fragments

Wu-Tang & Del the Funky Homosapien

3:31
0:27

Street Corners

Wu-Tang, Byata, Bronze Nazareth & Solomon Childs

3:17

Listen

Wu-Tang, Littles, Khalid & Planet Asia

3:40

Infomercial # 2

Jim Jarmusch

0:45

Verses

Wu-Tang, GZA, Ras Kass, Scaramanga Shallah & LA the Darkman

4:33

Preservation

Wu-Tang, Del the Funky Homosapien & Aesop Rock

2:26

Cars On the Interstate

Wu-Tang & C.C.F. Division

2:17

Give It Up

Wu-Tang, J-Live & R.A. the Rugged Man

3:46

Black Dawn

Wu-Tang & Bronze Nazareth

3:23
19 Songs, 53 Minutes

℗ 2010 BG / iH2D / iHipHop Distribution
Ratings and Reviews
Nasty!!!!
this whole album is pretty much ill. gorgeous rza samples galore along sick flows and lyrics. "slow blues" is one the best hip hop songs ive heard in awhile...
One of my favorites...
This album is so underrated, considering how great it is. RZA does not fail to produce every track with dope beats, and the inclusion of indie rappers brang out hidden talent and shattered traditional barriers.
About Wu-Tang
One of the many offshoots of the iconic hip-hop collective the Wu-Tang Clan, Wu-Tang was a project overseen by WTC mastermind RZA and featuring several of the rappers associated with the group. However, the Wu-Tang releases didn't feature the entire Wu-Tang Clan membership (GZA in particular is usually absent), and they featured stylistic elements that fell outside the boundaries of the group's larger body of work. The first album released under the Wu-Tang banner was 2008's Soundtracks from the Shaolin Temple, a collection that brought together tracks recorded between 2005 and 2008 from several of the Wu-Tang Clan's official members (GZA, Ghostface Killah, U-God, Raekwon) and associates (Bronze Nazareth, Mathematics, DJ Hi-Tek). For 2009's Chamber Music, a number of the key Wu-Tang rappers (including Inspectah Deck, Ghostface Killah, Raekwon, U-God, and RZA) and special guests (Kool G Rap, Sadat X, and Sean Price) were accompanied by a live band, the Revelations, instead of their usual sample-based production. Released in 2011, Legendary Weapons was another album featuring the Revelations, with Method Man, Ghostface Killah, Cappadonna, U-God, and Inspectah Deck contributing verses for the backing tracks. The Saga Continues arrived in 2017; the album was spearheaded by Wu-Tang Clan associate Mathematics, who produced and co-wrote all 18 tracks, with Method Man, Raekwon, Inspectah Deck, Killah Priest, Ghostface Killah, RZA, and Cappadonna contributing their vocal talents. The Saga Continues proved to be a commercial success, topping the Independent Albums chart on its first week of release. ~ Mark Deming