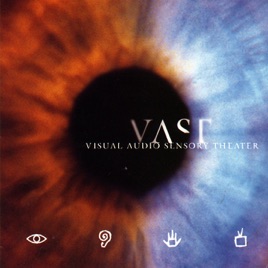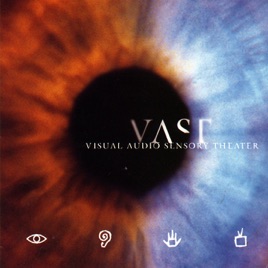 Visual Audio Sensory Theater
VAST
12 Songs, 51 Minutes
Released:

Apr 28, 1998

℗ 1998 Elektra Entertainment Group, A Division of Warner Communications Inc. for the United States and WEA International Inc. for the world outside of the United States.
About VAST
VAST is comprised of one man and one man only: Jon Crosby. The songwriter grew up in Humboldt County, CA, and was profiled as a promising guitarist in Guitar Player Magazine at the age of 13. He was nearly signed to the guitar-based label Shrapnel, but he turned down the offer and focused on honing his songwriting chops instead. Crosby soon left high school to do home study, and he began assembling a band in order to perform some demos he recorded all by himself, under the name VAST. Although he was able to play shows, the band proved to be a revolving door of members, with Crosby serving as the frontman and focal point.

VAST's material was original, as it encompassed elements of industrial/alternative (in the vein of Nine Inch Nails) and ambient music, with unpredictable samples added. One such demo started to receive heavy airplay on a local radio station, leading to a major-label bidding war. VAST eventually signed to Elektra and released the debut album Visual Audio Sensory Theater in mid-1998. At the time of its release, auditions for a backing band for a subsequent tour were under way. Two years later, Crosby hooked up with producer Blumpy and assembled a band comprising guitarist Justin Cotta, bassist Thomas Froggatt, and drummer Steve Clark to create the 2000 release Music for People. Although "Free" gained some popularity as a single, Music for People only enjoyed modest success, and Elektra dropped the band soon after its release.

VAST returned in 2004 with Nude, the band's third studio album (and first to be released via 2Blossoms, VAST's own indie record label). A Complete Demonstration followed in 2005, collecting the band's early demo material onto one disc, while the double-disc Turquoise & Crimson appeared one year later. Jon Crosby then began embracing acoustic music, releasing a series of recordings that featured little more than his vocals and acoustic guitar. April introduced that scaled-back approach in 2007, followed by a series of acoustic EPs. Material from those EPs later found its way onto VAST's 2009 album, Me & You, which featured a full band expanding upon the intimate source material. ~ Greg Prato
50 million songs.
Zero ads.
New subscribers only. Plan automatically renews after trial.