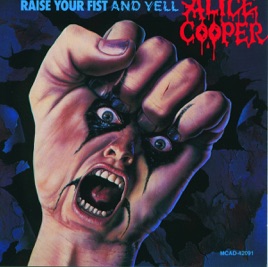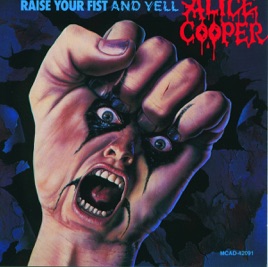 10 Songs, 36 Minutes
Released:

Sep 28, 1987

℗ 1997 Geffen Records
Ratings and Reviews
"Constrictor" on Steroids
1987's "Raise Your Fist And Yell" is essentially a sequel or counterpart to 1986's "Constrictor," and it is Alice Cooper's second (and final) album with guitarist Kane Roberts. It sounds very similar to "Constrictor," except that the music is much heavier and more well-written. I personally think of "Constrictor" as being only a preview of what Alice and Kane would do on "Raise Your Fist." This is Alice Cooper at his 1980s horror movie finest; while the first half of the album consists of several feel-good rebel anthems (e.g., "Freedom," "Lock Me Up," and "Give The Radio Back"), the latter half focuses almost entirely on serial killers (e.g., "Time To Kill," "Chop, Chop, Chop" and "Roses On White Lace"). Robert Englund (the original "Freddy Krueger") makes a special vocal guest appearance on "Lock Me Up," and Satan himself appears in "Prince of Darkness" (which was written for the 1987 John Carpenter horror film of the same name, in which Coop made a cameo appearance as a psychotic Satan-possessed homeless man). Kane Roberts' guitar work is at top form here, but the real "oomph" is to be found in Coop's lyrics. While Coop doesn't utter a single cuss word, his words are so seductively violent and extreme as to make one wonder why "Raise Your Fist" didn't get a "Parental Advisory" sticker; it was first released, after all, in those days when Tipper Gore and the Washington Wives were trying to slap such stickers on everything they didn't like. This is proven by the opening track, "Freedom," in which Coop blasts everyone in Reagan's America who was trying to ban "satanic" music. All in all, "Raise Your Fist And Yell" is probably Coop's very best album from the 1980s; it successfully brought the King of Shock Rock back to his Grand Guignol roots. If you're an Alice Cooper fan and you've never listened to "Raise Your Fist And Yell," you're missing out--and if you've never tried Coop's music before, this album is a great place to start.
Best album as far as I'm concerned!!!!
If you don't own this album I don't see how you could live with yourself!!!!
Some Solid Stuff Here Folks
This album got me into AC and I am glad it did. Guy is one of the B O A T