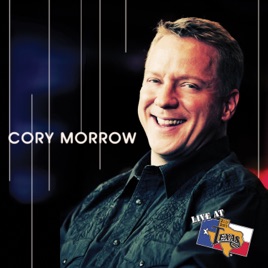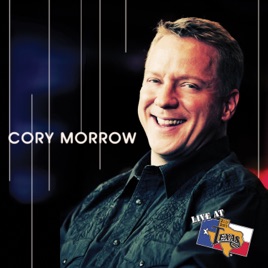 Live At Billy Bob's Texas: Cory Morrow (Deluxe Edition) [Live]
| | TITLE | | TIME |
| --- | --- | --- | --- |
| | | | 4:41 |
| | | | 3:38 |
| | | | 3:11 |
| | | | 4:14 |
| | | | 3:29 |
| | Spinning Around the Moon (Fly) [Live] | | 3:42 |
| | | | 3:26 |
| | | | 4:22 |
| | | | 5:56 |
| | Drink One More Round (Live) | | 4:31 |
| | | | 5:54 |
| | | | 5:14 |
| | | | 3:07 |
| | Gettin' Ready to Rain (Live) | | 3:36 |
| | It's A Great Day to Be Alive (Live) | | 4:49 |
| | Let My Love Open the Door (Live) | | 4:43 |
| | Just Like You (Grandpa's Song) [Live] | | 4:04 |
| | Hold Us Together (Studio Bonus) [Live] | | 4:29 |
18 Songs, 1 Hour, 17 Minutes
Released:

Jan 17, 2012

℗ 2012 Smith Music Group
Ratings and Reviews
One of the Best Texas Artists
Love this album. I've seen him at Billy Bob's over the years and he never disappoints. Great live album and look forward to more music! Definitely one of the best Texas artists, great voice and song writing. Not many like him. Great buy for any (Texas) true country music fan. His other live albums are great and this has some of his newer songs live, which is great because he is so good live.
True Texas Country Music
Cory Morrow is one true Texas country music artist. I've seen him play over a dozen times all over Texas.
Cory did it again
One of the best Texas country artist out there. Love everything he puts out.
About Cory Morrow
Singer/songwriter Cory Morrow was born and raised in Texas, and he's become a local legend in the Lone Star State, producing a handful of self-released albums and playing an endless string of shows from Amarillo to Corpus Christi that have made him a major attraction in the Southwest. Morrow was born in Houston on May 1, 1971, and began learning to play guitar when he was 15 on an instrument his stepfather won in a coin toss in a Mexican border town. Originally a fan of hard rock acts like ZZ Top and Led Zeppelin, Morrow started writing songs while in high school, but while studying at Texas Tech University in Lubbock, he developed a taste for Lone Star singer/songwriters such as Ray Wylie Hubbard and Robert Earl Keen, and struck up a friendship will fellow aspiring songwriter Pat Green.

Morrow's songs evolved into a more rootsy and personal style, and in 1993 he relocated to Austin in hopes of launching a career as a musician. In 1997, Morrow released an EP on his own Write On record label, Texas Time Travellin', and he issued his first full-length album later the same year. The Texas-based independent label Watermelon Records signed Morrow and issued his second album, The Man That I Have Been, in 1999, but the company soon went bankrupt and the album quickly fell out of print. (Morrow later reissued it on Write On.) Morrow bounced back in 2001 with a live album, Double Exposure, and the strength of his live show and willingness to tour endlessly through the Southwest helped him build a large and loyal Texas following.

Morrow's college buddy Pat Green had been following a similar path with even greater success, and Morrow enjoyed a career boost when Green recruited him to help record an album of classic country covers, Songs We Wish We'd Written. Morrow continued to record and tour at a frantic pace, and eventually he moved 200,000 discs in Texas through his own label, but in January 2005 Morrow's career hit a serious bump when he was arrested for drunk driving and possession of cocaine after being pulled over by police while driving 100 miles per hour. Morrow was able to strike a plea bargain that reduced the DUI charge to a misdemeanor, and drug charges were dropped due to the small amount of cocaine found, but the brush with the law had a serious effect on Morrow; he cleaned up his act, began focusing on his spiritual side, and began dating a woman who would soon become his fiancée.

In 2008, Morrow released Vagrants and Kings; featuring several songs affirming his renewed faith in his own rough-and-tumble way, the album received nationwide distribution under a new deal with Universal's Sustain label, but it turned out to be a one-album deal. In 2010 Morrow issued the Ramblin' Man EP, and followed it with the full-length Brand New Me, issued by Write On through Ampex Records. The EP hit the top spot on Texas music chart, while the album hit number 20 on the Heatseekers chart, also doing well enough to place at number 49 on the country albums chart thanks in large part to its single, "Lead Me On." He followed it with two different Live at Billy Bob's Texas sets -- one electric, one acoustic -- in 2012. The plugged-in date sold better and reached the Top 40 on the Heatseekers chart. Morrow cut his next studio date at East Austin's 12th Street Sound and Zone Recording Studio in nearby Dripping Springs. He emerged with The Good Fight, a 15-song set issued by Write On through Thirty Tigers. It was released June 16, 2015 and scored well inside the Top 50 on the country albums chart and the Top 40 on the digital country chart, and it hit number 19 on Heatseekers. ~ Mark Deming
HOMETOWN

Houston, TX

GENRE

BORN

May 1, 1972