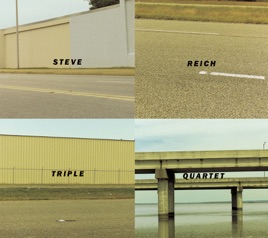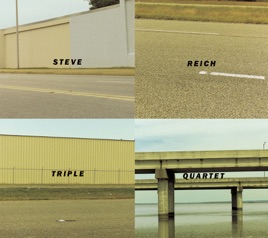 TITLE
TIME

Triple Quartet: First Movement

David Harrington, Hank Dutt, Jennifer Culp & John Sherba

Triple Quartet: Second Movement

David Harrington, Hank Dutt, Jennifer Culp & John Sherba

Triple Quartet: Third Movement

David Harrington, Hank Dutt, Jennifer Culp & John Sherba

Music for a Large Ensemble

Alan Pierson

Tokyo / Vermont Counterpoint

Mika Yoshida
6 Songs, 53 Minutes
Released:

Oct 2, 2001

℗ 2001 Nonesuch Records
Ratings and Reviews
Not worth it
You're paying $12 for 15 minutes of new music with this album (albiet a good 15 minutes - Triple Quartet is an interesting work). The new recording of Music For A large Ensemble is no improvement over the original, and Electric Guitar Phase is an inexplicably soulless arrangement of Violin Phase. If you're a fan or Kronos Quartet and/or Reich, get Different Trains instead.
I would buy it again
A solid album all 'round. But, if you love electric guitar, Electric Guitar Phase is for you. It's a real toe-tapper! I bought the album just for that piece. If you prefer standard classical instruments, then look for a Reich album with Violin Phase (same composition, different instrument).
Not so great this time around
The only tracks really worth listening to are the Triple Quartet and even then i had a hard time really listening to this. Sorry, Reich, but these could have been written better. I can't fault Kronos here.