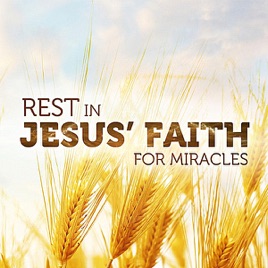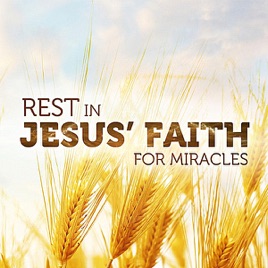 Rest in Jesus' Faith for Miracles
| | TITLE | TIME | PRICE |
| --- | --- | --- | --- |
| | Rest in Jesus' Faith for Miracles | 90:26 | Album Only |
1 Song

℗ 2011 Joseph Prince
Customer Reviews
Rest in Jesus
All about Jesus. Wonderful. I would recommend this to anyone wanting to be encouraged through God's Word.
Perfect peace because of the one!
Through Pastor Prince and the preaching of the TRUE Gospel of Grace, I now know that ALL my sins are forgiven and I am made righteous through Christ Jesus. The forgiveness of Sin and no condemnation have SET my mind, body and soul FREE! The knowledge of our Savior, Jesus Christ, his blood sacrifice and love for me has utterly transformed my life. Knowing that ALL of my sins are forgiven has EMPOWERED me to sin NO MORE. Yes! Believe it!!! That I am forgiven of all sins doesn't give me the desire to go on a sin spree; it gives me perfect peace and the desire to live by faith in the one. Since being saved, I have been miraculously cured of crippling arthritis and now am of all powerful pain meds. I have also been able to FULLY break away from other sinful deeds. This is my testimony. I beg anyone reading this to please listen and let Jesus save you! NOW! You cannot do it by yourself. It is impossible! You must see this truth. All of humanity is sick with sin. God has shown us the way; and that way is through his one and only Son - Jesus Christ. Thank you Pastor Prince. You are truly spreading the Good News to all the world. From my heart of hearts, thank you! I look forward to seeing you the next time you are in NYC.