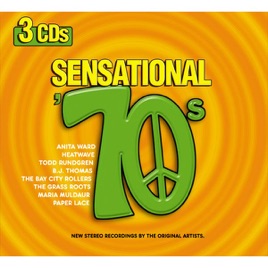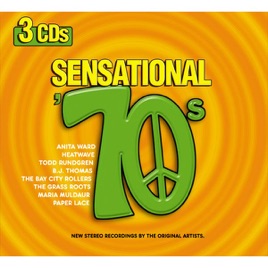 Sensational 70s (Original Artist Re-Recording)
Various Artists
2.0, 124 Ratings

Partial Album
TITLE
TIME

Kiss You All Over (Re-Recording)

Exile

Lonely Boy (Re-Recording)

Andrew Gold

Boogie Nights (Re-Recording)

Heatwave

Brother Louie (Re-Recording)

The Stories & Ian Lloyd

Jackie Blue (Re-Recording)

The Ozark Mountain Daredevils

Right Back Where We Started From (Re-Recording)

Maxine Nightingale

So Into You (Re-Recording)

Atlanta Rhythm Section

Nice to Be With You (Re-Recording)

Gallery

Midnight At the Oasis (Re-Recording)

Maria Muldaur

If You Don't Know Me By Now (Re-Recording)

Harold Melvin & The Blue Notes

Disco Inferno (Re-Recording)

The Trammps

Magnet and Steel (Re-Recording)

Walter Egan

Fox On the Run (Re-Recording)

Brian Connolly's Sweet

Love Machine (Re-Recording)

The Miracles

Paul Revere & The Raiders

The Night Chicago Died (Re-Recording)

Paper Lace

Another Somebody Done Somebody Wrong Song (Re-Recording)

B.J. Thomas

One Toke Over the Line (Re-Recording)

Brewer & Shipley

Money Honey (Re-Recording)

Bay City Rollers

Thank You for Being a Friend (Re-Recording)

Andrew Gold

Sooner Or Later (Re-Recording)

The Grass Roots

The Groove Line (Re-Recording)

Heatwave

Lead Me On Maxine (Re-Recording)

Nightingale

Me and Mrs. Jones (Re-Recording)

Billy Paul & Harold Melvin & The Blue Notes
30 Songs, 1 Hour 38 Minutes
Released:

Mar 15, 2005

℗ 2005 Madacy Special Products
Ratings and Reviews
Want a refund!
I was so excited to see such great songs from the 70's from the original artists I immediately started to download them (buying the album... 30 songs $9.99). Half way throught the download I started to read the reviews. Oops! Man, I can't believe a reputable company like iTunes would deceive their customers like this. Unbeleiveable. I hope the QA department reads these reviews and removes this album from the library and refunds everyone's money thazt downloaded anything from this garbage. If it says Rolls Royce, it better be Rolls Royce. That's called false advertising and iTunes could be sued.
Sensational 70s
We want Original tunes, Original artists! Albums by Madacy and K-tel and anyone else that tries to sell re-recordings or songs by PART of the original group should be clearly marked so we can avoid them. We search thru hours of songs to find the few we really like, and then find out they are not sung as we knew them. These albums should be clearly labeled or banned!
Butchering "Magic"
They transposed it down to E (from G) and now it seems to just plod along. What a letdown. You can find what seems to be the original version on the "Herbie: Fully Loaded" and "Doogal" soundtracks, but as of Apr-06 you can't buy individual tracks on either album. Not cool.