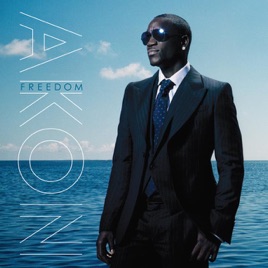 EDITORS' NOTES
With Freedom Akon delivers a set of songs so accessible they work well whether played at top volume in a night club or as background music in a doctor's office. The disarmingly simple music-box melodies of "Sunny Day" and "Be With You" continue the tradition started by "Don't Matter." "Holla Holla" folds his voice and protégé T-Pain's voice into a single entity, while the raspy rhyming of Lil Wayne and Young Jeezy forms a perfect complement to Akon's innocence on "I'm So Paid."
EDITORS' NOTES
With Freedom Akon delivers a set of songs so accessible they work well whether played at top volume in a night club or as background music in a doctor's office. The disarmingly simple music-box melodies of "Sunny Day" and "Be With You" continue the tradition started by "Don't Matter." "Holla Holla" folds his voice and protégé T-Pain's voice into a single entity, while the raspy rhyming of Lil Wayne and Young Jeezy forms a perfect complement to Akon's innocence on "I'm So Paid."
14 Songs, 58 Minutes
Released:

Dec 2, 2008

℗ 2008 Universal Records & SRC Records Inc., a division of UMG Recordings
Ratings and Reviews
Bomb
this album is so sick akon i sthe best
Solid
Not much hype and the singles werent dope. But this is a nice album. Wish the artists spread out more tho. Pain, Akon, Luda, Kanye, T.I., E40....several of the heavy hitters all have dropped albums in da past month. 1st review doe. haha. Junks crazy man its 11:30 Dec. 1st here in NC (eastern time zone) and this album drops tmw. But i just bought it haha figure dat out.
AKON'S BEST ALBUM YET!
I LOVE AKON'S ALBUM. I THINK IT'S WAY BETTER THAN KANYE'S "808s & HEARTBREAK"...
CLICK YES IF YOU AGRREE. ALSO, CLICK YES IF YOU LOVE "AKON"
About Akon
Although he was born in St. Louis, Missouri, singer, songwriter, and producer Aliaune Thiam -- aka Akon -- grew up in Senegal before he and his family (including his father, jazz percussionist Mor Thiam) returned to the United States and settled in New Jersey when he was seven. There he discovered hip-hop for the first time, as well as crime. He was eventually jailed but he used the time -- a total of three years, he claimed -- to work on his musical ideas. Upon release, Akon began writing and recording tracks in a home studio. The tapes found their way to SRC/Universal, which eventually released Trouble, Akon's debut LP, in June 2004. The album was an interesting hybrid of Akon's silky vocals with East Coast- and Southern-styled beats. The success of the song "Locked Up," a Top Ten Billboard Hot 100 hit, made Akon a star and desired collaborator. After appearing on Young Jeezy's "Soul Survivor," his number of guest appearances seemed to multiply each month. Konvicted, his second album, was released in November 2006. Soon enough, two of the album's singles, "I Wanna Love You" and "Smack That," made their way to the upper regions of the Billboard charts.

A significant stylistic shift occurred with Freedom, his third album. The December 2008 release avoided the rugged hip-hop/R&B hybrid of his earlier work and courted a broader audience with a dance-oriented Euro-pop sound. Despite the bold change, the album repeated Konvicted's chart success by peaking within the Top Ten of the Billboard 200; "Right Now (Na Na Na)," its most successful single, reached the Top Ten of the Hot 100. Akon slowed his own output but subsequently collaborated with dozens of artists, including David Guetta (the world-wide smash "Sexy Bitch," 2009), Artists for Haiti ("We Are the World 25 for Haiti," 2010), parodists the Lonely Island ("I Just Had Sex," 2010), and close friend Michael Jackson ("Hold My Hand," 2010). A fourth album, Stadium -- originally planned for a 2010 release -- was delayed several times. ~ Johnny Loftus
HOMETOWN

St. Louis, MO

GENRE

BORN

October 14, 1981