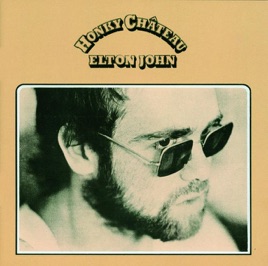 EDITORS' NOTES
Honky Chateau (1972) is the pinnacle of Elton John and lyricist Bernie Taupin's obsession with things American, not least because its themes are funny ("I Think I'm Gonna Kill Myself") and personalized ("Amy," a sly paean to young lust). Elton's small group, augmented with some daredevil electric violin by Jean-Luc Ponty, adapts to everything from the New Orleans carousel music of "Honky Cat" to the Ray Charles-ready "Mellow" to the Band-informed "Susie (Dramas)." Similarly riding varied currents, the man himself does some of his best singing here; he's positively funky on "Susie" and "Amy." The team's ears alert to many pop tongues, they commit some of Elton's truest rock and roll. This remastered edition offers a bonus in the way of a Jerry Lee Lewis-style take on "Slave."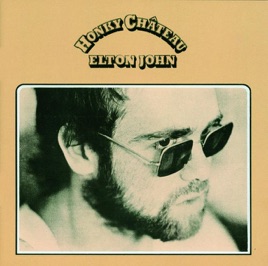 EDITORS' NOTES
Honky Chateau (1972) is the pinnacle of Elton John and lyricist Bernie Taupin's obsession with things American, not least because its themes are funny ("I Think I'm Gonna Kill Myself") and personalized ("Amy," a sly paean to young lust). Elton's small group, augmented with some daredevil electric violin by Jean-Luc Ponty, adapts to everything from the New Orleans carousel music of "Honky Cat" to the Ray Charles-ready "Mellow" to the Band-informed "Susie (Dramas)." Similarly riding varied currents, the man himself does some of his best singing here; he's positively funky on "Susie" and "Amy." The team's ears alert to many pop tongues, they commit some of Elton's truest rock and roll. This remastered edition offers a bonus in the way of a Jerry Lee Lewis-style take on "Slave."
| | TITLE | | TIME |
| --- | --- | --- | --- |
| | | | |
| | | | |
| | I Think I'm Going to Kill Myself | | |
| | | | |
| | Rocket Man (I Think It's Going to Be a Long Long Time) | | |
| | | | |
| | | | |
| | | | |
| | Mona Lisas and Mad Hatters | | |
| | | | |
| | Slave (Alternate "Fast" Version) | | |
11 Songs, 48 Minutes
Released:

Jan 1, 1972

℗ 1972 This Record Company Ltd.
Ratings and Reviews
don't just download the hits!
People will be tempted to download Rocket Man, Honky Cat, and Mona Lisas and leave it at that. I'm telling you...Elton's best songs are the non-hits. Sort of an edgy Rolling Stonesy country rock album in a way that has an edge. I think Mellow, Susie, and Hercules are fantastic. Salvation is a great gospel rock track. Amy is fun (desperate teenage love). "I Think" is sooo quirky, it's a classic. Spoiled teen threatening suicide to whip his parents into line. Slave is a pre-civil war story from the perspective of a slave who sees his day coming. An odd fit on the album, but a nice compainion to Salvation and a good song. All Elton's 1970-76 stuff is worth owning. Abandon the greatest hits mindset, folks!
1972 A Great Year For Music
One of the top albums released in 1972 and that was a fantastic year for tunes, Mona Lisas And Mad Hatters is a all time classic single, Solid 5 star cd
Some info that should've been mentioned here
This is his 1972 album, after 'Madman Across The Water' (1971) and before 'Don't Shoot Me I'm Only The Piano Player' (1973).
This is his first U.S. release to go to number 1, and kicked off a long streak of #1 hit singles with 'Rocket Man'.