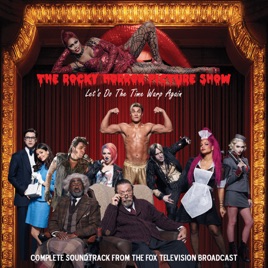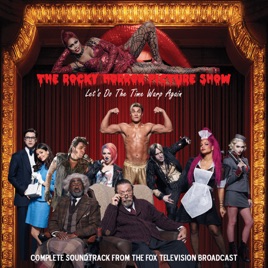 The Rocky Horror Picture Show: Let's Do the Time Warp Again
Various Artists
TITLE
TIME
PRICE

Science Fiction / Double Feature

Ivy Levan

4:30
$1.29

Ryan McCartan & Victoria Justice

2:36
$1.29

Over at the Frankenstein Place

Victoria Justice, Ryan McCartan & Reeve Carney

2:21
$1.29

Reeve Carney, Christina Milian, Tim Curry & Annaleigh Ashford

4:08
$1.29

Laverne Cox & Ryan McCartan

3:41
$1.29

Staz Nair

2:21
$1.29

Laverne Cox

2:09
$1.29

Hot Patootie (Bless My Soul) What Ever Happened to Saturday Night

Adam Lambert

3:06
$1.29

I Can Make You a Man (Reprise)

Laverne Cox

1:40
$1.29

Toucha, Toucha, Toucha, Touch Me

Victoria Justice

2:42
$1.29

Once in a While (Bonus Track)

Ryan McCartan

2:35
$1.29

Ben Vereen

2:44
$1.29

Laverne Cox

1:45
$1.29

Laverne Cox, Ryan McCartan, Ben Vereen & Victoria Justice

0:43
$1.29

Annaleigh Ashford, Staz Nair, Ryan McCartan & Victoria Justice

2:42
$0.99

Laverne Cox, Tim Curry, Ben Vereen, Ryan McCartan & Victoria Justice

3:01
$1.29

Laverne Cox & Reeve Carney

2:02
$1.29

Laverne Cox

2:29
$1.29

Ryan McCartan, Victoria Justice & Tim Curry

2:04
$1.29

Science Fiction / Double Feature (Reprise)

Adam Lambert & Ivy Levan

2:53
$1.29
20 Songs

℗ 2016 Ode Sounds & Visuals
Customer Reviews
Why all the hate?
People are going to hate this before they even see it. Get over it. Musicals are meant to be remade and reimagined. I love what I have seen and heard so far.
Homogenized and Dull
From the ONLY song they'll allow us to hear, it sounds terribly over-rehearsed and incredibly homogenized. Guess they must know how bad it is going to be just by the mere fact they're only releasing one song for us to review before it airs.