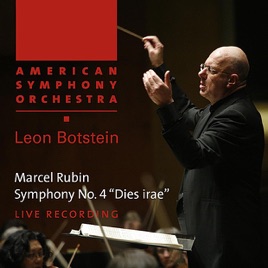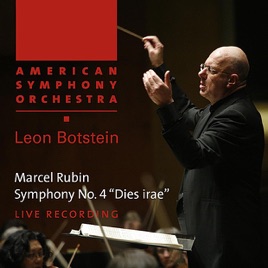 Rubin: Symphony No. 4 "Dies Irae"
| | TITLE | TIME |
| --- | --- | --- |
| | Symphony No. 4, "Dies Irae" : I. Kinderkreuzzug | 13:11 |
| | Symphony No. 4, "Dies Irae" : II. Dies irae - Allegro deciso | 11:27 |
| | Symphony No. 4, "Dies Irae" : III. Pastorale - Andante | 4:41 |
3 Songs, 29 Minutes

℗ 2010 American Symphony Orchestra
About American Symphony Orchestra
In 1962, Leopold Stokowski -- one of the most famous, charismatic, and controversial conductors of the second quarter of the twentieth century -- found his career ebbing. Stokowski had recently been toiling in places like Houston, TX, and recording with pickup orchestras when he decided to form his own orchestra in New York City, but not a clone of the entrenched New York Philharmonic. He recruited American musicians, not the European imports who populated the nation's other major orchestras. He hired young musicians, women, and people of color, and with them performed a mix of standard and unusual pieces in Carnegie Hall. Tickets were extraordinarily cheap to attract young audiences and people not otherwise part of the usual symphony crowd. His creation, the American Symphony Orchestra, boosted Stokowski's profile during his final decade. But more importantly, the orchestra brought great and neglected music, new and old, to new audiences and gave experience to such young players as trumpeter (and later conductor) Gerard Schwarz and clarinetist Franklin Cohen. Guest artists included such fresh soloists as Itzhak Perlman and venerable conductors as Karl Böhm and Igor Markevitch. Stokowski's retirement in 1972 threw the orchestra into a minor crisis. Without a glamorous leader to draw attention to the organization, the players formed a management cooperative and hired Kazuyoshi Akiyama as music director through 1978. Sergiu Comissiona then took over through 1982. Eventually, the management cooperative was disbanded in favor of a more traditional structure, but the orchestra artistically floundered through the 1980s. Hopes of becoming Carnegie Hall's "house orchestra," with subsidized appearances, came to nothing and the group's season decreased to four concerts. In 1992, the competent but little-known conductor/scholar Leon Botstein became the orchestra's music director and he immediately revitalized the group. Although reviews initially faulted Botstein for his cautious interpretations, his programming was remarkably innovative. Each concert was built upon some theme linking music to the visual arts, literature, politics, or popular culture, with tie-in events at other institutions. Botstein made a specialty of the byways of nineteenth and twentieth century music. The orchestra, comprising New York's top freelance musicians and now based at Lincoln Center, sponsors companion chamber music concerts and offers an adult education concert series at Columbia University, as well as one for teenagers at high schools in Manhattan and New Jersey. Its summer home is the Bard Music Festival at Bard College in New York.