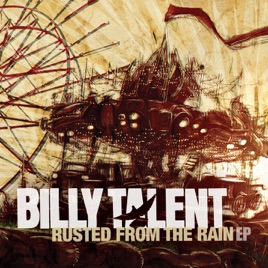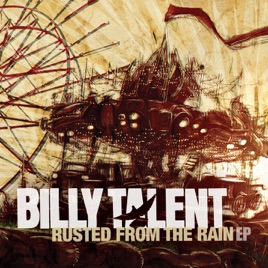 Rusted from the Rain - EP
| | TITLE | TIME |
| --- | --- | --- |
| | | 4:13 |
| | | 3:09 |
| | | 3:16 |
| | | 4:13 |
4 Songs, 14 Minutes

℗ 2009 WEA International Inc. Issued under license to The All Blacks B.V. from Warner Music Canada, Co. Roadrunner Records is a registered trademark of The All Blacks B.V.
Ratings and Reviews
HA HA
Really this is released Jan 01, 1900!! ha ha stupid itunes
This is it?
I love Billy Talent and this EP is a good start but why? Why didnt they release Billy Talent III in the US yet when every one else has it? Rusted from the Rain and Cold Turkey are the only new songs on this but Cold Turkey won't be on III when it finally comes out...
??
good songs but really? when is the full album coming out
About Billy Talent
Canadian punk revival quartet Billy Talent formed in 1999 while the members of the Streetsville, Ontario band were still in high school. Originally known as Pezz, the quartet -- vocalist Ben Kowalewicz, guitarist Ian D'Sa, bassist Jon Gallant, and drummer Aaron Solowoniuk -- had adopted a new moniker and were making their way in Toronto with the self-released Watoosh! LP under their belt. The Try Honesty EP followed in 2001; it led to strong local buzz, exposure supporting larger touring acts, and an eventual demo deal with EMI. The band entered the studio in early 2003 with producer Gavin Brown and emerged with its eponymous debut in July, which was slated for a September release on Atlantic. The group got the word out during that summer with a slot on Lollapalooza and a series of dates with the Buzzcocks.

Before they knew it, Billy Talent had not only garnered an impressive following, but also a slew of Juno (Best New Group, Group of the Year, and Album of the Year) and MuchMusic (Best Video, Best Rock Video) awards to their name. The band hit the studio in February 2005 to begin work on its sophomore offering. Submitting to fan requests, the group re-released Pezz's Watoosh! that September before the highly anticipated and explosive II appeared in June 2006. A handful of festivals and U.K. dates were played prior to spending the rest of the summer on the Warped Tour, and in 2007, they preserved a live performance in Düsseldorf, Germany on CD and DVD with 666 Live. Two years later, the band released its third studio album, the aptly titled Billy III. The album found the quartet incorporating some classic hard rock sounds into its punk approach.

In 2012, they released the album Dead Silence. Although it still retained the band's punk urgency, Billy Talent hailed the recording as a kind of conceptual break from their previous trilogy of albums, and several of its singles -- like "Viking Death March" -- were rewarded with Juno nominations. Following the release of the 2014 Hits anthology -- which featured a pair of new songs -- the band regrouped and began to prepare material for its fifth studio album. Just prior to entering the studio, drummer Aaron Solowoniuk made the difficult decision to sit out the recording sessions while he continued his longstanding battle with multiple sclerosis. Fellow Canadian Jordan Hastings (Alexisonfire) was quickly recruited to play as Solowoniuk's studio stand-in, and in early 2016 the group completed work on Afraid of Heights, which was released that July. ~ Johnny Loftus
ORIGIN

Toronto, Ontario, Canada

GENRE

FORMED

1999