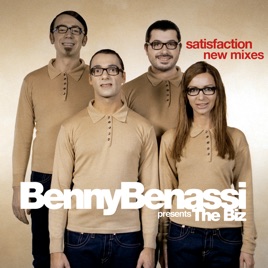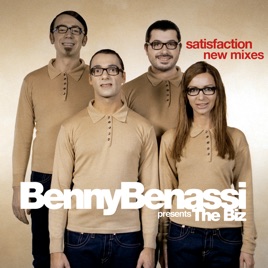 | | TITLE | TIME |
| --- | --- | --- |
| | Satisfaction (Robbie Rivera Remix) | 7:52 |
| | Satisfaction (DJ Ruthless & Vorwerk Remix) | 6:06 |
| | Satisfaction (3 Monkeys On the Moon Remix) | 7:20 |
| | Satisfaction (Proxymusic No School Remix) | 7:15 |
| | Satisfaction (Proxymusic Odd School Remix) | 6:33 |
| | Satisfaction (Skazi's Metal Mix) | 6:55 |
| | Satisfaction (Skazi's Fire & Ice Remix) | 6:55 |
| | Satisfaction (Radio Slave Remix) | 9:09 |
| | Satisfaction (Albert Tapia Remix) | 7:02 |
9 Songs, 1 Hour, 5 Minutes

℗ 2002 Energy Production Srl
Ratings and Reviews
eh
It's true what they say...... the mix is never as good as the original. The regular Satisfaction song was funny and good. These mixes are pretty awful. And what happened to the Satifaction/In Da Club remix? That was the only remix that was actually good. Try again, please.
Move along now...
Some things are best left alone. The original mixes still sound great and exciting - even if they have been used on TV commercials - but these sound cheap and corny. If you have to get one of the mixes here, get the Robbie Riviera Remix. Otherwise, save your pennies and get Benny's newer track "Who's Your Daddy?" instead, which is here on iTunes.
Half-Decade Remixes?
What's with the remixes 5 years after the song came out? Or has it been longer? I don't know, but this is horrible. The original is way better and there is no reason to re-mix it. The original was infectious enough - this stuff is just hard on the ears. I'm all for Benassi having a new single, not people remixing his best stuff.
About Benny Benassi
The fashionable, fun, and sometimes freaky sound of Milan-born DJ/producer Benny Benassi first hit the charts under that name in 2002 with the electro-meets-house single "Satisfaction." Created in collaboration with his cousin Alle -- in a team that would become known as the Benassi Bros. -- it was praised by high-profile DJs such as Carl Cox, Darren Emerson, and Roger Sanchez. Although "Satisfaction" charted internationally, it wasn't the first time that Benassi had tasted success. In 2001, under the name KMC, he had worked with vocalist Dhany on the infectious "I Feel So Fine," which initially stormed the Italian charts before it hit the number one spot in the U.K. By September 2003, the campy and quirky Hypnotica was issued as Benassi's solo debut album in collaboration with the Biz, a vocal team that featured Paul French and Violeta. A year later, Pumphonia marked the first full-length release under the Benassi Bros. name, and by the end of 2004 he had won the European Borders Breakers Award for Hypnotica, when it racked up the most sales that year for an Italian album outside of Italy.

A second Benassi Bros. album, ...Phobia, appeared in 2005 before he went on to consolidate and improve his reputation on the DJ circuit with a number of prestigious headline festival performances. His summer 2007 remix of Public Enemy's "Bring the Noise" went on to win a Grammy in early 2008, further enhancing his profile and leading to work with big names such as David Bowie and Madonna. Summer 2008 brought another solo album, Rock 'n' Rave, but it was 2011's Electroman that featured some of his most internationally successful material: the Kelis-fronted "Spaceship," the Chris Brown-led "Beautiful People," and the Gary Go collaboration "Cinema." The year 2012 was marked by Benassi's production work on Madonna's MDNA, and 2013 brought "Dance the Pain Away," a solo single that featured John Legend. ~ David Jeffries & James Wilkinson
ORIGIN

Milan, Italy

GENRE

BORN

July 13, 1967